A Performance Party in the Bluegrass State

Share on
Share on
Visit us at
Visit us at
More than anything, Holley LS Fest is a gathering. Far from being a typical car show, the event draws together far-flung individuals to celebrate a common bond created by General Motors' LS and LT engine platforms. Every vehicle in attendance is powered by one of these engines, and their owners relish the opportunity to compare notes with enthusiasts who share their performance ideas and to compete against like-minded individuals.

Holley LS Fest East brings a wide range of vehicles and thousands of attendees to Beech Bend Park each September.

There are now LS Fest events held in Las Vegas and Forth Worth, but Holley LS Fest East in Bowling Green, Kentucky, remains the standard bearer for the name. The 2022 edition was the 13th for the original LS Fest, and as always, it ignited Beech Bend Park for three days in September with the roar of revving engines and the scent of tire smoke as part of an all-out celebration. As always, both crate engines* and built or swapped power plants were prominently featured.
Throughout each event weekend, traffic is snarled on the two-lane road leading to Beech Bend, a country highway lined on either side by split-rail fences, stately Southern homes and sprawling fields of Kentucky bluegrass. Once on the grounds, an amusement park – highlighted by a vintage-style wooden roller coaster known as the "Kentucky Rumbler" – is the first thing that comes into view. Down a hilly road lie both an oval track and a drag strip featuring classic wooden grandstands.

LS- and LT-powered vehicles can be spotted throughout Bowling Green, Kentucky.

Among the festivities at this year's LS Fest event was the always-massive Show 'n Shine car show which covered nearly every square inch of the grounds at Beech Bend Park, along with part of the amusement park on Saturday. Drag racing, drifting and autocross events also took place, with the latter two held on the oval track, and cars competing in each discipline filling their respective pit areas.
Additionally, the Burnout Challenge was held on the track's infield on Saturday evening, while a Dyno Challenge spelled out horsepower numbers for participants' bragging rights throughout the weekend. More than 100 vendors also sold their wares for each of the event's three days.
An off-road course was built in front of the grounds in the shadow of the Kentucky Rumbler, while road course events were contested on the track at the nearby National Corvette Museum.
While some participants focused solely on one event, one of the most popular programs each year is the LS Fest Grand Champion contest, which crowns its winners based on who turns in the best overall performance in drag racing, autocross and the 3S Challenge (Speed, Stop, Steering).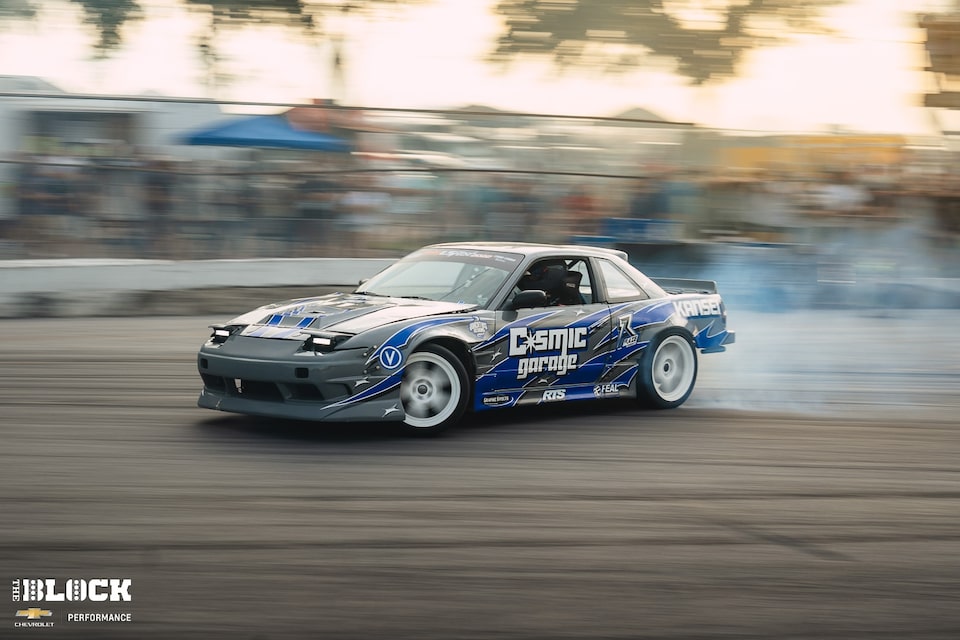 Chris Anderton-Holt finished in the top 16 in the Drift Challenge during the 2022 edition of Holley LS Fest East.

There is something for everyone at LS Fest, which was part of the appeal to Chris Anderton-Holt of Shelbyville, Tennessee, who was on hand to take part in the Drift Challenge with several fellow racers and friends who call themselves Cosmic Garage. A real estate agent by trade, Anderton-Holt is a longtime drift enthusiast who had participated in a few local shows and exhibitions, but LS Fest was his first full competition.
Anderton-Holt drives a 1993 Nissan 240SX coupe (S13 chassis code), powered by a modified 5.3L LS engine he found online.
"I don't know of another event that has drag, drift, autocross, car shows, all these vendors with all this cool stuff, and cars you just won't see anywhere else in one small place," he said.
Tens of thousands of people attend the event throughout the weekend, another fact that was important to Anderton-Holt as he gets more involved in drift competitions.
"Being able to drive in front of that many people and get that kind of exposure, it just gives you this feeling when you're on track like you just don't get anywhere else," he said.
He advanced to the top 16 in the competition, a very solid outing in an event featuring tough challengers from top to bottom.
"I like this track, I just really like the environment and it's real close, people can get right up on the wall and watch you," he continued. "Then you can just network with so many people here, there are so many different companies … Everybody's friendly and it's just a good time."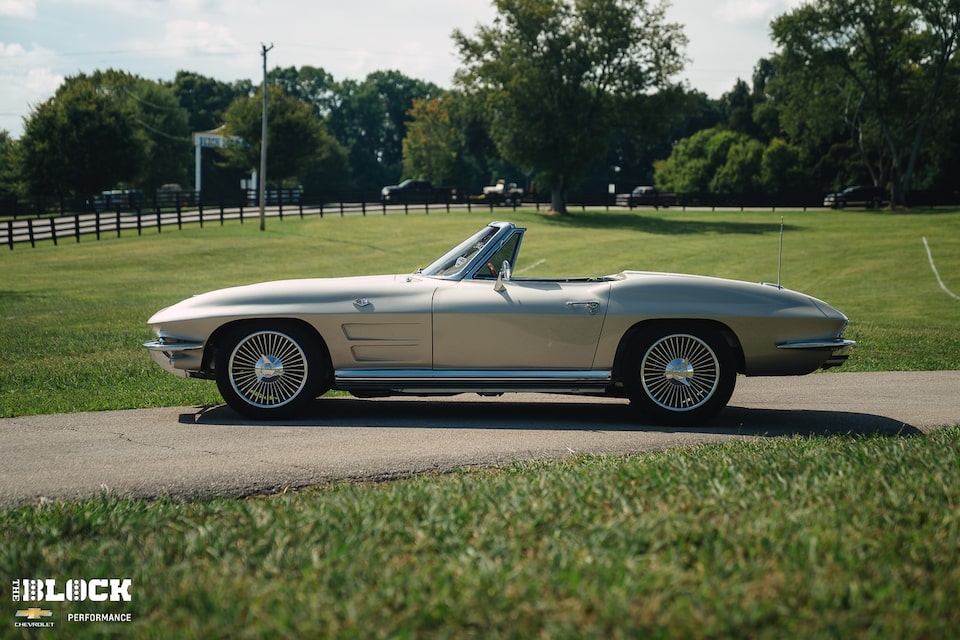 Scott Sheridan's LS376/525-powered 1964 Corvette.

Meanwhile, Scott Sheridan was attending the event with his 1964 Corvette powered by a Chevrolet Performance LS376/525 crate engine.* Sheridan lives in Lake Worth, Florida, and has been attending a variety of automotive events since retiring from the banking industry.

"I think these are kindred spirits," he said of attendees at the major automotive events he's attended. "I mean these people are genuinely good people."
He called LS Fest, "the best, without question" and noted that he believes the LS platform has brought new life to the performance hobby. While he primarily was participating in the car show, he also took the opportunity in Bowling Green to try something new. Before this year's LS Fest East he had never been on a drag strip, but decided to head down the asphalt aisle in his Corvette during the weekend. He clocked a 12.2-second pass at 108 mph.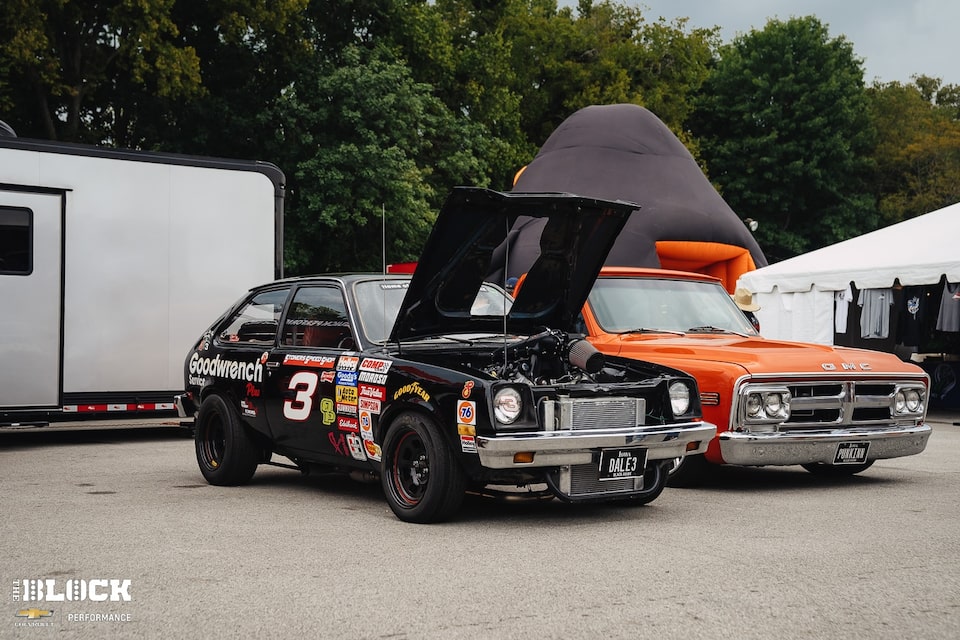 Stoner's Speed Shop brought two distinctly different LS-powered vehicles to this year's event.

Attendees and participants often point to the variety of vehicles and events as their favorite part of LS Fest, a theme that was exemplified by Stoner's Speed Shop of Hudson, Iowa. Shop owner Blake Stoner displayed two vehicles – a 1959 GMC truck and a 1976 Chevrolet Chevette (no, really) in the Quick Performance display throughout the weekend.
The GMC truck is a customer vehicle featuring a Chevrolet Performance Connect & Cruise Crate Powertrain System with an LS376/480 crate engine* mated to a SuperMatic 6L80-E automatic transmission. It includes all the detail Stoner's Speed Shop is known for and features a red patina exterior and a pristine tan interior.
On the other hand, the Stoner team built the black Chevette in about a week in what Blake Stoner calls a "team–building exercise." He bought it online and he and the staff crammed in a junkyard 4.8L LS engine with LS3 accessories and added a BTR intake manifold. Stoner says it was built primarily from parts he had laying around the shop. But perhaps the best part? The car features a No. 3 and a full decal set to honor the legendary Dale Earnhardt.
Both vehicles are a perfect representation of the craziness that is LS Fest each year.
This is probably my favorite show," Stoner said. "I just have a lot of fun."

Dan and Andy Traeger's father-son 1970 Nova build features an LS6 swap.

Like nearly any race or automotive event, camaraderie and family also play a major role. Many families attend with projects they built together. Dan and Andy Traeger are a prime example.
The father-son duo are neighbors in Bloomington, Illinois, and built a Hugger Orange 1970 Nova in tandem. They are hardcore General Motors and Chevrolet enthusiasts, with Andy Traeger today serving as general manager of Barker Buick GMC, continuing a family legacy of running GM dealerships.
According to Andy, the goal was to build the car like it might be seen in a high school parking lot in 1975. Originally, it was set to be a Big-Block car, but ultimately he and his father decided to add modern performance from an LS power plant. The engine in the Nova is an LS6 from a 2004 Cadillac CTS-V that was traded into the dealership. Andy Traeger bought the car and he and his father swapped it into the Nova.
The Traegers are veterans of multiple LS Fests, with Andy now having attended three in a row.
"I have a blast every year I come down here, what I love about it is being around a lot of people that have done the things that we have done, and talking to them about it," he said. "I love the number of people that have shown up to continue to support it."

Drag racing is a major part of the festivities each year.

An extensive photo gallery from the event is below. Also, be sure to keep watching The BLOCK for much more from LS Fest East, along with other races and shows across the country.
*Because of their effect on a vehicle's emissions performance, these engines are intended exclusively for use in competition vehicles. These engines are designed and intended for use in vehicles operated exclusively for competition: in racing or organized competition on courses separate from public streets or highways. Installation or use of these engines on a vehicle operated on public streets or highways is likely to violate U.S., Canadian, and state and provincial laws and regulations related to motor vehicle emissions.