Constant Evolution: A C10 That Keeps Up With the Times

Share on
Share on
Visit us at
Visit us at
Although Steve and Danielle Locklin's 1970 Chevy C10 is one of the country's most recognizable trucks, in many ways, it is never finished.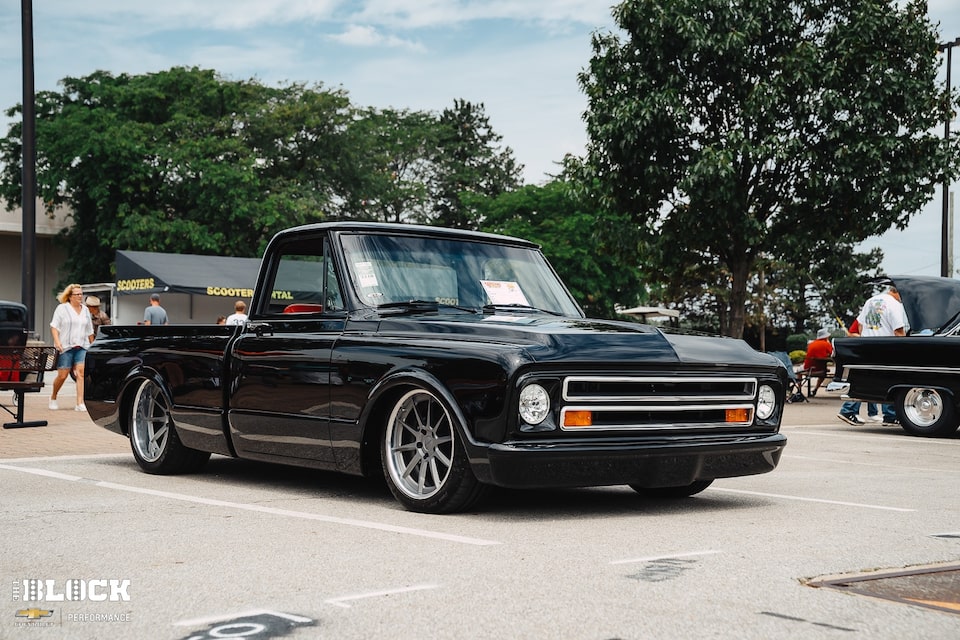 Steve Locklin's 1970 C10 is one of the nation's most recognizable trucks.

"To stay relevant you've got to keep updating, it gets updated every year so it doesn't get stale," Steve Locklin said during the recent Goodguys Summit Racing Nationals in Columbus, Ohio. "I've never stopped building it since I've owned it."
The couple from Hamlin, Pennsylvania, have owned the truck for 18 years and, amazingly, it originally was a parts truck they bought at a swap meet. Locklin notes that most of it was black back then, which is why it is finished in PPG black paint today.
The original engine was the ubiquitous 350 cu.-in. Small-Block Chevy, which was eventually replaced by a 454 Big-Block. Six years ago, however, Locklin swapped to a Chevrolet Performance LS376/525 crate engine* when he also added an Art Morrison chassis. Previously, the truck had featured an air ride system, but Locklin made the swaps when he decided he wanted to participate in autocross.

The truck is powered by a Chevrolet Performance LS376/525 crate engine.*

"The LS3's a good, reliable, platform," Locklin said. "There's nothing bad about it ... The engine just hauls, you can beat on it and it takes it. The truck gets driven hard when it's autocrossed."
The LS376/525 under the hood is based on the original 6.2L LS3, but turns out 525 horsepower and 486 lb.-ft. of torque thanks to an aggressive ASA camshaft. In addition to the added power, the cam upgrade also provides a throaty exhaust note.

"The 525 has that lope to it and it just sounds awesome," Locklin said.
Locklin bought the engine as part of a Connect & Cruise Crate Powertrain System featuring the LS376/525 and a 4L80-E transmission. He says the installation was "seamless" and an easy bolt-in. A Camaro engine cover provides the LS power plant's finishing touch.

The C10 features dozens and dozens of body modifications.

The rest of the truck features over 100 body modifications, including the nose from a 1967 C10. Throughout its life, the truck has been worked on by a variety of shops, but Mike Goldman Customs in Meridian, Mississippi, is responsible for the vehicle's latest incarnation.

Among the C10's current highlights are JRi coilovers, Wilwood brakes, Michelin Super Sport tires, Forgeline wheels and a Bedwood truck bed to match the wheel design. The truck also features flush-mount LED tail lights, electric door handles, Fessler glass and a red interior designed by the Paul Atkins Interiors team in Hanceville, Alabama. The dashboard is even designed to mimic the roll pan, which is just one of dozens of examples of unique and subtle touches throughout the truck.
"You'll look for days at this truck and you can see different things," Locklin said.

Paul Atkins and his team were responsible for the truck's interior.

The Locklins own three businesses in the Scranton area (a NAPA warehouse, a sign company, and a rental property company) and are also heavily invested in the automotive hobby.
When Mike Goldman Customs dropped off the C10 in Columbus, it took back a 1932 Chevrolet Cabriolet the Locklins are having built to contend for America's Most Beautiful Roadster at the Grand National Roadster Show in Pomona, California. In addition, Danielle Locklin's 1934 Ford was named Goodguys Truck of the Year in 2018.
As a result, the couple has attended every Goodguys event, and found themselves particularly enamored with Arizona during the Southwest Nationals in Scottsdale. The Locklins eventually plan to move to the Grand Canyon State.
For now though, Steve Locklin keeps updating the C10 and setting the bar ever higher for those who build their own C10s based on his ever-evolving vision.
After all, imitation is the sincerest form of flattery.

Be sure to keep watching The BLOCK for more Chevrolet Performance builds.
*Because of its effect on a vehicle's emissions performance, this engine is intended exclusively for use in competition vehicles. This engine is designed and intended for use in vehicles operated exclusively for competition: in racing or organized competition on courses separate from public streets or highways. Installation or use of this engine on a vehicle operated on public streets or highways is likely to violate U.S., Canadian, and state and provincial laws and regulations related to motor vehicle emissions.