A Fast Classic: This Diesel-Powered 1954 Chevrolet 3100 is Setting Land-Speed Records
Share on
Share on
Visit us at
Visit us at
David Pilgrim learned to drive in his black 1954 Chevrolet 3100 as a young man in Texas. Now, the diesel-powered pickup is a land-speed racing record-holder on Utah's famed Bonneville Salt Flats.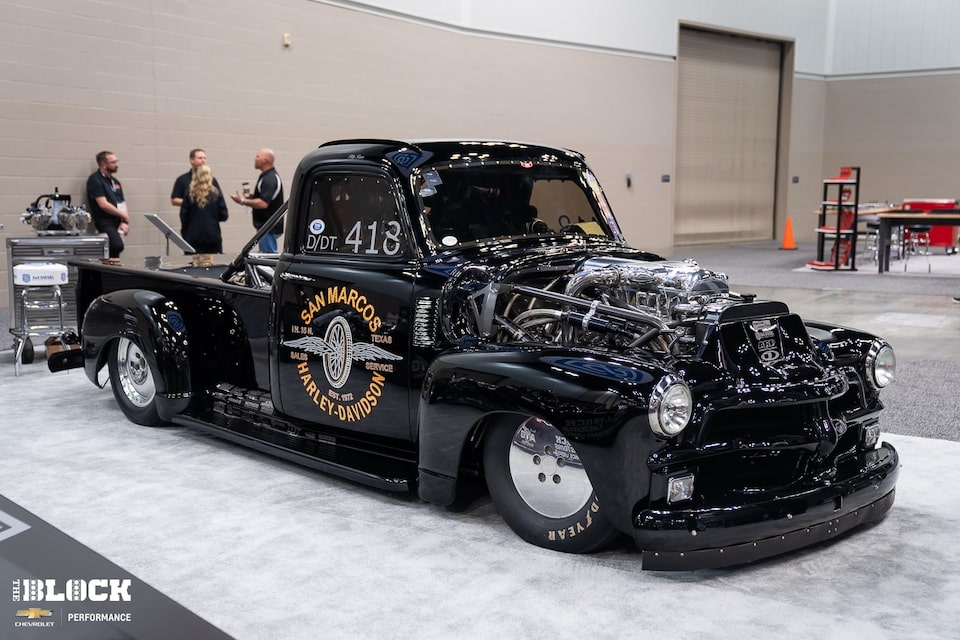 Pilgrim & Stubbs Land Speed Racing hold the C/DT land-speed record wit this 1954 Chevrolet 3100.

"It's just sort of been in the family all along," Pilgrim said during last year's PRI Trade Show in Indianapolis. "But it had been sitting in storage for 20 years. We were coming back from Bonneville, I don't remember when that was exactly, but we were talking about restoring the truck. One thing led to another, we ended up deciding that by restoring it, it would just get shoved off in the corner and never used. So we decided to make a race vehicle out of it."
Pilgrim was born in Houston and today lives in the town of Rockport with his wife Debbie on the Texas coast. Pilgrim says she has been his biggest supporter for more than 50 years.
His partner and crew chief in the racing business, Carl Stubbs, is a lifelong resident of Rockport. They each work in the boating business and today they form Pilgrim & Stubbs Land Speed Racing.
The truck was built by Johnson's Hot Rod Shop.

Pilgrim is a drag racing veteran who has now been involved with land-speed racing for the better part of two decades. He's ridden motorcycles on the Bonneville Salt Flats, and has also held the A/BGT land-speed class record since 2007 after driving his twin-turbo 1999 Corvette Z06 to multiple record runs on the Utah sand. In 2010, he topped 262 mph, with a 265 mph exit speed.

The team's one-ton Chevrolet tow vehicle was powered by a GM Duramax engine, leading Pilgrim and his team's decision to race the 1954 3100 with the same diesel power plant – in many ways solely to try something different.
They first made record-setting attempts in 2018 and 2019. Finally in 2021 the truck ran at over 226 mph, setting the land-speed record in the C/DT class, a stock production class for diesel trucks featuring tight rules.
In addition, the truck has reached a speed of 202 mph at the Texas Mile in Beeville.
Johnson's Hot Rod Shop in Gadsden, Alabama, was responsible for the truck build, which features a Keith Dorton-built 6.6L LBZ Duramax V-8 engine under the hood.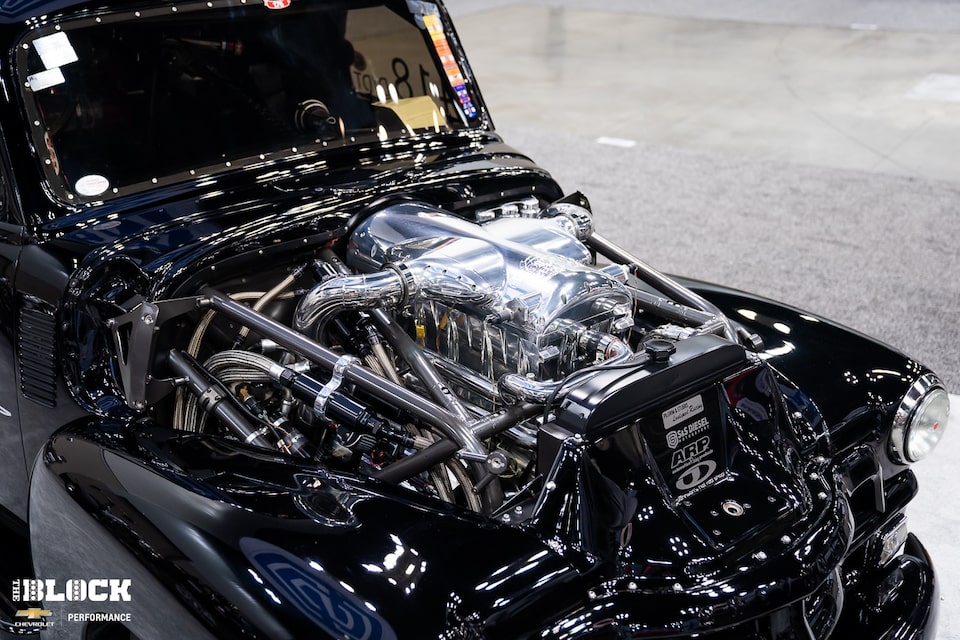 A GM LBZ Diesel Duramax engine powers the 1954 Chevrolet 3100.

The engine features a stock LBZ block and a Winberg crankshaft, and is actually destroked down to approximately 364 cubic inches. It also features a Johnson's Hot Rod Shop 2-Stage Quad Turbo System (two 72mm into two 58mm) utilizing turbochargers from Precision Turbo and Engine. Pilgrim estimates the setup runs around 65 pounds of boost.
The fuel delivery system features S&S Diesel Motorsport 250% over LBZ injectors with two S&S 12mm CP3 high-speed fuel-injector pumps. In addition, S&S provides calibration and tech support, and the truck was featured in the company's booth at PRI.

The truck also utilizes a Bosch Motorsports MS15.1 ECU and Bosch DDU9 dash.
"I'm pretty amazed by the power and the rpm we're getting out of these motors," Pilgrim said. "We're spinning that motor at 6000. … It's a good engine."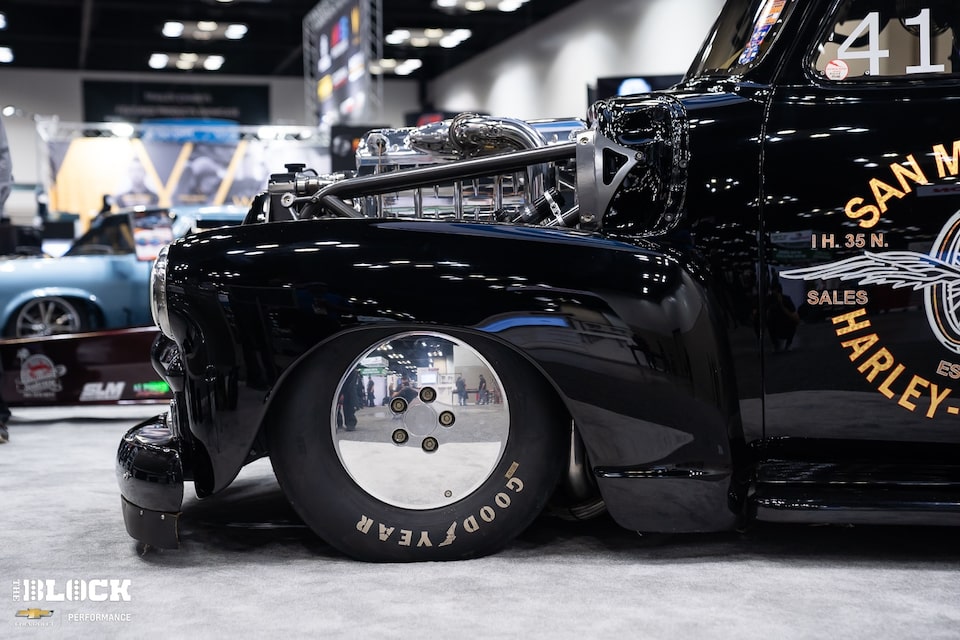 The front and rear clips are front Art Morrision Chassis.

The engine is mated to a clutchless, air-shifted seven-speed Liberty transmission, similar to the five-speed setup used by NHRA Pro Stock competitors. In the truck, fifth, sixth and seventh gear are all overdrive gears.
The truck weighs nearly 7000 pounds, meaning it takes plenty of power to move, while class rules stipulate no aero tricks and a stock frame must be under the cab. Teams are allowed to cover the bed, but nothing can be above the bed rails.
However, in the name of safety, aftermarket front and rear clips are allowed. The ones on the Pilgrim & Stubbs truck came from famed Art Morrison Chassis.
"I went out and visited with them, sat down with the engineers, talked about the weight and what we were doing and they designed a front and rear clip," Pilgrim said. "We kept the center section stock. We were able to box it in, but we used all the roll bar tubing to tie it all together to make it stiff front to rear."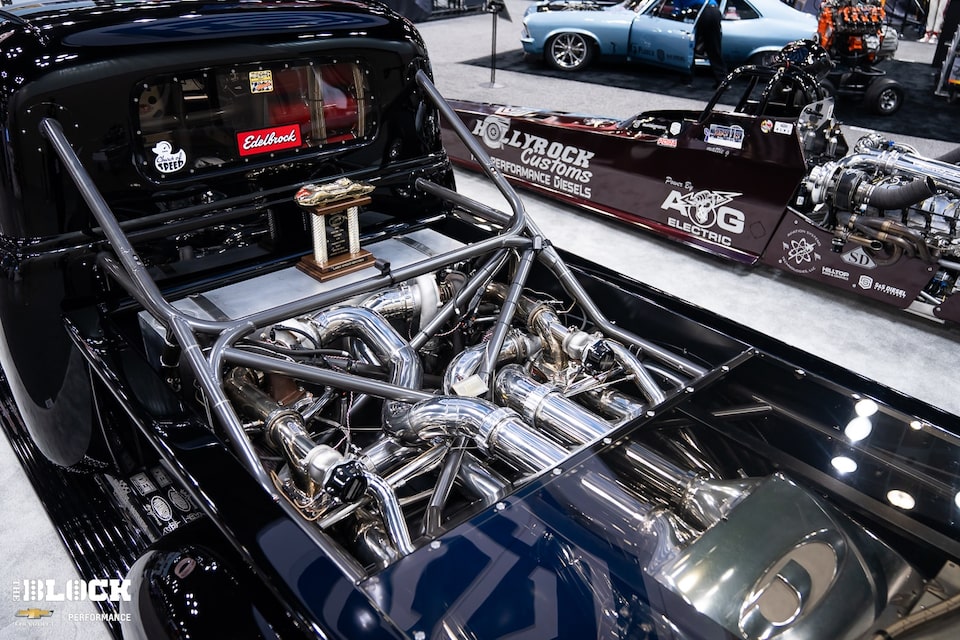 The truck's roll bar tubing adds to its stiffness.

In addition, the truck has coilover rear shocks and a nine-inch Ford rear end, "basic hot rod stuff" according to Pilgrim.
On top of its record-setting performances, the truck's combination of form and function have garnered many accolades. They include a Chevy Design Award for Truck of the Year at the 2017 SEMA Show.
The truck has always been black and its current motif features the logo from when Pilgrim was a Harley-Davidson dealer in the 1970s.
If one truck could tell a story, this 1954 Chevrolet 3100 could write a book.

This 1954 Chevrolet 3100 has garnered a variety of impressive accolades.

And next up? Pilgrim & Stubbs are putting together a purpose-built vehicle using the same diesel powertrain as the truck to attempt to break the diesel-land speed record of 317 mph. Stay tuned.
Be sure to keep watching The BLOCK for Chevrolet Performance feature builds and motorsports coverage from across the nation.