Dave Laird comes from a long line of automotive enthusiasts on both his mother's and father's sides of the family. It's a tradition he's carried on throughout his life; he, his wife, daughter, son, daughter-in-law and granddaughter have 42 collector cars among them.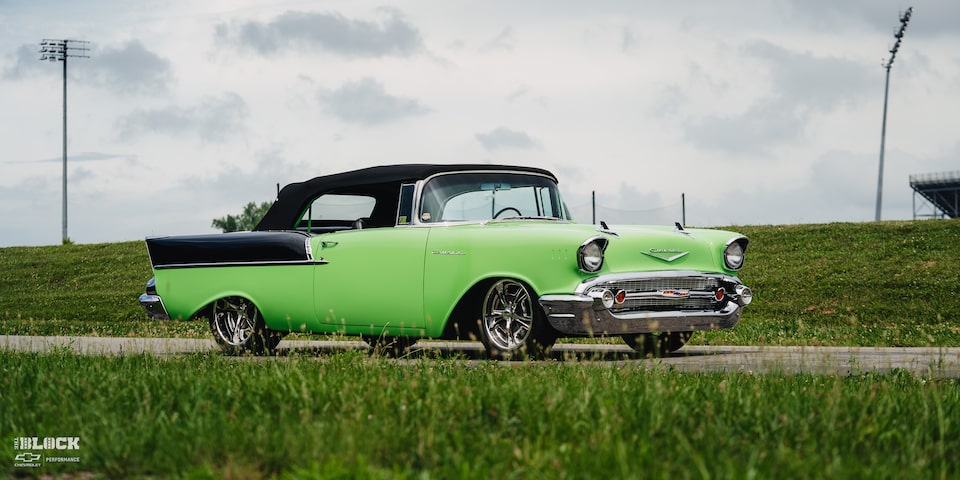 Dave Laird has owned this 1957 Chevy convertible for most of his life.

While there are many standouts in the collection, a 1957 Chevrolet convertible holds special sentimental value for Laird. It was his first car, but has gone through a variety of incarnations. Today, the custom green-and-black Tri-Five features a Chevrolet Performance Connect & Cruise Crate Powertrain System. The package utilizes an LS376/480 crate engine* backed with a SuperMatic 4L70-E four-speed automatic transmission. He also added a GM front end accessory drive and an aftermarket power-steering pump to the engine.

"When I got ready to start the car I cycled the key once, cycled the key the second time, hit it, and it started like GM put the car together," Laird said during this summer's Goodguys Summit Nationals presented by PPG in Columbus, Ohio. "I mean it started right up. Now it wasn't tuned, but it started and drove. The transmission shifted well; everything was good with the throttle on it. Then we custom-tuned it to the tire size and all that, but it started just like GM [built it]."

Laird has long had an affinity for the company's iconic '57 Chevy. When he was a young man attending dirt track races with his family in central Pennsylvania, the car was the only one he could recognize on the track due to its distinct tailfins. From that time, he always knew he wanted one.

His family moved to Delaware when he was 10 years old, with his father, uncle and their friends finding work at General Motors. Today, Laird lives in the town of Bear in the First State.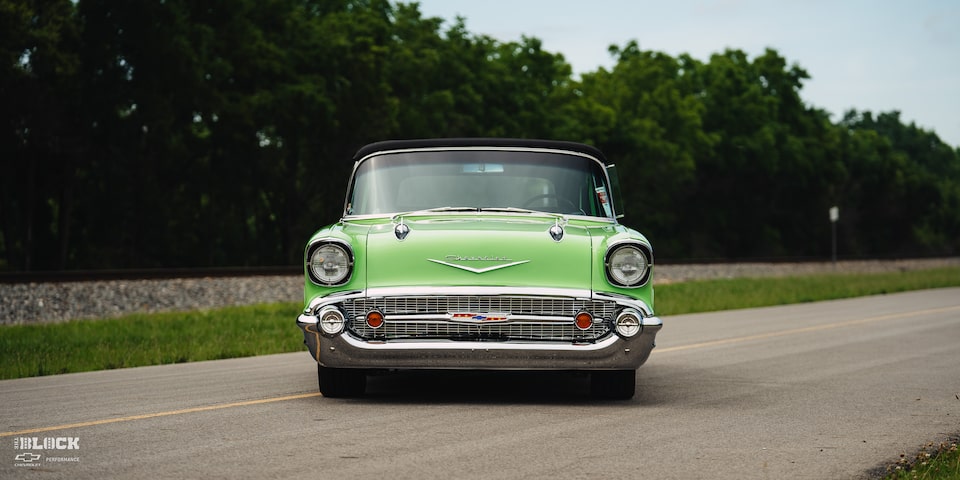 The car has seen a variety of engine and transmission combinations, and today features a Chevrolet Performance Connect & Cruise Crate Powertrain System.

In high school, Laird worked in a garage himself and began building an engine, but didn't have the money to buy a car. A classmate a year ahead of him needed to sell his '57 Bel Air convertible, and after Laird turned him down, Laird's father bought the car without telling his son.

The car was originally blue, but when Laird got it the vehicle was painted white with a 283 cu.-in. Small-Block engine and four-speed manual transmission. He made various modifications for drag racing endeavors, but eventually put the car back close to its original setup. However, as life happened and Laird bought a house and started a family the car sat for decades.
His children and daughter-in-law had urged him to put a build on the car for many years, and the process began when his son obtained a Roadster Shop REVO chassis for him when the family was attending the NSRA Street Rod Nationals in Louisville, Kentucky.

The car was also a prime candidate for a crate engine and his son suggested utilizing modern LS power. Laird is a fan of the LS platform, but at first, he was hesitant. The LS sits low and he preferred a look that filled up the engine bay. That was solved when he added a Lokar intake manifold. The result was a unique, more original-looking power plant to fit the car's era.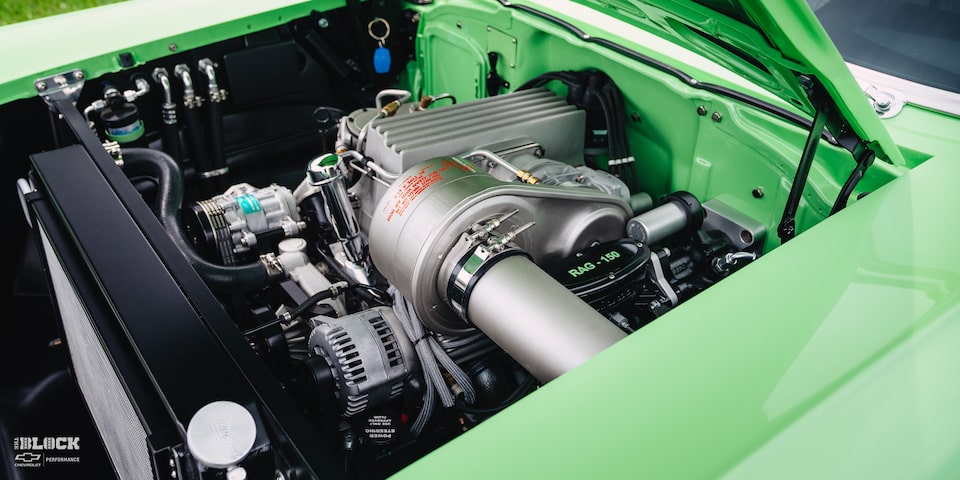 The Chevrolet Performance LS376/480 crate engine* under the hood of Laird's '57 Chevy. The power plant features a Lokar intake manifold.

Laird had become familiar with General Motors' fuel injection system when he built a 1956 Chevrolet four-door wagon for his wife in the early 1990s. He utilized a fuel-injected engine and overdrive transmission from an IROC Camaro in the car. He also estimates that he's utilized 35 or 40 carbureted GM crate engines for various car and truck projects.

He appreciates the support GM provides for its Chevrolet Performance crate offerings, in particular in its fuel-injected engines requiring a computer.

"What sold me on the crate engine was the fact that GM tells you, if you put this thing in and use their computer and everything, you can go into a dealership and they can troubleshoot it for you," he said. "That means a lot. We've got the troubleshooting stuff and I've got the computer for tuning it and all that, but it's still nice to know that you're supported by General Motors."

Laird's 6.2L LS376/480 crate engine is based on the standard LS3, but makes 495 horsepower and 473 lb.-ft. of torque thanks to an aggressive, racing-inspired LS Hot Cam. The cam's increased duration allows the valves to stay open longer, thereby drawing in more air from the rectangular-port, L92-style cylinder heads. The accompanying SuperMatic 4L70-E transmission features a 495 lb.-ft. torque limit.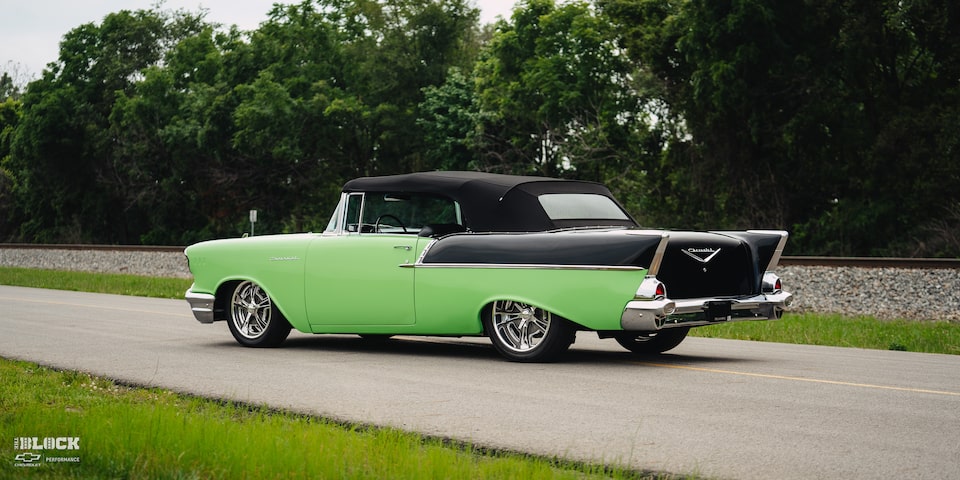 The car is painted in a custom green color.

Laird said the engine fit in "fairly easily" without much fabrication work, while the Roadster Shop chassis is also outfitted to allow for relatively seamless powertrain swaps. Among the highlights of the chassis are a nine-inch rearend housing (the car utilizes a 3.55 rear gear), rack-and-pinion steering, 1.25-inch sway bars, and coilovers on all four corners. Laird is often asked about where the airbags are on the car, but its sleek stance is simply due to the Roadster Shop setup.

The car rides on Schott wheels measuring 18 inches in the front and 20 inches in the rear. GM hydroboost brakes help bring the Tri-Five to a stop.

The green paint was originally a fleet color from another manufacturer (Laird doesn't know which one). It began as a lighter shade of green, but after two sprays of tint became the eye-catching version it is now. Interestingly, the color doesn't have a name. Laird rectified that at a recent edition of the Tri-Five Nationals in Bowling Green, Kentucky, when he was honored with a top-25 award.

"They said, 'Hey, what color is the car?' and I'm like, 'it's Bowling Green,' Laird joked. "They got a kick out of that."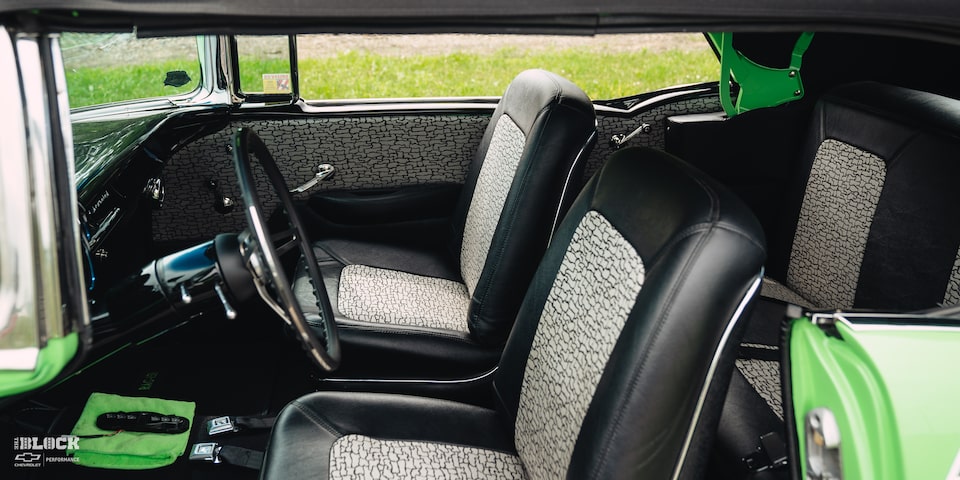 The interior features the cobblestone pattern that came with the 150 model from the factory.

Laird also is a fan of the base Chevrolet 150 model, but the convertible was only available in the top-of-the-line Bel Air package. So, he made his own 150 by utilizing 150 trim and making some modifications to the paint divider with pieces from other Tri-Fives. He also bowed the quarter panels out about an inch so the 20-inch tires would fit. The top is made from Mercedes-Benz cloth and is an exact replica of the original, but is technically custom because it has a glass back window.

The interior also features the cobblestone pattern that came with the 150 model. 1966 Chevelle bucket seats are in the front of the car, but the rear bench seat remains original. Nearly everything is hidden, like air-conditioning controls in the glove box, and the center vent for the A/C is in a tissue box on the console. However, the original 1957 air-conditioning vents in the dash remain.

Laird enjoys such subtle modern updates, all while keeping a build original-looking. 
"They build a lot of cars today with big engine covers, that's just not my style," he said. "I enjoy looking at them, I enjoy looking at the work that they put into them, but [on this car] I painted the A-arms gray, I kind of stick with how GM built the car. I just don't like to see everything all painted black. I like detail in it, so the A-arms are painted gray and different things like suspension parts are painted to make it look like GM built the car."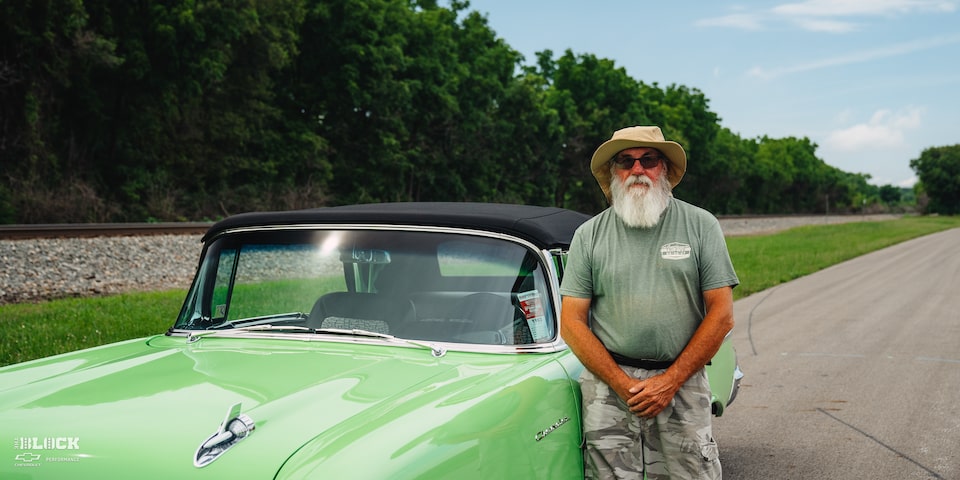 Laird is part of the close-knit automotive community in Delaware.

Laird runs a family business, a fabricating shop, doing industrial fabrication work with a variety of special metals and alloys. His welding background has suited him well in his automotive hobby, exemplified by the custom stainless-steel exhaust he built for his 1957 Chevy using Hooker LS manifolds. In fact, Laird thinks the underside of the car looks just as good as the visible parts.
 
The car was very much a team project, with several family members involved along with his friend, Joe, who was parked next to Laird in the Chevrolet Performance Builder of the Year area in Columbus. Joe worked for General Motors as a packaging engineer and helped provide direction on various lines and wiring. In addition, a group of friends in Delaware pay rent on a body shop once run by their friend Frank and build hot rods together. The building even includes a paint booth where Laird painted the car.
 
Laird believes that it isn't necessary to have the money and resources to build a car all at once, rather, an owner can begin the project with what he or she has and gather resources when the time is right.
 
It's a philosophy that has made his 1957 Chevy convertible into a true showpiece. 
Keep watching the BLOCK for more on Goodguys Columbus and events across the nation.
*Because of its effect on a vehicle's emissions performance, this engine is intended exclusively for use in competition vehicles. This engine is designed and intended for use in vehicles operated exclusively for competition: in racing or organized competition on courses separate from public roads, streets or highways. Installation or use of this engine on a vehicle operated on public roads, streets or highways is likely to violate U.S., Canadian, and state and provincial laws and regulations related to motor vehicle emissions.