Published 11/13/23
A Mighty Chevelle: This 1966 Convertible Features 502 Big-Block Power

Share on
Share on
Visit us at
Visit us at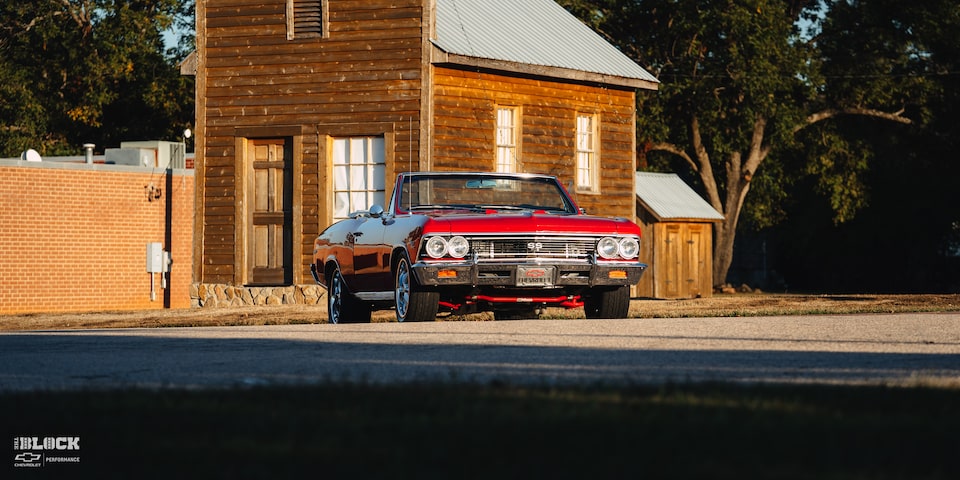 Max Cooper's 1966 Chevelle SS convertible is powered by a Chevrolet Performance ZZ502/502 crate engine.*
"I started looking around at options and the 502 had everything but the intake, carburetor and reversed oil pan; everything else was on it when I bought it," Cooper says. "It also had a 24-month warranty†. I kind of wanted the 502 to begin with, and the more I looked around at it, the more I kind of sold myself on it."

He purchased the engine in 2012 and it has proven dependable since then. He and his wife, Beth, hit a variety of shows across the country, and this year they even had the opportunity to turn some laps on New York's famed Watkins Glen International road course in conjunction with the Syracuse Nationals.

The Coopers live in China Grove, North Carolina, a small town approximately 35 miles north of Charlotte. They had previously spent nearly four decades in the Raleigh area, but made the move to be halfway between their son's family in Clemson, South Carolina, and another son in Raleigh.

"We love it here, there's all this car stuff to do around here," Cooper says of the Charlotte region, well-known as the home base for many NASCAR teams and a wide variety of performance businesses.
The Chevelle is painted in GM's Flame Red.
It's fitting that Cooper lives in the area. He originally hails from Pompano Beach, Florida, and has always been mechanically inclined. In his youth he built his own bicycles by piecing together parts of other bikes belonging to friends in the neighborhood. Later, he made repairs on his first car, a hand-me-down from his father, to ensure it passed inspection in Florida.

"I was always tearing stuff apart and putting it back together, and I still do," Cooper says.

He claimed one of the highest scores on his mechanical aptitude test in high school, and part of his first job was rebuilding V-16 diesel generator sets. By the time he left he was plant logistics manager and was driving a 30-ton crane lifting locomotive-size engines and mounting them on tractor-trailers.

He credits that job with greatly expanding his mechanical knowledge, and when the company went out of business, he was allowed to take his tools with him.

"Most of the tools that I had are from there," he says. "I've upgraded a lot of them, but that was a good start for a kid fresh out of high school."

He eventually got a job with IBM and was transferred to Raleigh in 1986. He lived in that area for 36 years before moving to the Charlotte region in 2022. Along the way, he got married and raised a family, with cars always a part of his life.

His first car was a 1967 Oldsmobile Cutlass, and over the years he's owned a Corvette, MGB and a variety of other sports cars, as well as motorcycles. He also recently purchased a 1936 Chevrolet five-window coupe powered by a 350 cu.-in. Chevrolet Performance Small-Block crate engine.*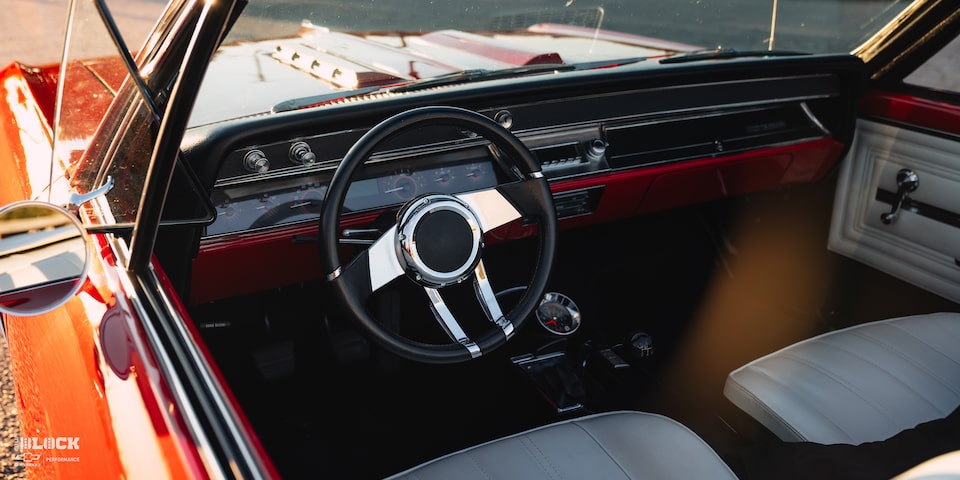 Cooper has made a variety of cosmetic and mechanical upgrades over the years.
As for the Flame Red Chevelle convertible, it has been a constant in his life for 15 years now. He first saw it on eBay in 2008, and with it local to him in Wake Forest, North Carolina, he had an opportunity to check out the vehicle in person before buying.

The car is a real 138 Super Sport model and originally rolled off the General Motors assembly line powered by a 396 and backed with a Muncie transmission. However, when Cooper purchased the car, it had a 402 truck engine under the hood mated to a Saginaw tranny.

As is the case with many classic vehicles, the Chevelle has been a work in progress over the years, with the DIY hobbyist Cooper making consistent upgrades.

He initially added a five-speed TREMEC TKO 600 transmission, along with four-wheel disc brakes to replace the drum versions. He also rebuilt the suspension and added Foose wheels, along with a Flaming River steering column and steering wheel.

In 2012, he found it was time for a new engine.
The Chevrolet Performance ZZ502/502 crate engine under the hood.
He considered swapping to an LS, but at the time, LS conversion kits and parts weren't nearly as prevalent as they are today. He knew how to work on a carbureted engine though, and selected the ZZ502 Big-Block for another simple reason.

"I wasn't going to go from a 402 down," he jokes.

The ZZ502/502 crate engine from Chevrolet Performance is rated at 508 horsepower and a whopping 580 lb.-ft. of torque. It features a cast-iron block with four-bolt main caps and an all-forged rotating assembly for impressive durability.

The engine also looks right at home in the engine bay of Cooper's Chevelle.

"I already had Big-Block mounts in my car, I was able to just bolt it right in," he says.

He and some friends originally installed the engine, but he's also found he can complete the process solo using an engine hoist.

Since he bought the engine he's added a March Performance pulley system, an upgraded radiator, electric fans, a Dakota Digital fan controller and new headers. He's also installed a Dakota Digital VHX dash and says his winter project for this year is to add a Vintage Air system.

With the exception of the headers, the rest of the work was personal preference, as opposed to a necessity for the ZZ502.

"I did all those other extra upgrades while I was at it, I didn't have to do all that," he says.
The 1966 Chevelle is a true 138 Super Sport model. Cooper made special badges to both honor the car's lineage and its modern 502 cu.-in. engine.
The Chevelle sits on the original chassis and the car was originally Butternut Yellow with a black interior, but was already Flame Red with white upholstery when Cooper obtained the car. He believes it sat for many years based on the hours he spent removing mud from the front frame and elsewhere. He thinks the trunk floor pan has been replaced, but otherwise, the body is the same as it was in 1966.

He had the car repainted in GM's Flame Red several years ago and recently replaced the top as well. To enhance the exterior, he made custom "502" badges for the front and back of the vehicle, while his wife found another small badge to adorn the front fenders.

Cooper has also added UMI tubular control arms and Viking coilovers and sway bars to improve the Chevelle's handling. In addition, he rebuilt the positraction rear end with a 3.73 gear to complement the TKO five-speed utlilizing a MalWood USA hydraulic clutch pedal and Hydromax throwout bearing.

A Classic Performance Products Big Brake Kit stops the car, which rides on Nitto 555 tires wrapped around the Foose wheels. The rubber measures 295/45/ZR18 in the rear and 245/45/ZR17 up front.

While the car isn't tubbed, Cooper did add a quarter-inch spacer in the right rear to provide a bit more clearance since the tires just barely fit. He also added airbags to provide some additional stiffness.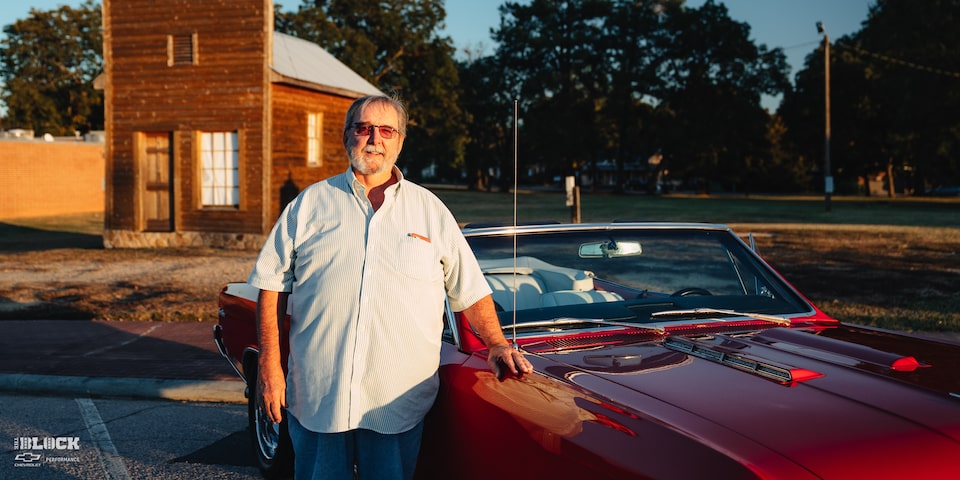 Originally from Florida, Max Cooper is a longtime performance enthusiast who now resides just north of Charlotte, North Carolina.
A talented mechanic, Cooper is responsible for nearly all of the work on the Chevelle over the years.

"I had a guy do the bodywork and the paint, but all the mechanical stuff I've done in my garage," he says.

Although he's won multiple awards, the Chevelle is far from just a show car. Cooper likes to utilize the fruits of his labor and is active in the Piedmont Classic Chevy Club, and the car often appears in parades and at a variety of functions.

For an enthusiast like Cooper, the utility of the ZZ502/502 is a perfect fit.

Be sure to keep watching The BLOCK for more Chevrolet Performance-powered builds from across the nation.

*Because of their effect on a vehicle's emissions performance, these engines are intended exclusively for use in competition vehicles. These engines are designed and intended for use in vehicles operated exclusively for competition: in racing or organized competition on courses separate from public roads, streets or highways. Installation or use of these engines on a vehicle operated on public roads, streets or highways is likely to violate U.S., Canadian, and state and provincial laws and regulations related to motor vehicle emissions.