There are only a handful of racers whose resumes can match the one belonging to Team Chevy Pro Stock driver Greg Anderson.

Yet he keeps going for a simple reason: the competition.

Greg Anderson is one of the most successful NHRA Pro Stock drivers in history.

"It's nerve-wracking and you beat your head against the wall a lot because obviously you fail more than you win in this class," says the affable Anderson, who pilots a Camaro SS in the Pro Stock ranks. "But on the days that you win, there's just no greater feeling. It is fantastic. When you conquer this class, when you conquer the mountain and beat this class and win on Sunday or win a championship, in my belief it's the greatest accomplishment in drag racing."

Anderson, 62, has a multitude of accomplishments to his name. He's won five championships as an NHRA Pro Stock driver and three as a crew chief. His 103 wins through mid-October are second only to John Force in the Pro categories. He helms the seven-car-strong KB Titan Racing, and for his entire career, he's been in the General Motors camp.

He has also spent a lifetime in the sport.

Anderson is a native of Duluth, Minnesota, where his dad raced part-time and owned a car lot. In his youth, Anderson worked on the cars in the lot doing everything from body work to brakes, along with engine and transmission work. He learned he had mechanical ability early in life and soon parlayed that knowledge into a career working on race cars.

He eventually got connected with fellow Minnesota native, the legendary Warren Johnson, and moved south to serve as Johnson's crew chief. Anderson was responsible for Johnson's famed Oldsmobile and Pontiac race cars sponsored by multiple GM brands in the late 1980s and 1990s. The two won championships together in 1992, 1993 and 1995.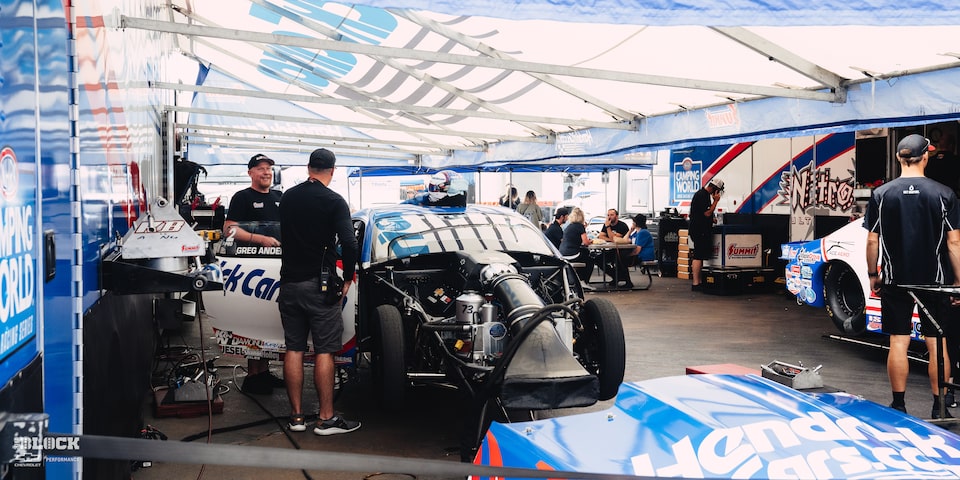 Anderson has passed many lessons learned as a crew chief on to his own KB Titan Racing team.

Anderson's natural talent for turning wrenches was obvious, and he and Johnson shared a bond as hardworking fellow Minnesotans. But Anderson also learned multiple lessons from Johnson, fittingly known as "The Professor."

"He was the kind of guy that no matter how hard you wanted to work, you couldn't beat him [to the shop] in the morning and you couldn't leave after him at night – impossible," Anderson says. "He was just there all the time and he had done everything in his life. He had worked on airplanes, trains, cars, any problem you had or something you hadn't done before, he had done it.

"So I learned a ton from him, with the number one thing being the work ethic. That's just so important."

Anderson was primarily in charge of everything from the firewall back on the cars in Johnson's operation, meaning he worked on components including the clutch, transmission and rear end. However, Johnson taught him how to service the car from the front bumper to the rear bumper, including the engine. That served Anderson well later in his career when he swapped roles and became an engine specialist.

Johnson is also responsible for Anderson becoming a driver, something he had never thought much about. But after Anderson and Johnson's son, Kurt, were critical of an on-track performance one day, Johnson sent them both to Roy Hill's famed drag racing school to learn just what it was like to drive a Pro Stock car.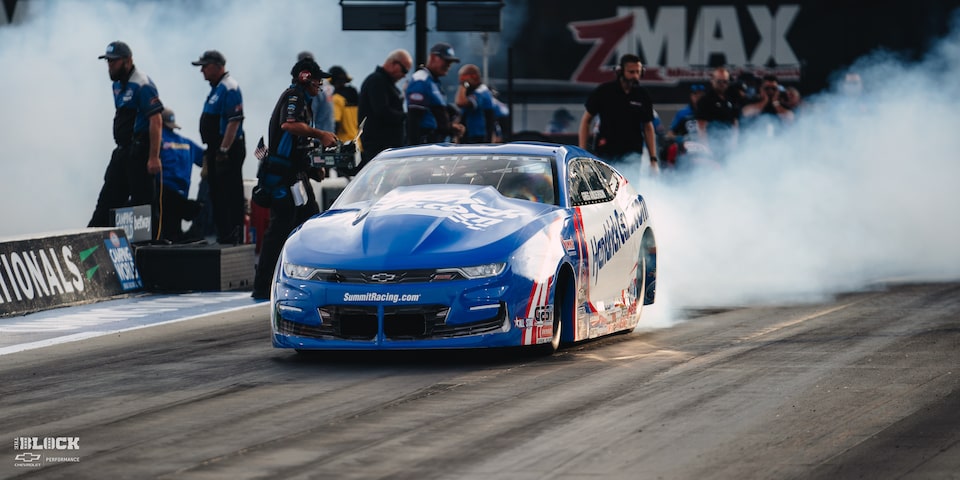 Anderson's consistency behind the wheel has netted him five Pro Stock titles, all in GM vehicles.

Obtaining his Pro Stock license allowed Anderson to pursue driving while still being active on the mechanical side. He began his Pro Stock career in 1998 and joined car owner Ken Black in 2001. He won his first race that year at Bristol Dragway and went to work with Black's newly formed KB Racing in 2002. He soon won three consecutive Pro Stock titles from 2003 to 2005, and since then has added championships in 2010 and 2021.

Anderson believes the knowledge gained as a crew chief helps him on the track. While he notes that sometimes it's possible to have too many thoughts running through his mind when he needs to only concentrate on staging and reacting to the Christmas Tree, his mechanical knowledge also makes him keenly aware of how the car is performing and how he needs to drive it.

"We can run on-board computers and we can log a lot of data, but there are still certain things that you've just got to be able to feel yourself or be able to see with the naked eye," he says. "That's one of the things I learned as a crew chief. There's a lot more to it than that computer."

Anderson is methodical in all he does, from the way he stages the car before making a run to his exit at the top end after completing a pass. First, the steering wheel comes off, then the belts, and then he extricates himself from his Camaro SS.

The need for repeatability in any drag racing class, but particularly in Pro Stock, is why Anderson tries to be so precise all the time. The cars are so close that the slightest change can be the difference between turning on a win light and going on the trailer.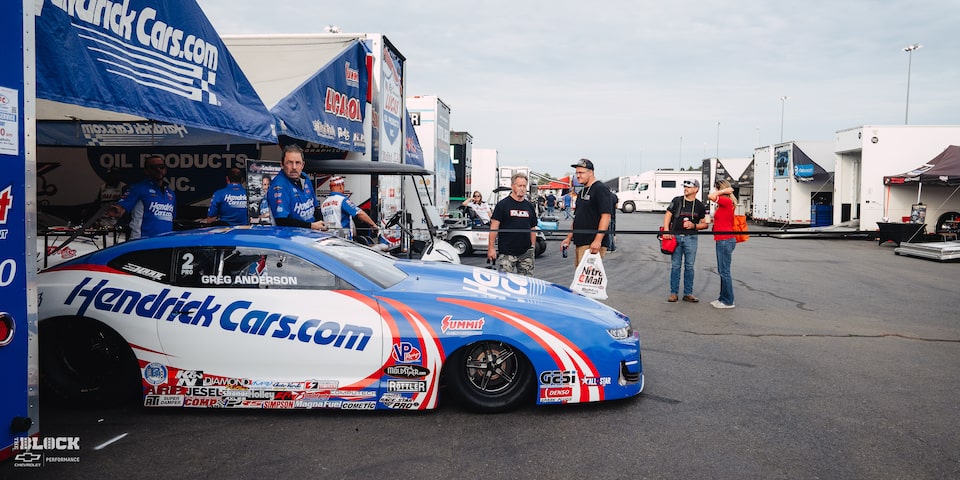 Anderson is known for his legendary work ethic and preparation.

"There's no room to make mistakes," Anderson says. "The other thing is it's not necessarily that hard to drive these race cars, but they're extremely difficult to drive correctly, to drive perfectly. Between the shifting and the steering and the cutting a reaction time, it's very hard to get it right. It's not necessarily that difficult to get from point A to point B, but it's difficult to do it perfectly and get that great e.t. every time."

Plus, being consistent as a driver allows the crew chief to do their job and not worry about the driver changing techniques behind the wheel.

Anderson's consistency extends to the fact he is often seen with a lollipop around the track, a way to combat nervous energy. It's so ingrained in his personality that even fans bring him boxes of them.

But although Anderson has been a Pro Stock driver for more than two decades, his job is a whole lot more than sucking on lollipops and banging through five gears to reach speeds greater than 210 mph in six and a half seconds.

His role at KB Racing was initially one of a crew chief and part-time driver, but he soon started running the racing operations while competing in every event on the NHRA national trail. When Ken Black and wife Judy retired at the end of the 2022 season, Anderson took over at the helm as the team merged with Titan Racing Engines to form KB Titan Racing. For many years the shop has been located in the racing hotbed of Mooresville, North Carolina.

Anderson says his role hasn't changed much, and his leadership style is one of constant commitment at the shop and the track.

"I work on engines all day long and I try to lead by example," he says. "I try to work a lot of hours and work hard."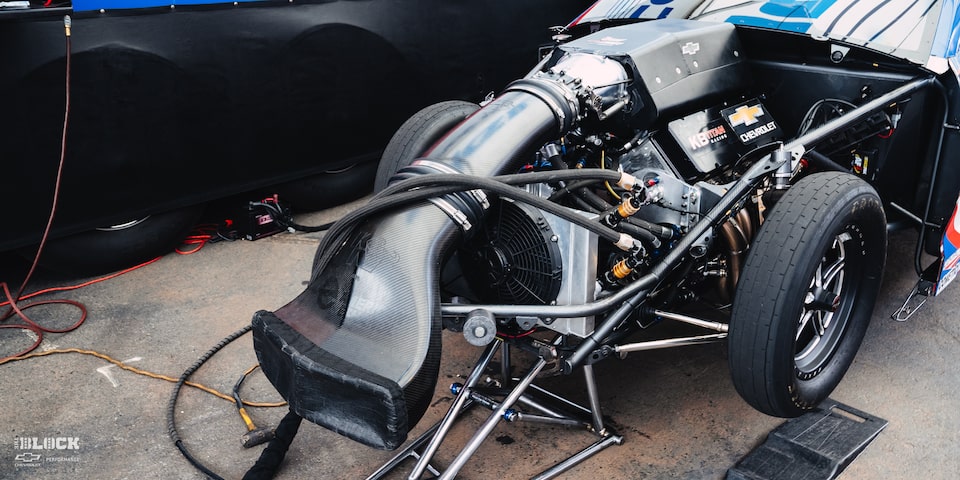 All seven cars at KB Titan Racing utilize Chevrolet power.

After many seasons as a two-car team, KB Titan Racing has grown to a seven-car operation in recent years as the sport's shifting economics left many talented racers without the financial ability to enter Pro Stock on their own. KB Titan and some of the class's other big teams adapted their business models to field more cars under their umbrellas, offering programs in which drivers can join the organizations and have access to all of the same staff and technology.

The result is there is more data to gain throughout a race weekend, but Anderson also works on cars that are attempting to beat him every week. Still, after a couple of shaky seasons, the net gain is the Pro Stock class has returned to stable footing and it is not uncommon for more than 20 cars to attempt to qualify for 16 spots on the elimination ladder.

The Camaro SS makes up the majority of the Pro Stock category, and all of the KB Titan cars wear the bowtie. Over the years, Anderson's close manufacturer relationship has provided a multitude of benefits. During his years with Warren Johnson, he and the team often visited GM's wind tunnel and R&D operation in Detroit, something Anderson believes provided a distinct advantage with the tools, equipment and resources an OEM has at its disposal.

The same remains true to this day. Anderson has driven a variety of Pontiac and later Chevrolet models during his time in Pro Stock, but he's been with General Motors his whole career.

"Since I've gone on my own I've been fortunate enough to keep that relationship going with GM and it's invaluable what you can learn from them," he says. "Hopefully along the way, they've been able to learn a lot of things also that we've done that they want to apply to their street cars.

"It's a good two-way street, and without a doubt a benefit to us, but I definitely like to think it's been a benefit to them also. A lot of new things get tried and first tested on these types of vehicles, and they end up on street cars years down the road. There's a lot of technology that comes from the racetrack that goes in the street car."

Anderson has a 2005 Pontiac GTO with only 2,000 miles on it, and his daily driver is a Chevrolet pickup. But he doesn't have much time for the automotive hobby, or any hobby for that matter, as his racing career is the priority.
Although he has scored over 100 victories, Greg Anderson shows no signs of slowing down.

Anderson has achieved numerous storybook accolades in that career. For instance, his 100th victory came in the prestigious U.S. Nationals at Lucas Oil Indianapolis Raceway Park. He's also developed a relationship with HendrickCars.com, whose proprietor, the wildly successful businessman and NASCAR car owner Rick Hendrick, got his start in motorsports by drag racing.

But Anderson is most proud of the team he's assembled. Another lesson he learned from Warren Johnson is that, while it might be possible to have a broad range of knowledge, one can only specialize in one thing. So with his history in the sport and respected reputation, Anderson has been able to hire who he feels are the best people for each role.

"I'm most proud that I was able to assemble a team that could do what we've done," he says. "I haven't done it, this team has done it."

Anderson says he'll race until he can't win anymore, which seems like a long time down the road. But it wasn't that long ago that grizzled veterans made up the majority of the Pro Stock competitors. Now, the class features multiple drivers in their 20s and 30s whose youth allows for quick reflexes and reaction times.

With that in mind, Anderson has an eye on the future, and his son Cody is an integral crew member in the KB Titan Racing program.

But for now, Anderson is committed to both driving and making the race cars consistently quicker and faster.

"The competition is so intense and the engines are so intricate, we spend every waking moment we have working trying to find one or two horsepower," he says. "We're looking for just the tiniest edge we can get, and that's what drives us. We go into the shop every day trying to find another horse that can help us win next week.

"That's what it's all about to me. It's a lot of work, it's a tough challenge, but I absolutely love it. I love going to work every day."

Keep watching The BLOCK for much more on Team Chevy, Chevrolet Performance and a variety of motorsports disciplines.