For Jerry Noonan, racing is a family affair. Both his wife, Tracy, and children, Michael and Maranda, often go to the track with the longtime COPO Camaro driver. His grandson, Michael, can also be found poking around the pit area.

But not only does the family race together, they also work together at Jerry Noonan's Auto Center in Monroe Township, New Jersey.

Add that to the strong family bond created by the COPO race car, and Noonan is always accompanied either by blood or adopted brethren, and many times both.

"It's a fantastic car that GM built and it created these fantastic friendships," Noonan said during August's COPO Camaro Shootout at Summit Motorsports Park in Norwalk, Ohio.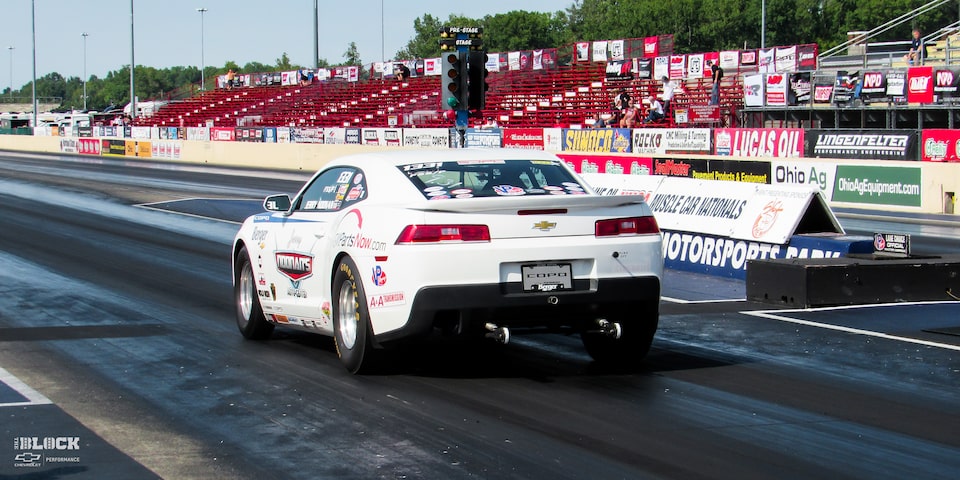 Jerry Noonan campaigns a 2015 COPO Camaro at a variety of NHRA and NMCA-sanctioned events.
At the event, Noonan was competing in a fifth-generation COPO he originally purchased through the COPO lottery as a 2013 model. Since then, it has been upgraded to a 2015 with a conversion kit. He also owns a direct-injected sixth-generation 2017 COPO, a 2020 edition, and most recently purchased a second 2017 model he plans to race soon. All the engines are naturally aspirated, and aside from the 6.2L power plant in the direct-injected car, each one is 427 cubic inches.

At first, Noonan was unsure he would put his first COPO on the track. Perhaps he'd add it to his extensive collection of Chevrolet and GM vehicles which includes his first car – a 1966 Pontiac GTO convertible. However, he decided he'd get the most enjoyment from racing.

Noonan primarily competes in NHRA Division 1 in the Northeast, while also hitting special events like the NMCA-sanctioned COPO Shootout.
Noonan has been racing since his youth.

A native of East Brunswick, New Jersey, Noonan grew up close to the historic – but now shuttered – Englishtown drag strip in the Garden State. He was still in single digits in age during most of the muscle-car era, but was fascinated by the now iconic pieces of Detroit steel.

In high school, he and his friends began to hang around the Englishtown track and bracket raced their street cars, but Noonan's first real drag car was a 1966 Chevy II. He drove it in bracket competition at Englishtown, Atco (New Jersey) Dragway and Maple Grove Raceway near Reading, Pennsylvania, in his mid-20s.

Noonan's parents had always owned GM vehicles, but although his older brother was into cars, the family wasn't necessarily performance-minded. Noonan learned he had mechanical ability at a young age, but says he didn't really apply himself in school until the 11th grade. That came about thanks to his mother.

"She knew I had more in me than I did," Noonan said.

His mom saw his passion for all things automotive and not only took him to look at his first car, but also helped him work on it.

"I just had this desire and my mom fueled that," Noonan said. "I'd be working on it and she'd be out in the garage until one o'clock in the morning with a drop light, helping me bleed brakes. … She was my guiding light."

Sadly, his mother passed away while Noonan was still in high school, and his dad passed while Noonan was in his early 20s.

Jerry Noonan's Auto Center has been in operation for more than 35 years.

Noonan began working a variety of jobs after graduation, including a couple at gas stations and at one time held a public service role, but he decided to open his own service station at the age of 25 in 1987.

He was mostly self-taught, with a large percentage of his automotive knowledge coming from magazines going back to his high school days. He learned how to run a business, his wife (with whom he went on dates in the garage in high school) learned to handle bookkeeping, and the business evolved into a full mechanical and body shop. Today it is located in a 16-bay, 16,000-square-foot building after humble beginnings.

"It was all based on a dream and a goal," Noonan said. "It was at a young age and people said, 'How could you start at 25 years old?' I said, 'Well, I've got to be honest with you, I didn't have any choice.' I didn't have anybody holding me back, that's one thing, but I didn't have anybody that was a crutch. If I needed $5,000 to buy a piece of equipment, I had to earn $5,000."

As his business was getting up and running and his son Michael was growing up, Noonan put racing on the back burner.

But as Michael got older, the father-and-son began doing some bracket racing with Michael in an S10 and Jerry driving a 1970 Nova. Later, Michael also campaigned an El Camino as part of a high school program teaching youth how to race and be safe doing so. The elder Noonan helped with the program, while his wife wrote race reports for the weekly motorsports paper, "The Raceway News."

Noonan's daughter Maranda also spent some time in a junior dragster, further proof that for the Noonans, racing is a family affair.

"It was always in our blood," Jerry Noonan said.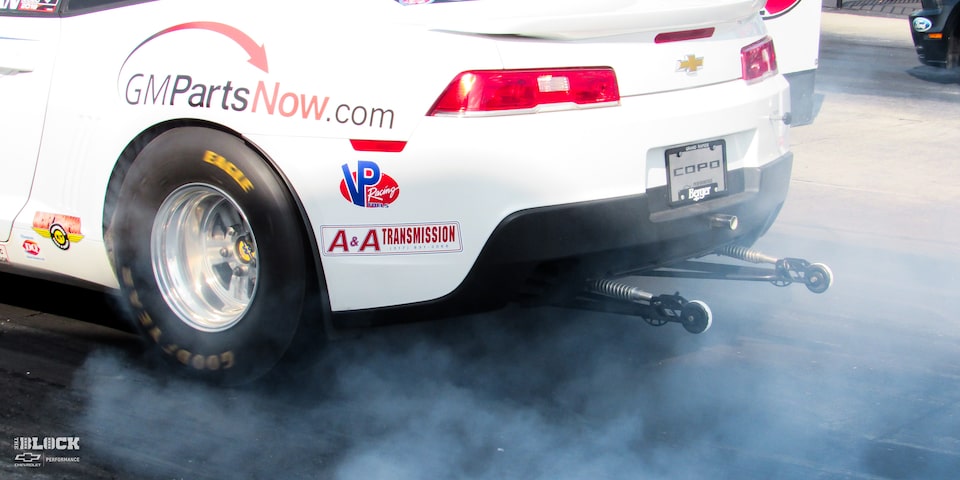 Noonan performs a burnout before a run during August's COPO Camaro Shootout at Summit Motorsports Park.

His interest in later-generation specialty Camaros goes back more than 20 years, to when the fourth-generation Camaro was reaching the end of its run in 2002. He ordered multiples of the rare Berger Camaro SS packages from the era and still has several today.

Chevrolet introduced the fifth-generation Camaro nearly a decade later and the modern-day COPO Camaro soon followed. Noonan was a fan of the original 1969 version and entered the COPO lottery to obtain a 2013 model. He ordered it through his long-standing relationship with Berger Chevrolet and picked up the car at the COPO Build Center in Oxford, Michigan.

There he met and became tight with several other COPO owners, including a friend named Bob, who lived near Noonan in New Jersey. The two men grew extremely close, and Noonan still gets emotional talking about his friend, who passed away after a battle with cancer.

The group shared thoughts on how to make the cars quicker and faster, in addition to becoming close friends away from the track. Now, Noonan says there is another generation of racers who have become part of the COPO family in recent years. But as the group expands, the vibe remains the same.

"You're going to compete with them, but it's a short period of time," Noonan said. "You're just trying to share your knowledge and help them enjoy the product and have fun. It's all about having fun."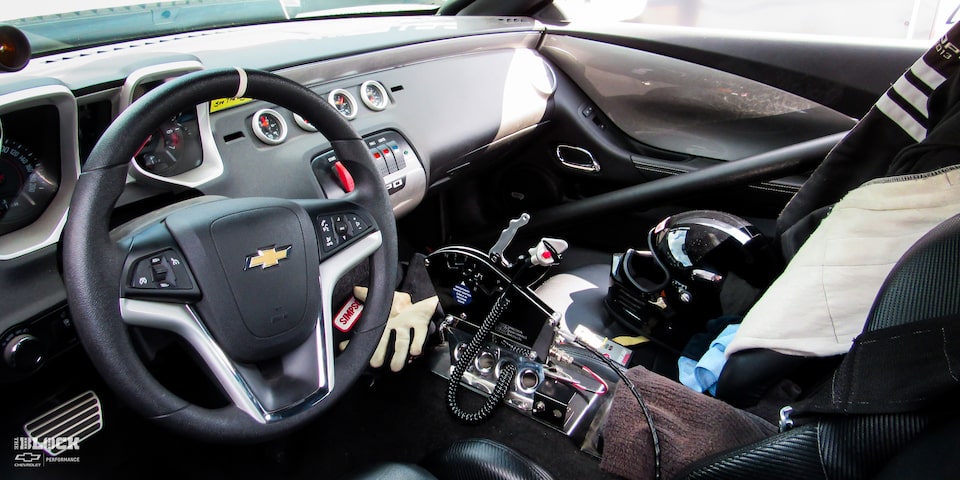 Jerry Noonan says driving a COPO is "like driving a luxury car."
Noonan has driven a variety of race vehicles over the years, but believes there is no comparison to the purpose-built COPO from Chevrolet Performance.

"It is like driving a luxury car, I mean the car does exactly what it's supposed to," he said. "I have a '70 Nova and you have your rattles and it's clunky, just because it wasn't a new car. [With the COPO] you're starting with a brand-new platform and then everything is custom-designed; it's tailored for that package."

Jerry Noonan's Auto Center – which has adopted many of the COPO Build Center's processes – currently has more than a dozen employees, allowing Noonan to get to the track more often while his son Michael follows in his footsteps. Daughter Maranda has also followed her mother into bookkeeping while handling social media for the company as well.

Still, they often all go the track together, just as they did at the COPO Camaro Shootout in late August. Although Michael hasn't raced in several years thanks to being busy with the business and kids Michael and Mia, he works on his father's car at the track or the shop whenever he gets the chance.

"I try to be involved as much as I can because I enjoy it," he said. "I enjoy doing stuff with my family and that's why I'm trying to get my kids into doing this stuff as well."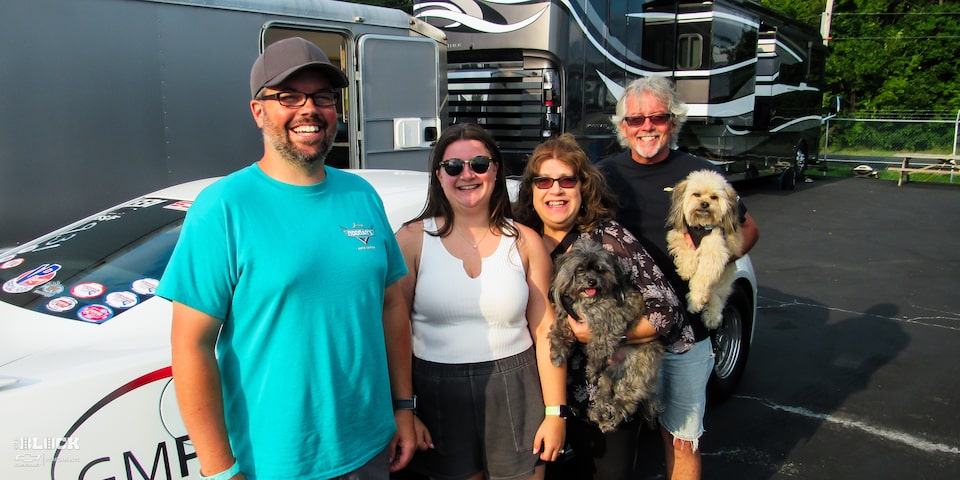 Racing is a major part of the Noonan family. From left: Michael, Maranda, Tracy and Jerry Noonan.
Jerry Noonan's wife, Tracy, has now also spent nearly a lifetime around the racing world. Today, she can't imagine doing anything else.

"I was brought into it through him, but it's something I always want to do," she said. "I don't imagine myself ever not wanting to be around that smell or that sound. It feels like home in my heart."

She could be speaking about her own family or the broader COPO community, which for the Noonans, are forever intertwined.

To learn more about how to purchase your own COPO Camaro, be sure to visit this link.

Also, keep watching The BLOCK for more on the COPO program, Chevrolet Performance and all motorsports disciplines.