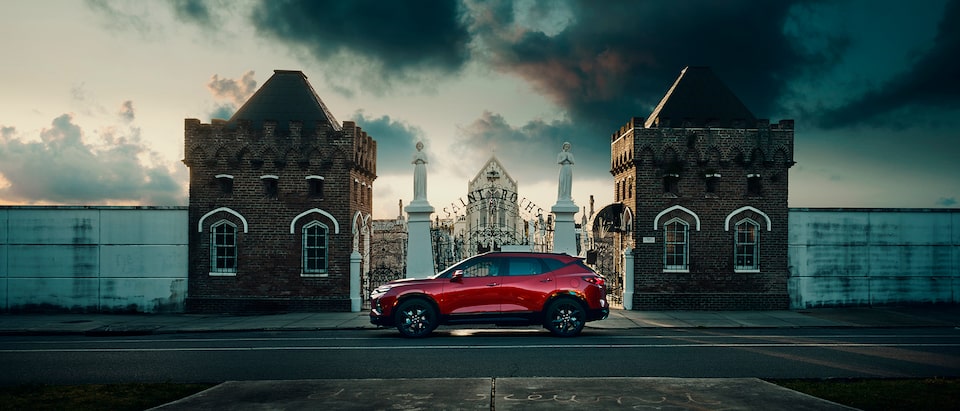 ---
2019-10-8 | Chevy New Roads Magazine

Finding Eerie in the Big Easy

The Chevrolet Blazer is our stylish tour companion for a trip around one of America's best-loved and most haunted cities.

New Orleans is a magical place, a city that has stood for 301 years on a patch of land that should, by all rights, be underwater. Yet NOLA was home to unique cultures, legendary personalities, and extraordinary traditions long before most places in the country were even mapped.
Like many venerable cities, New Orleans' centuries of lore, combined with unique funerary traditions and unmissable above-ground cemeteries, have given rise to more than a few stories of ghosts, hauntings, and general seductive scariness. In fact, you can spend a whole day—or weekend—stringing together all the best haunted locales.
"People are terrified of the dead," says Carolyn DePalma, an effervescent guide from Ghost City Tours. "But cemeteries are some of the most peaceful places in the city to me."
We teamed up with DePalma for a drive around the city with the 2019 Chevrolet Blazer, and to raise a few goosebumps in the process. DePalma is a Chicago transplant who has discovered a fascination with the history of New Orleans. She guides, writes new tours, and generally adores showing folks around her adopted city.
The Details Matter
BLAZER
---
9-SPEED

AUTOMATIC TRANSMISSION

Ornate wrought-iron gates guard the entrances to cemeteries throughout New Orleans. Our Cajun Red† Blazer RS was perfect for exploring them, along with other hauntingly beautiful parts of the city.
Ghost Dog

Location: St. Roch Neighborhood, 7th Ward
When to Visit: Early morning or late evening
Spookiest Event: Ghost dog that vanishes as you approach
The lovely St. Roch neighborhood (pronounced like "rock," if you're aiming to sound like a local), is tucked between the 7th Ward and Bywater neighborhoods, which don't see many tourists. Characterized by stunning wrought iron and scattered stone carvings, along with a fascinating, spooky back story, the locale is well worth the short drive from the French Quarter.
The namesake Saint Roch was said to have been saved from the bubonic plague when a nobleman's dog found him in the wilderness, brought him bread, and licked his wounds. Reverend P.L. Thevis invoked Roch during a yellow fever outbreak in New Orleans in the late 19th century, and legend has it that no one in Thevis' community was taken by the fever. "In Fulfillment of a Vow" is still inscribed on the chapel the good reverend built to honor the saintly protection.
While strolling the quiet streets of St. Roch, DePalma cautions against trying to rescue the stray dog you may be lucky enough to see. "People tell stories of a 'ghost dog,'" says our guide. "Sometimes seen with an old man in a cloak, the dog vanishes as people get near."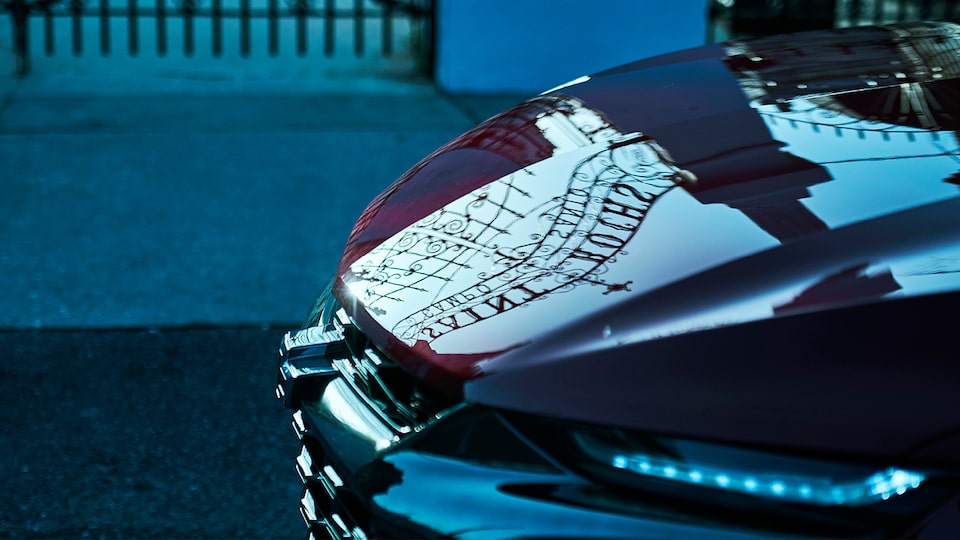 ---
BLAZE A CRYPT-IC TRAIL

The French Quarter may be perfectly walkable, but the Blazer helps unlock the tour potential of the entire city. Put a few friends in the spacious back seat and ride past cemeteries on the edge of the Quarter that date to the 1800s for a truly haunting historical experience.

Better yet, head uptown on St. Charles Street to the former American Quarter of the city, now better known as the Garden District. The tree-lined lanes are perfect for casual cruising, but you'll also find cemeteries that offer a trove of ghost stories all their own. Step through the wrought-iron gates and into the corridors of crypts to discover their secrets.

"New Orleans is a 'choose-your-own-adventure' city," laughs DePalma. With a few friends, and a few days to kill, there's virtually no end to the thrills—and chills.
---
Hospital Hotel

Location: Hotel Provincial, 1024 Chartres Street
Constructed: Around 1820

When to Visit: 8:00 a.m.–10:00 p.m.

Spookiest Event: War-era hospital scene taking place on the second floor
The early morning streets of the French Quarter look eerie through the windows of our Blazer's comfortable cabin. Fog hovers thick, clinging low to the street without a breath of air to move it; as it wreathes around the heads of passersby, it renders them ghostly for an instant. At this time of day, the short drive to the infamous (in ghost-hunting circles) Hotel Provincial is spooky.
In many ways the hotel couldn't be any more charming. Provincial is located on a lovely block of Chartres Street with the kinds of Spanish-style balconies and brick construction that give the French Quarter its well-deserved appeal. A wide driveway accesses an interior courtyard and parking area, so parking the Blazer here was a breeze.
Not everyone books at Provincial for its quaint guest rooms and quiet beauty, however; some are here for the ripe history of hauntings. During the Civil War, the hotel buildings were used as a hospital for wounded soldiers. Some of those lost souls and their caregivers seem to have never left the spot of their demise, as both guests and employees have reported apparitions of a figure in a long white dress, reminiscent of a nurse of the era.
In one legendary experience, a hotel guard was said to have gotten off the elevator at the second floor only to see a desperate war-era hospital scene unfold. (He got right back on the elevator.)

Whether visiting the Hotel Provincial or peeking into Muriel's Jackson Square restaurant, the Blazer RS is right at home here in New Orleans, where it creates a striking apparition on its own.

Dinner Guest

Location: Muriel's Jackson Square, 801 Chartres Street
Constructed: 1718
When to Visit: 11:00 a.m.–10:00 p.m.
Spookiest Event: Drinking glass on a shelf being thrown across the kitchen

Butting up against Jackson Square, the picturesque Muriel's restaurant puts its supernatural legacy out in the open for patrons, or even passersby, to ponder. Look closely through the barred dining room windows on Chartres Street and you'll notice a table, set for dinner, with no diners evident—an offering of bread and wine for the dead, amidst the daily feasts of Cajun and Creole cuisine for the living.
The solo table is there to appease a former owner of the grand house that eventually became Muriel's restaurant. Pierre Antoine Lepardi Jourdan is rumored to have lost his beloved estate in a poker game at one of his well-known parties. Distraught at losing his home, he retired to the second floor and did himself harm.
Since then, the building has always been the source of apparitions. But when Muriel's moved into the space two decades ago, something in the party-like atmosphere of the dining room caused the paranormal activity to ramp up—with drinking glasses flying off shelves and across rooms.
A haunting by the party-obsessed Pierre was to blame, says DePalma. "He was … well, throwing a hissy fit, basically."
The empty dinner table, then, was a way to invite the former patron to the party, and thus reduce his ire with the tourists. After all, a happy ghost is the best kind for business. "It seems like it made him feel welcomed again," says DePalma.
Some souls are just destined to stick around the Crescent City, it seems. As DePalma puts it, "If New Orleans wants you to stay, you'll stay, and if she doesn't, you won't."
STORY: SEYTH MIERSMA / PHOTOGRAPHY: DANA NEIBERT