---
2020-3-2 | Chevy New Roads Magazine

The Sweetest Road Trip
Get on the road early in Butler County, Ohio, and you'll be able to find some of the most unique and delicious donuts in the country. Hop into our 2020 Chevrolet Equinox and come along on the tastiest road trip ever.

About 40 miles northwest of Cincinnati, Ohio, there's a challenge to put a grin on the face of anyone with a sweet tooth—the Butler County Donut Trail. Not a trail in the literal sense, but the mission is this: Visit 12 donut shops in a roughly 80-mile loop route (the 11 we list here, plus the Donut Hole by Milton's Donuts in West Chester, which was added recently), get your Donut Trail passport stamped at each, and earn a T-shirt commemorating your undertaking when you're done. There's no deadline, so the mission can be completed in as many days as you like (or need).
You can pick up your passport at any of the donut shops, but we strongly recommend starting in West Chester, Ohio, at the Butler County Visitors Bureau, where you'll be greeted by friendly faces whose mission it is to help you consume as many donuts as you can, as efficiently as you can—and give you that T-shirt after you pull off the feat.
After noting opening times, draw up your plan of attack. Regardless of how many days you're taking, you'll want to start early—making donuts is hard work, and the shops typically close when they sell out. There's only one way to figure out which is your favorite.
The Details Matter
2.0L 4-CYL.

TURBOCHARGED ENGINE AVAILABLE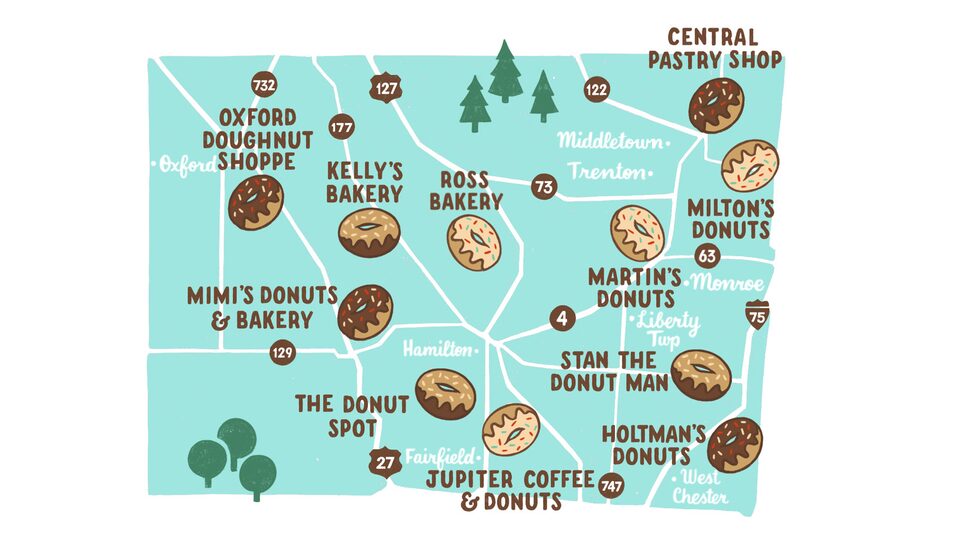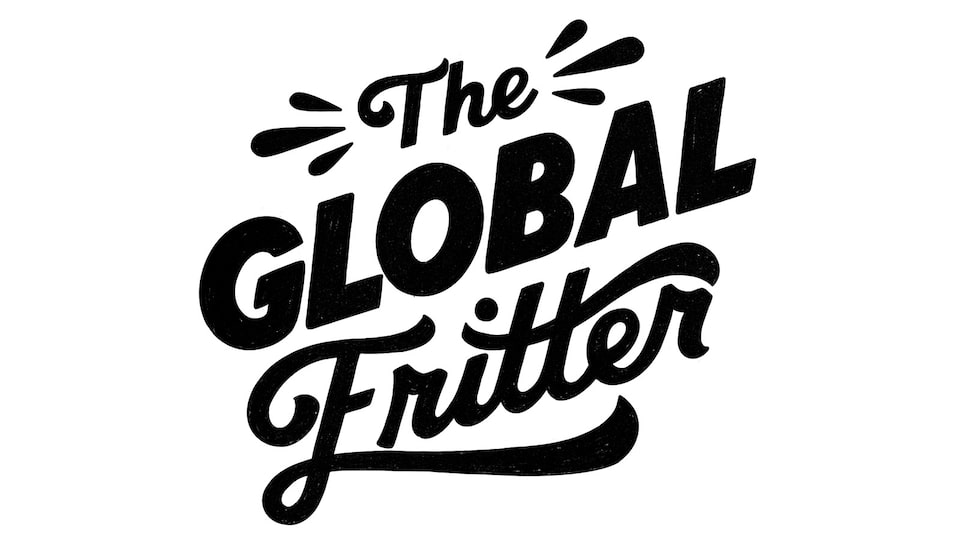 The whole world loves donuts. Churros—fried dough that has been piped into a kind of tube using a star-shaped nozzle—are Spanish in origin but can now be found just about everywhere. Head north of the border and you'll find the Canadian "beaver tail," a flat piece of fried goodness topped with anything from bananas to bacon. The Italian zeppole is equally flexible; this filled donut can be packed with blended ricotta and sugar, custard, jam, or savory fillings like anchovies.
HOLTMAN'S DONUTS
9558 Civic Centre Blvd., West Chester
DONUT OF CHOICE: Apple Cake with Cinnamon Sugar
Holtman's has been making donuts since 1960. Though its West Chester location isn't the first, it is the only one on the Donut Trail. Located just inside the Streets of West Chester shopping area, the newly built operation offers a kingly view of the entire handcrafted donut-making process through the glass—both outside the shop and after you're inside. Inside, things are modern, spotless, and well laid out. You've got options, but if it's available, the apple cake with cinnamon sugar donut hits the spot on an early morning—there's only so much icing one can take in the wee hours. Soft and substantial, the cake donut is perfection thanks to the occasional big cinnamon chunk nestled inside its warm center. Pairing it with a cup of locally roasted Seven Hills Coffee makes perfect sense!
STAN THE DONUT MAN
7967 Cincinnati Dayton Rd., West Chester
DONUT OF CHOICE: Pineapple Fritter
You can't pull up to Stan the Donut Man and not immediately be struck with the realization you've hit a local gem. There's nothing slick about Stan's, which sits just a few blocks down the street from the you-know-who big donut establishment (complete with drive-thru). At Stan's, things are all business—well, as business as a donut shop can be, anyway. The shop gets pretty busy in the summer months, so it's advisable to call ahead and check donut availability. Patrons tend to know what they want, but one of the must-tries here is the pineapple fritter. You'd better like pineapple though, because there are huge chunks baked right in. If not, stick with the blueberry cake donut.
MILTON'S DONUTS
3533 Roosevelt Blvd., Middletown
DONUT OF CHOICE: Oreo
Milton's is a little undercover—if you're not watching for it, you might drive right by—and that's a reminder that what's inside is worth seeking out. Fan favorites at the family-owned Milton's Donuts include the fried cream cheese and the Oreo donut. They'll both catch your eye, but sinking your teeth into the Oreo donut produces an instant—and appreciated—time warp back to childhood. It's likely the richest donut you'll try all day, and it'll fill you up in a hurry. The staff is happy to point you in a less-sweet direction (there are certainly options), but as long as you're doing something called a Donut Trail, shouldn't you be going all out? If you've got a sweet tooth, Milton's will satisfy it.
It's hard to imagine a great donut without a great cup of joe. Here are our three favorites.
JUPITER COFFEE & DONUTS
The only shop to roast its own beans, Jupiter takes its coffee as seriously as it does its donuts.
HOLTMAN'S DONUTS
Holtman's coffee is provided by local roaster Seven Hills Coffee. Options include the "Highlander Grogg," with hints of butterscotch.
MILTON'S DONUTS
Also offering Seven Hills Coffee's Breakfast Blend, Milton's is another great starting spot for your Donut Trail adventure.

CENTRAL PASTRY SHOP
1518 Central Ave., Middletown
DONUT OF CHOICE: Ugly
Maybe the proof of Central Pastry Shop's bona fides is when Vera Slamka tells us that after completing the entire Butler County Donut Trail, "donut trailers" come back to her shop to buy a batch to go. Slamka and her husband, John, have owned the bakery for 35 years and counting, but it has been a Middletown institution since its opening in 1949. As a full-fledged pastry shop, everything from cookies to donuts to wedding cakes are available behind the counter—and Central Pastry Shop prides itself on using the same recipes that made it famous in 1949. The "Ugly" is an old-fashioned cake donut that offers a slight crunch on the glazed exterior that gives way to a perfectly salted soft yellow interior. Though delicious when eaten right then and there, Vera will tell you that these can be frozen for days and days, even eaten out of the fridge a week after buying. Yes, please.
MARTIN'S DONUTS
4 W. State St., Trenton
DONUT OF CHOICE: Twisted Sister
If you're like most people doing the Donut Trail, you'll attempt to complete the challenge over a day or two. That means that by about your fifth or sixth shop, you'll be looking for anything that isn't circular with a hole in the middle. Thankfully, it could be that the ideal answer sits in a shop called Martin's that's perched atop a small hill in Trenton. Consisting of strands of plain and chocolate dough that are intertwined and then glazed, the "twisted sister" will satisfy at least two cravings in one. Fresh out of the oven, the donut's two flavors blend together and melt in the mouth luxuriously. With that said, we're told that the donuts to try here are the cherry cheesecake or the banana pudding … and if you're bold, you can ask about the haunting at the shop!

• Since the trail opened in January 2016, some 22,000 people have completed it.
• "Donut trailers" have visited from all 50 states and 23 countries.
• 70 percent of trailers are from outside the greater Cincinnati area.
• A summer Friday can see as many as 100 or more people collecting their T-shirts.
• The Donut Trail is a hit for bridal parties and sororities, as well as car clubs. The Capital City Corvette Club has been twice!

JUPITER COFFEE & DONUTS
5353 Dixie Hwy., Ste. 5, Fairfield
DONUT OF CHOICE: S'mores Pop-Tart
There's a warm vibe inside Jupiter Coffee & Donuts that will make you want to stick around and enjoy your sweet treat. And there's a reason "Coffee" comes before "Donuts" in the name: Jupiter roasts its own beans, sourcing from Guatemala, Papua New Guinea, and Colombia. If you're a coffee person, it's advisable to jump-start one of your Donut Trail days here. That's not to say that the donuts aren't out of this world as well. The shop is famous for its maple bacon donut, which uses maple syrup sourced from the family's Ohio farm. As good as that concoction is, you'll find it hard to resist a deep-fried S'mores Pop-Tart, which is available on Tuesdays. Never has a Pop-Tart made more sense than when deep fried.
THE DONUT SPOT
5148 Pleasant Ave., Fairfield
DONUT OF CHOICE: Cheesecake
There's demand enough for the Donut Spot's offerings that it's open at 3 a.m., and that should be reason enough to go check it out. As is the case at Stan the Donut Man, this isn't a cozy place where you bring reading glasses to sip your coffee and become enthralled in a nice book while anonymous jazz drifts off in the background. No, you come here because the donuts are top-notch and you can be on your way in no time. Business though things may be, there's a casual, friendly locals vibe—two of whom recommend trying the cheesecake donut, which is confirmed by both ladies working behind the counter. Maybe it's the kindness (which, to be fair, you'll find everywhere along the trail) or the purposeful atmosphere inside the Donut Spot, but the cheesecake donut really shines. Go once, and you'll understand why the Donut Spot has become a regular stop for so many locals.
MIMI'S DONUTS & BAKERY
2267 Millville Ave., Hamilton
DONUT OF CHOICE: Peanut Butter Reese's Cup
One of the better-known names in the Butler County donut game, Mimi's was famously founded by a retired police officer by the name of Sherry Richardson after 30 years of service. It's a little tucked away at the top of an industrial park—when you find it, you'll be as surprised as you are happy that you did. Exotic choices abound behind the counter, but the donut to try if you're going to have just one is the most famous donut offered: the Peanut Butter Reese's Cup. You'd think from the name that you were about to be overwhelmed with sweetness, but the peanut butter filling perfectly situates itself against the sweet chocolate icing, adding just enough salt to create the vaunted umami situation that foodies wax poetic about. If you're not up for finishing an entire one yourself, Mimi's offers a mini version that can be polished off in a few bites. Perfection!
VERA SLAMKA, CENTRAL PASTRY SHOP
Vera Slamka and her husband have owned Central Pastry Shop for some 35 years; longer than any other owner, and for roughly half its legacy. She's proud to be part of the Donut Trail, recalling many fond interactions since Central Pastry became part of the trail. On the wall opposite the counter, a corkboard map is jammed full of pins showing donut eaters from around the globe.

KELLY'S BAKERY
1335 Main St., Hamilton
DONUT OF CHOICE: Glazed
Depending on how aggressive your Donut Trail plan of attack is, you just might find yourself in a state of extreme sugar fatigue by morning's end (ask us how we know). And while it's a shame to walk into a place like Kelly's Bakery and sink your teeth into a simple glazed yeast donut, this is one heck of a good glazed yeast donut we're talking about here. There's just enough hardness in the coating that the fluffiness of its yeast internals is exaggerated, making it ridiculously easy to devour in a hurry. And if your donut coma hasn't set in by the time you hit Kelly's, and you find yourself up for something more adventurous, rest easy—there's a decidedly expansive array of donuts, including exotics like maple bacon, Fruity Pebbles, s'mores, and the bakery's famous buckeye (peanut butter cream inside a chocolate frosted yeast donut), as well as cookies and brownies. On second thought, maybe you're best off getting two!
ROSS BAKERY
1051 Eaton Ave., Hamilton
DONUT OF CHOICE: Dunker
Something of a sleeper, the "Dunker" at Ross Bakery isn't known for its sugary sweetness. Instead, it's designed to do exactly what the name suggests: dunk. You won't need overly sweetened coffee to compete with the punch of your donut here—instead, the Dunker lets the coffee shine, while staying together during extended dunks. Picture yourself on the road on a cold winter morning. You're stopped at a light and your coffee sits beside you in the center console. In goes the dunker, and down it stays through the red light. Before the green, you've got a perfect pairing to take the edge off the morning frost. With that said, Ross is also known for its oversized donuts, with the glazed donut being a crowd pleaser, and its unique Klunker—a cake donut that's fried crisp—a local go-to.
OXFORD DOUGHNUT SHOPPE
120 S. Locust St., Oxford
DONUT OF CHOICE: Kettle-fried Red Velvet
Oxford Doughnut Shoppe sits just outside Miami University (of Ohio, that is), and that means that if you want first pick at some of the hand-cut cake donut options for which it is known, you had better get up early. The neon signage on its windows draws customers in as early as 6 a.m., and weekends can see lines that stretch right out the door. If you can get a seat, Oxford Doughnut is a pleasant place to sit back, enjoy a sweet treat, and watch the bustle. Local artwork adorns the walls, and the whole interior is punctuated with bright red accents that serve to stoke the appetite. The kettle-fried red velvet cake donut sits at the top of the must-try list, but the shop is also known for muffins, pastries, cookies, and other delights.
STORY: JAMES TATE / PHOTOGRAPHY: JODY HORTON / ILLUSTRATIONS: LAUREN HOM