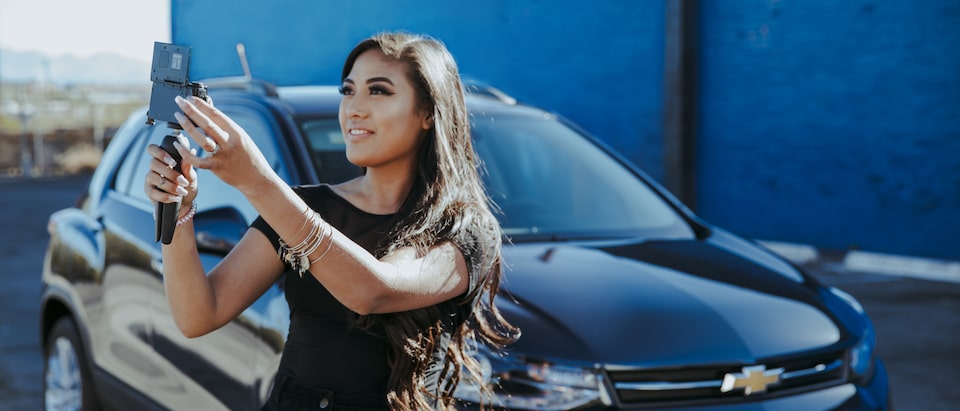 ---
2018-6-18 | Chevy New Roads Magazine

Star Quality

Tucson-based vlogger Mo Calderon is always on the go, shooting content for her YouTube channel, "Mo Explores." We gave her a Chevy Trax for a day to see how it could help her make her work (somewhat) less hectic.

Being comfortable in front of the camera is one part of Mo Calderon's job; the other is scouting the perfect locations to shoot her fashion, beauty, and lifestyle videos. It's something she's become expert at. While majoring in broadcast journalism at the University of Arizona, she began blogging and vlogging before they became mainstream. She started her brand in 2010, which includes advice of all kinds for 20-somethings.

Calderon and her husband, Brandon, headed out in a Trax Premier for a day of shooting video, starting at 8 a.m., when she finds the natural sunlight most flattering. "The tall buildings provide shade around noon, when the sun is really harsh," Calderon says. Driving in downtown Tucson, Calderon loved the size of the Trax—big enough to haul her camera gear, yet small enough to navigate through congested city streets. "Because of my job, I don't travel light," she says. "The Trax provided plenty of storage."

They discovered new, unexpected backdrops: a bright blue wall, the top of a parking garage that offered an excellent view of the desert (and where they were virtually guaranteed no interference from passersby). With each location change also came an outfit change. Conveniently, the back of the car became a makeshift closet and changing room. Calderon says the Trax's cargo area was so spacious she could have fit her entire wardrobe in it, but cutting it down to about five outfits, plus shoes and accessories, made for fewer decisions.

The Details Matter
TRAX
---
1.4L

TURBOCHARGED 4-CYLINDER ENGINE
TURBO-CHARGED 4-CYLINDER ENGINE
---
6-SPEED
AUTOMATIC TRANSMISSION
Produced by Chevy Trax
Video blogger Mo Calderon uses her vehicle as a mobile production studio complete with a wardrobe department. With plenty of storage room and a size that's perfect for navigating city traffic, Chevy Trax easily kept up with Calderon's demanding schedule.
It can get crazy back there during a day of shooting—I'm always throwing things around—but with all of that space, it was easy to organize and reorganize everything.

At each stop, Calderon assessed her wardrobe. "I like to lay out all of my clothes to see how different pieces will look together, and the large cargo space made it easy to do that," she says. "It can get crazy back there during a day of shooting, but with all of that space, it was easy to organize and reorganize everything."

On the go all day in Tucson, where the weather can fluctuate dramatically from morning to evening, Calderon was grateful to be able to climb back into the comfortable, climate-controlled cabin after each shot. That was especially true in the morning, when she was dressed in an outfit that was admittedly not warm enough for the weather, she laughs.

A perk of the Trax she didn't anticipate: The shiny black exterior doubled as a mirror, which was useful when giving her final look a once-over before getting in front of the camera.

The Calderons ended their day with the Trax by driving to Gates Pass, a remote desert area, to watch the sunset before heading home. "I didn't want to give the car back," Calderon says. "It's not only amenable to my work, but Brandon and I loved the look of it, too. It's neither super girly nor super masculine—it's a car we can agree on and enjoy together."

STORY: ELIZABETH SWANSON/PHOTOGRAPHY: CHRIS ARACE