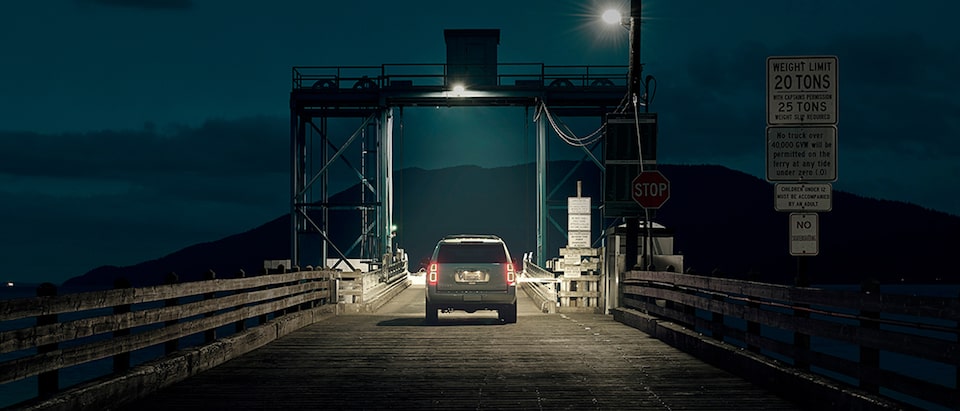 ---
2019-2-25 | Chevy New Roads Magazine
Roads Over Water

Car ferries provide scenic, romantic, and sometimes historical routes to consider for your next road trip.
Ferries work strange magic on road trips, giving you a sense of distance and isolation you don't find on many roads. We suspect that's because a boat is the critical component in atypical road-tripping: slower, more relaxing, and often more scenic than driving a car. A ferry intermission encourages reflection on scenery usually unknowable to automobiles, and thoughts of what's been and what's to come—sort of like interrupting an interstate journey to spend an hour on a horse. Except the horse trots on water, pulls your car, and sells lattes and minestrone on its upper deck.

The car-carrying craft are common sights in the Pacific Northwest—especially Seattle, where ferries are more frequently used by daily commuters than adventurers. But loading up for a ferry journey transforms a mundane experience into anything but. This is particularly true for longer excursions over salt water, such as the crossing from Anacortes, Wash., to the San Juan Islands.

The ferry from Seattle to Bainbridge Island makes many online lists of America's most beautiful crossings, but after testing the ferry experience on some of the smaller vessels in Puget Sound, we decided to head to the San Juan Islands for two reasons: You can drive to Bainbridge, whereas we wanted a refuge accessible only by boat, and the islands provide multiple destinations just as compelling as the ride over.

The San Juan Islands include more than 400 islands and reefs and 408 miles of shoreline. Washington State Ferries has simplified your choice of which islands to visit, because service runs to just four: Lopez, Shaw, Orcas, and San Juan. We boarded in Anacortes direct to Friday Harbor, the port on San Juan Island. The peak season cost of just over $80 round-trip covered a standard vehicle and driver, plus a passenger.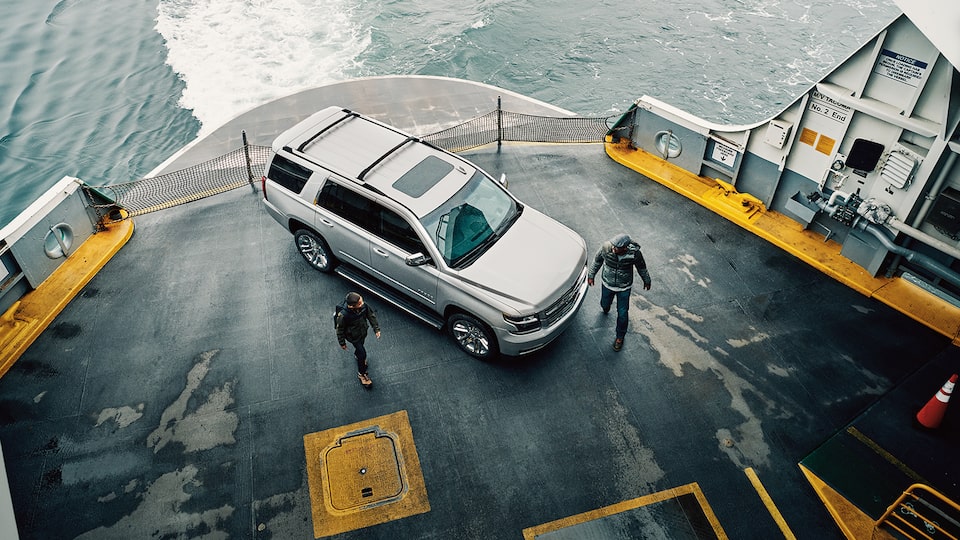 One of the joys of taking the water route is to slow down and enjoy the view, whether that's the stunning scenery of the Pacific Northwest or the Silver Ice Metallic Tahoe, which offers a lovely sight on its own.

Leave Nothing Behind

Our decision to extend the journey out over the water meant we could take our car with us, one of several benefits of going by ferry. There's much to be said for exploring strange lands in the comfort of your own vehicle. Although there is ample sightseeing room inside, we spent most of the 65-minute ride out on the deck, the mid-morning sea trying on several different climates. Overcast skies hovered from port to the channel between Blakely and Decatur Islands. Sunlight struck around Lopez and up to Orcas, highlighting the pale red trunks of madrona trees. Fog settled in between Orcas and Shaw, and a great dark bird soared just feet above the water. The fog dissipated into a bright overcast sky for our return to land at Friday Harbor.

We drove exactly one-tenth of a mile from the ferry dock to a local cafe, where I indulged in crab Benedict, a Seattle specialty that tasted better on San Juan than in Seattle. The crustacean and coffee hit all the spots.

A pit stop at the San Juan Islands Museum of Art introduced us to Jim, a local working the front desk. He dismissed our planned itinerary and recited the must-sees: Make sure to visit the Whale Museum, try the phenomenal barbecued oysters at Westcott Bay Shellfish Farm, stroll the 20-acre sculpture park in Roche Harbor, and take in the views from San Juan County Park and the driftwood-strewn South Beach. If you have time before your ferry home, drop in at the ice cream shop next door to the dock and sample one (or four) of their 81 flavors.

The Bainbridge ferry earns praise for its sunset view of downtown Seattle. We give similar acclaim to the twilight ride back to Anacortes. Snaking through islands and past sailboats, we're surrounded by glinting, amber visions of the Pacific Northwest—all enjoyed with a bowl of clam chowder.

A Car Ferry Near You

If Washington state isn't in your plans, ferries work every corner of the country, and many deserve the nod even when there's another option. For instance, the 5.2-mile Virginia Dare Memorial Bridge will get you from the North Carolina mainland over Croatan Sound to Nags Head. But better to cross farther south at Cedar Island and spend 2.25 nautical hours traversing 19.7 miles of Pamlico Sound. Taking the ferry over to Ocracoke also puts you on the currents of both our recent and distant past. The waters of Pamlico Sound are known for a history of piracy and war. Blackbeard was the most famous to plunder and sink merchant vessels, and lost his head for it.

German U-boats skipped the plundering but resumed the practice of sinking merchant vessels just off the Outer Banks during WWII. A short walk from the Ocracoke port, the British Cemetery stands as a memorial to the 37 seamen who perished when a U-boat sank the HMS Bedfordshire in 1942. Nearby is also where English seafaring captains Philip Amadas and Arthur Barlowe landed after the first of the English voyages to Roanoke Island in 1584.

For vistas, a celebrated passage like the Staten Island Ferry delivers unending views of our nation's urban icons, while the Alaska Marine Highway ferries offer unending views of iconic nature.
We're surrounded by glinting, amber visions of the Pacific Northwest—all enjoyed with a bowl of clam chowder.

But there are ferries that skim the nation's inland waterways, too, like the Charles Hall Ferry in Utah. Connecting the marinas of Halls Crossing and Bullfrog, the 25-minute ride crosses scenic Lake Powell in the Glen Canyon National Recreation Area. Because of its remoteness, there's a chance your primary company for the ride will be still waters and the red-hued sandstone, along with yellow-footed gulls, dabbling ducks, and American coots. Short of hauling your own boat to Lake Powell, you won't find such diverse aquatic company anywhere else in the Utah desert.

All across our country, varied national treasures lie within and across waters. The ferry to Vinalhaven, Maine, deposits you on an island first inhabited at least 3,800 years ago. The ferry across the James River in Virginia from Scotland to Jamestown alights at America's first permanent English settlement. The S.S. Badger ferry, the last coal-fired passenger steamship in the U.S. and a national historic landmark, makes a four-hour journey across Lake Michigan that begins to convey the adjective in "Great Lakes." To reach those gems, and more, find just the right stretch of coast, point your car at the water, and keep driving. Wait for the boat first, though.

STORY: JONATHAN RAMSEY / PHOTOGRAPHY: DANA NEIBERT