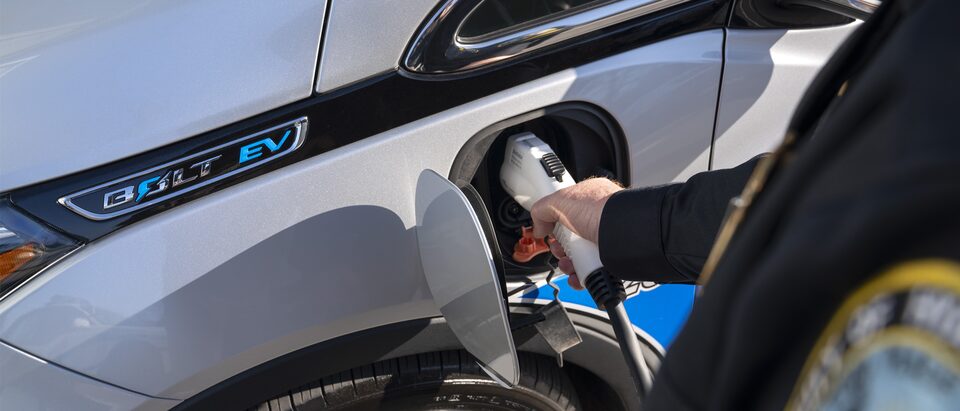 ---
2018-6-18 | Chevy New Roads Magazine

A Bolt EV from the Blue

A Maryland police department puts one of the first electric patrol vehicles on the streets.

When it comes to electric vehicles, Sergeant Richard Hartnett is all-in. "I've been a huge fan of EVs for years," says the 36-year police veteran, who has spent the past several years with the Hyattsville Police Department in Maryland. He leased his first EV from a foreign manufacturer in 2015, but found himself frustrated by its low range and high cost—the same factors that have traditionally prevented EVs from being used by first responders and emergency services.

While many police departments across the country have used electric vehicles for non-patrol work like administrative or parking enforcement, Hartnett says he's not aware of any fully electric vehicles being used for regular patrol duty, mostly due to range concerns. With a range of 238 miles with a full charge,† the Bolt EV was the first EV Hartnett saw that could meet their requirements.

Hartnett explains that the Bolt EV had the combination of range and price his department needed. "When I first heard about the Bolt EV, I thought, 'Wow,'" he says.

But vehicle cost and range weren't the only advantages factoring into the Bolt EV's potential as a patrol vehicle. It had other benefits for police work: They are quiet to operate and quick to accelerate should the need arise. The long-term savings on gas costs over traditional vehicles could also potentially reduce the department's operating costs. It was enough to convince Hartnett of the Bolt EV's value as a patrol vehicle.
The police department is taking a real step forward by having a car that is environmentally friendly.

Making the Transition

Working with the Maryland Energy Administration, Hartnett helped his city obtain a Maryland Smart Energy Communities grant that encourages local governments to adopt policies that lead to sustained energy savings, reduced use of petroleum for government vehicles, and increased renewable energy development. The grant enabled the purchase of the Bolt EV and two public outdoor charging stations.
The vehicle was outfitted with standard police equipment, including two-way radio, computer, sirens, and lighting. However, equipping an entirely new type of police vehicle with the proper gear presented unforeseen challenges. "The Bolt EV isn't as wide as a standard patrol car, so we had to get creative," Hartnett says. "The installation company did a great job. The vehicle turned out looking fantastic. Even the decals look great."
The additional equipment prompted power considerations when it came to installing the emergency lights, siren, and radios. Considering that officers often leave their vehicles idling for long periods of time, the department conducted testing to ensure the vehicle's viability in the field with the extra equipment added. In addition, they installed a special device that automatically disconnects all aftermarket equipment 60 minutes after the vehicle's ignition has been turned off. With their concerns addressed, the department cleared the Bolt EV for its first patrol.
When Hartnett goes to the scene of a call, he says he gets a lot of questions. "You mean there's no gas in that car?" or "There's no oil or transmission? Wow, that's really cool."

EV on Patrol

As a smaller police department, Hyattsville often asks officers to take on many different roles, and Hartnett is no exception. Although he is the department's "technical services manager," meaning he spends a good portion of his time dealing with computer, radio, and other technology issues, he often ends up on patrol duty. And when he does, he's in the Bolt EV.
He says that the public's reaction has been overwhelmingly positive. "When I go to the scene of a call, I do get a lot of questions," he says. "'You mean there's no gas in that car?' or 'There's no oil or transmission? Wow, that's really cool.'"
But the true measure of a police vehicle is how it performs in its duties, and the Bolt EV has proven itself due to its quick acceleration and long range. Hartnett says that two common concerns about electric vehicles being used in police work—battery life and pursuing a suspect at high speed—turned out to be unfounded: The Bolt EV can easily get through a full shift with no range concerns, and it's quick enough to keep up in a pursuit on surface streets.
The Bolt EV has been a strong PR boon for Hyattsville, which also plans to install 10 additional electric charging stations around the city.
"The people I talk to think the police department is taking a real step forward by having a car that is environmentally friendly," Hartnett says. "I've also been getting calls from a lot of other police departments about how the Bolt EV is performing and whether or not it makes sense for them."
A Taste of Things to Come

Do EVs have a future in police work? According to Hartnett, the answer is clear. "When I'm patrolling in the Bolt EV, I'm out there doing all of the things that other officers do," says Hartnett. "But I'm not polluting the air, and I don't have any of the other problems that gas-burning vehicles do. It's clear to me that EVs like the Bolt EV certainly have a place in law enforcement."
While the Bolt EV has been on the job for less than a year, it's already proven effective enough for Hyattsville to look into obtaining a second one for the police department. And it's also proven itself to Hartnett, who leased a Bolt EV for personal use a few months after he began using it as a patrol vehicle. For this veteran officer and longtime "EV-angelist," the Bolt EV has been nothing short of a game changer.
"After we got the patrol cruiser and I saw what it could do, my girlfriend and I were so impressed that we ended the lease on our previous EV and picked up the Bolt EV," Hartnett says. "I've been really impressed by what they have done with electric vehicles over the last few years, and I hope that our experience here in Hyattsville shows that there is a place in the future for all-electric emergency vehicles."
STORY: KEVIN HATMAN/PHOTOGRAPHY: CLINT DAVIS