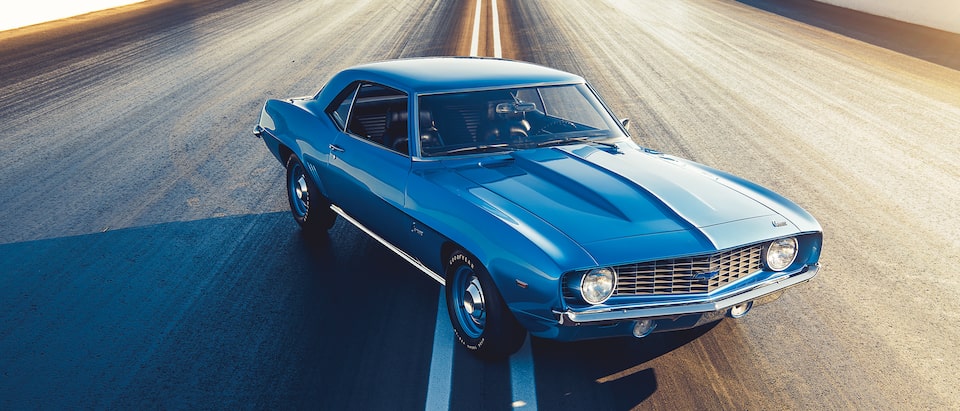 ---
2019-6-14 | Chevy New Roads Magazine

COPO: Past, Present, Future

As the legendary COPO Camaro turns 50, we look back a quarter-mile at a time, and ahead to an electrifying future.

In the late 1960s, several well-informed Chevrolet dealers were able to use the company's vehicle ordering system to create cars that otherwise would never have existed. Specifically, a Camaro with a combination of performance equipment that resulted in an NHRA Stock Eliminator class special and a 50-year legacy of greatness. Their tool was the Central Office Production Order (COPO) system, put in place by Chevrolet so dealers with fleet customers like municipalities and service operations could order batches of cars or trucks with unique equipment or colors to meet their needs. Typically, trucks and police cars were the system's bread and butter. Pretty straightforward. Until a few drag racing enthusiasts got involved.

The Past
Vince Piggins was a legend in performance circles and championed dozens of high-performance programs at Chevrolet. He is generally credited with creating the Camaro Z/28 and initially supplying racing engines to Bruce McLaren for his efforts in the nearly unlimited Can-Am racing series. Piggins found a way to develop high-performance parts and systems, but avoid labeling them as such. This enabled those parts to find their way into the hands of dealers and customers who were in the know.
Then Fred Gibb, a drag racing Chevy dealer in Illinois, took it a step further. In 1968, he conceived the notion of using the COPO system to order performance cars, and had 50 COPO Novas built with L78 396-cubic-inch big-block engines that could typically be found only in full-size sedans like the Impala.

Next, Gibb came up with the 1969 COPO Camaro (COPO #9560 option package, to be accurate), which was the utmost in rarity among the various flavors of Camaro that year—just 69 were built. The ZL1 427-cubic-inch big-block (a NASCAR engine) weighed roughly 100 pounds less than the top 396-cubic-inch big-block engine offered in the Camaro, thanks to its aluminum block and heads. It also produced way more power, officially making 430 horsepower at 5200 rpm. It was speculated that output was closer to 550 horsepower at 6500 rpm, at least when fitted with track-tuned headers.

This lightweight, very powerful and tunable production engine made a tantalizing package for Stock Eliminator drag racing, where allowable modifications to production engines were limited. But Stock Eliminator rules stipulated that at least 50 examples of an eligible car must be produced by the manufacturer, so Gibb ordered 13 cars for his own customers, and another 37 that he traded or resold to other dealerships. Very soon, though, the word got out, and other dealers ordered their own. In all, a total of 69 COPO Camaro models with the ZL1 engine were produced.
In addition to the ZL1-powered COPO Camaro, some dealers ordered vehicles that were nearly identical except for the front springs, ignition system, and, critically, the substitution of an iron-block L72 engine, rated at 425 horsepower. This COPO #9561 package cost far less than the ZL1, making it a relative performance bargain, even though it weighed about 75 pounds more due to the iron block and heads.
The Present
COPO Camaro production stopped after the initial year, but Chevrolet reopened the door with the fifth-generation Camaro in 2012 and has continued the program since then. Just 69 of the vehicles are assembled each year, commemorating that first run. Because prospective buyers far outnumber the COPOs to be built, Chevrolet uses a lottery system to choose who will become a lucky owner. Every November, thousands of car enthusiasts register in the hope of being randomly selected to buy one of the rare muscle cars. Winners are notified beginning in December and are given a COPO purchase certificate to present to their preferred dealer, which allows them to actually place their order.
Every November, thousands of car enthusiasts register in the hope of being selected to buy one of the rare muscle cars.

Mark Stielow, senior manager of vehicle dynamics at General Motors, recalls that the first COPO cars were plain—stealthy, before that became a thing. But that was then, and this is now. Aside from appearance, Stielow also notes that there is a big difference between the old COPO cars and the new ones. The '69 Camaro had a VIN, and you could drive it on the street; it even came with warranties. The modern COPO has no VIN and therefore cannot be registered, licensed, or driven on public streets. It's strictly a purpose-built racer—the car's engines are built to run a quarter-mile in 8.6 to 8.7 seconds at speeds of up to 160 mph.
Currently, the COPO Camaro uses one of three different fuel-injected engines with NHRA-rated power: a 302-cubic-inch, LT1-based engine with long intake runners rated at 360 horsepower; a naturally aspirated 427-cubic-inch engine rated at 470 horsepower; and the supercharged 350-cubic-inch LSX-based engine, making 580 horsepower.
Chevrolet recently celebrated the 50th anniversary of the COPO Camaro at the annual Specialty Equipment Market Association (SEMA) Show in Las Vegas, with a special 2019 version of the car. The vehicle features Anniversary Blue Metallic paint—a nod to the original Laguna Blue offered in 1969—plus graphics honoring the occasion. In addition, the car sports a 50th anniversary engine appearance package with an orange engine block, chrome valve covers, and a black high-rise manifold intake. It's a throwback to the vintage performance engines that powered the original COPO cars.
"Chevrolet is proud to celebrate 50 years of the COPO Camaro legacy," says Jim Campbell, GM U.S. vice president of Performance Vehicles and Motorsports. "It's one of the most enduring legacies in drag racing, with a powerful past and a fast future."
The Future
So now, 50 years after those first COPOs, that endeavor is being honored with an entirely new COPO Camaro. The electric drag racing eCOPO Camaro Concept could light the way for an electrified form of drag racing.
"The original COPO Camaro program was all about pushing the envelope," says Russ O'Blenes, director, Performance and Racing Propulsion Team at GM. "This concept shows where we go in the future with electrification in the high-performance space; it is an exploration with the very same spirit."
This concept shows where we go in the future with electrification in the high-performance space.

Developed and built with cooperation from electric drag racing experts Hancock and Lane Racing and Chevrolet, the eCOPO Camaro Concept is powered by two electric motors sharing a single shaft and housing, developing an equivalent of over 750 horsepower and 600 pound-feet of torque. It uses Chevy's first 800-volt battery pack (more than double the Bolt EV's 350 volts) mated to two BorgWarner electric motors operating in series as a single assembly, plus two Rinehart DC to AC inverters.

The package literally bolts right into place where the V8 lives in the other modern COPO cars, lining right up to the existing bellhousing. A thoroughly conventional race-prepped Turbo-Hydramatic 400 three-speed automatic transmission with planetary gears backs up the electric power. So, everything behind the electric motor including the transmission, driveshaft, differential, and axles is identical to the combustion-engine COPO cars, making swaps pretty easy.

With minimal time between rounds at a drag racing meet, recharging an electric car becomes a critical factor. That newly designed 800-volt battery pack supports fast recharge times. As a bonus, the data collected in this process can help inform and instruct the production car side in how to improve recharging times for normal street electric cars.

The vehicle made its public debut at the NHRA Winter Nationals with a 9.83-second run at 134 miles per hour. And while it has the potential to define a new class of drag racing in the future, it could also indicate something even more meaningful to more hobbyists. Since the electric motor has a Chevy small block bellhousing pattern at the rear, and uses the same crankshaft flange and stack distance as LS engines, it could also mate to nearly any Chevy transmission, too.

"The eCOPO Concept project points to a future that could include electric crate motors for racing, but also even to a street rod," says O'Blenes. "We're not there yet, but it's something we're exploring."

STORY: JIM RESNICK