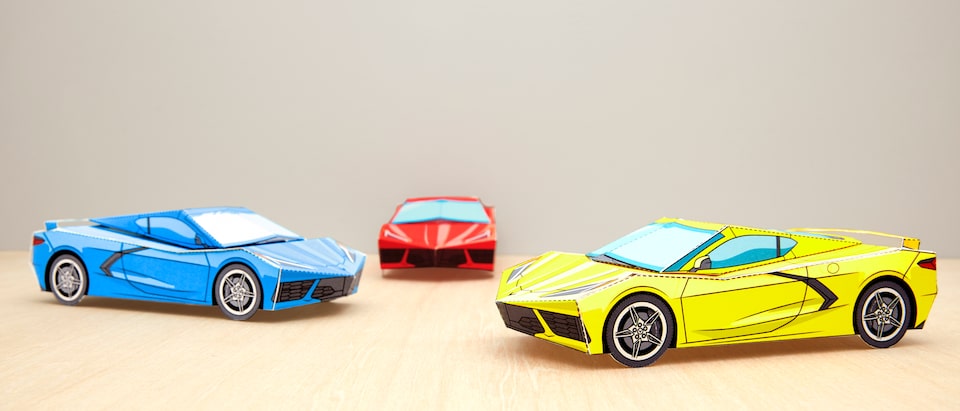 2020-07-22 | Chevy New Roads Magazine

Papercraft Dream Garage
2020 Corvette Stingray

Build the Corvette of your dreams without even leaving home.

The joy of building a model of your favorite vehicle transcends age. For kids and adults alike, it's a way to exercise your right-brain creativity while getting in touch (literally!) with the design points of the cars, trucks, and SUVs you know and love. Now, thanks to our series of papercraft templates, you can fulfill that desire with some of the most iconic Chevrolet vehicles available today.
This papercraft model brings the sleek yet muscular design of the mid-engine 2020 Corvette Stingray Coupe right to your desk, coffee table, or wherever you've got paper, scissors, and a creative spark. Download the design, cut and fold where indicated, then tape or glue to hold the model together. It's that simple! And when you're done, don't forget to show off your creation for other Chevrolet fans: Stage a miniature photo shoot of your papercraft Corvette, and share your photos on your favorite social media channels using the hashtag #ChevyLove.
Print your Corvette

Choose from three of Corvette's most vibrant colors—Torch Red, Rapid Blue,† or Accelerate Yellow Metallic†—then download and print the template to get started.

Your papercraft creation will let you get up close with the exotic shape and aggressive styling cues of the mid-engine Corvette Coupe. With its powerful 6.2-liter LT2 V8 engine now positioned behind the driver, the 2020 Corvette Stingray has dramatic new proportions while retaining traditional Corvette styling cues. Several design elements, faithfully replicated in paper, hint at the car's impressive performance, including large side air intakes; wide, purposeful bodywork; a vented glass cover over the mid-mounted engine; and a rear wing for increased downforce. And with an impressive available 495 horsepower† and 470 pound-feet of torque,† Corvette has the performance to back up its striking stance.
Once you've completed your paper model, take it to the next level and design the real-world 2020 Corvette Stingray of your dreams, right down to picking every option and color you love, with our "Build & Price" tool.
STORY: JAKE HOLMES / ILLUSTRATION: CHRIS PHILPOT / PHOTOGRAPHY: JENNY RISHER