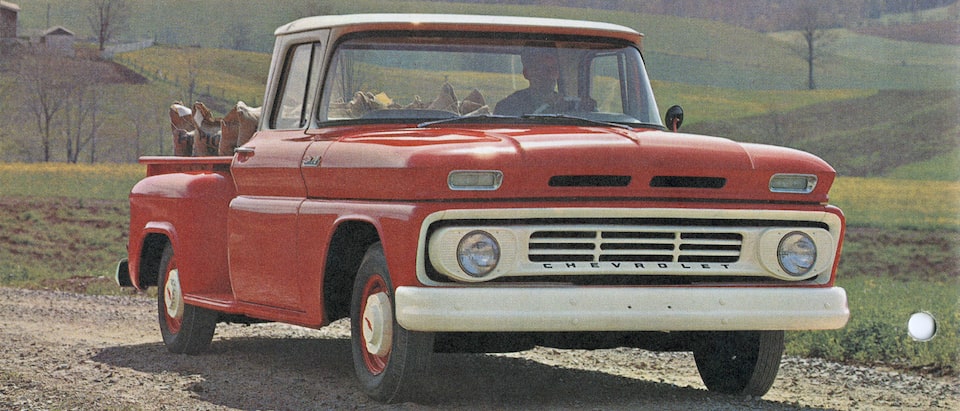 2020-08-25 | Chevy New Roads Magazine

Legends of Chevy Trucks
1962 C/K Series

There's a Legend behind each and every Chevy Truck. Built for the toughest of jobs for generations, Chevy pickups have become part of the fabric of our country, conduits of shared experience, and vehicles of common memories.
Part of the mission of the General Motors Heritage Center is to preserve these stories. The Heritage Center maintains a huge collection of literature and artifacts, and includes a selection from its fascinating repository of historic Chevy Truck brochures on its website. In our Legends of Chevy Trucks series, we'll highlight some of the models and eras that are still fascinating today. In this installment, we'll head back to 1962 to take a look at the C/K Series trucks.

OVERVIEW
Introduced in 1960, by 1962 the C/K Series pickup trucks were hitting their stride and becoming a staple on American roadways. Compared to the earlier Task Force Series, the newest Chevy Trucks made big strides forward in terms of practicality and performance, as well as introducing a crisp new style that remains recognizable to this day.
TECH … 1962 STYLE: Technological highlights available on the new C/K Series included a dropped frame, which allowed for a low loading height and a roomy cab interior, as well as an independent front suspension to further smooth out the truck's ride on rough roadways. Still, this was very much a truck intended for use as a tool, as evidenced by other plaudits in the brochure. The truck's improvements were said to enable "more money-making trips per day on even the tightest schedules," for instance, and the truck boasted "many more work- and money-saving features."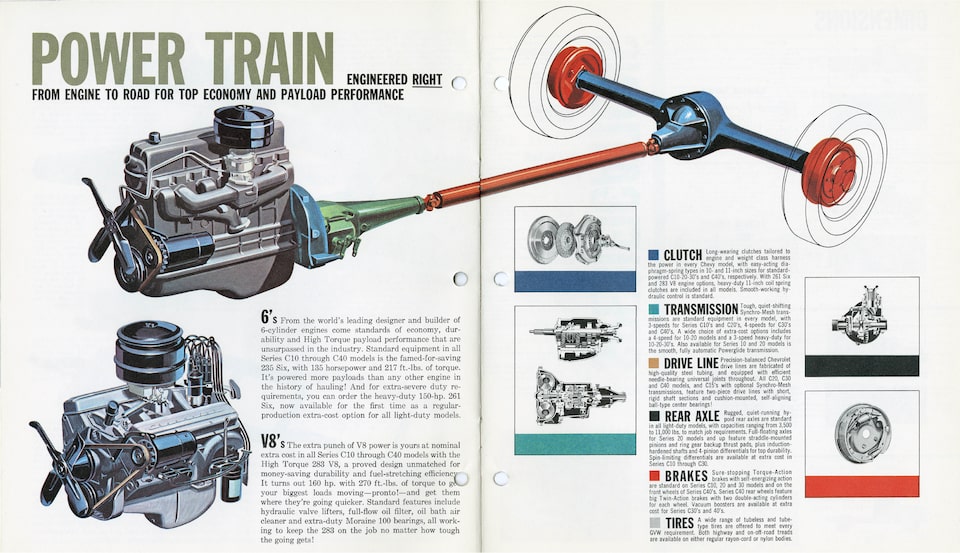 POWER: Horsepower and—all-important for towing and hauling—torque continued to climb with the C/K Series. In 1962, engine options started with a 235 Six (that's 3.9 liters) good for 135 horsepower and 216 pound-feet of torque. For "nominal extra cost," truck buyers could upgrade to a stout 4.6-liter V8 that upped those numbers to 160 horsepower and 270 pound-feet.

---
---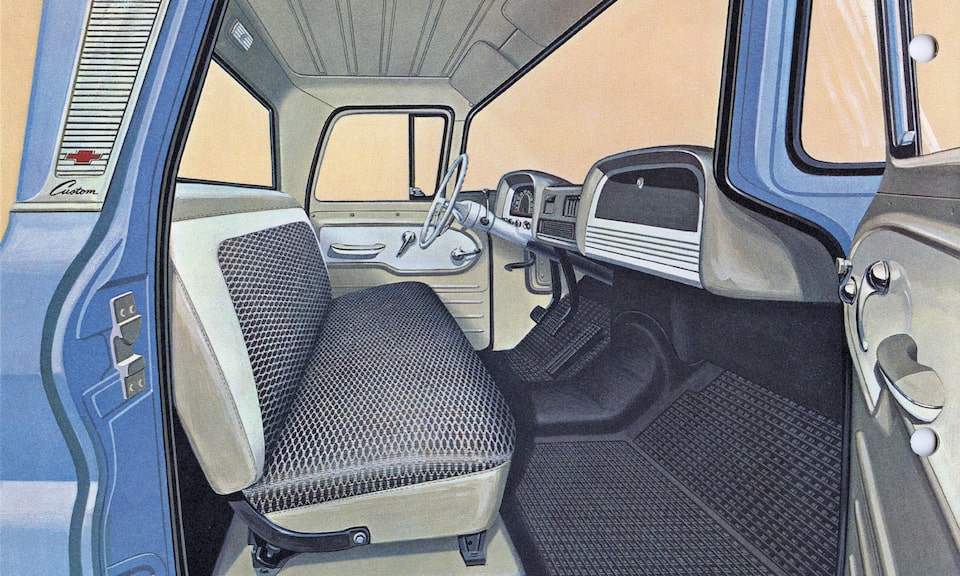 CREATURE COMFORTS: Improving the experience for driver and passengers alike was a big focus for the C/K. The 1962 truck offered wide and comfortable bench seating, with an available six-inch foam seat cushion for maximum plushness. All told, and in spite of its hardworking nature, the trucks' cabs were "designed for comfort and convenience—the kind that eases long hours at the wheel," promised the brochure.

---
---

DESIGN VISION: The most obvious design evolution for the C/K Series was a significantly lower, flatter hood, which improved driver visibility ahead of the truck. A distinctive face, with a wide grille and big headlights pushed to the truck's corners, gave undeniable road presence that screams Americana. To give buyers even more flexibility, Chevy offered both the sleek Fleetside and traditional Stepside (with integrated steps at the sides) bed styles. And that's before considering the six paint colors with two-tone options, as well as various chrome, side molding, and other visual dress-up options available for the truck.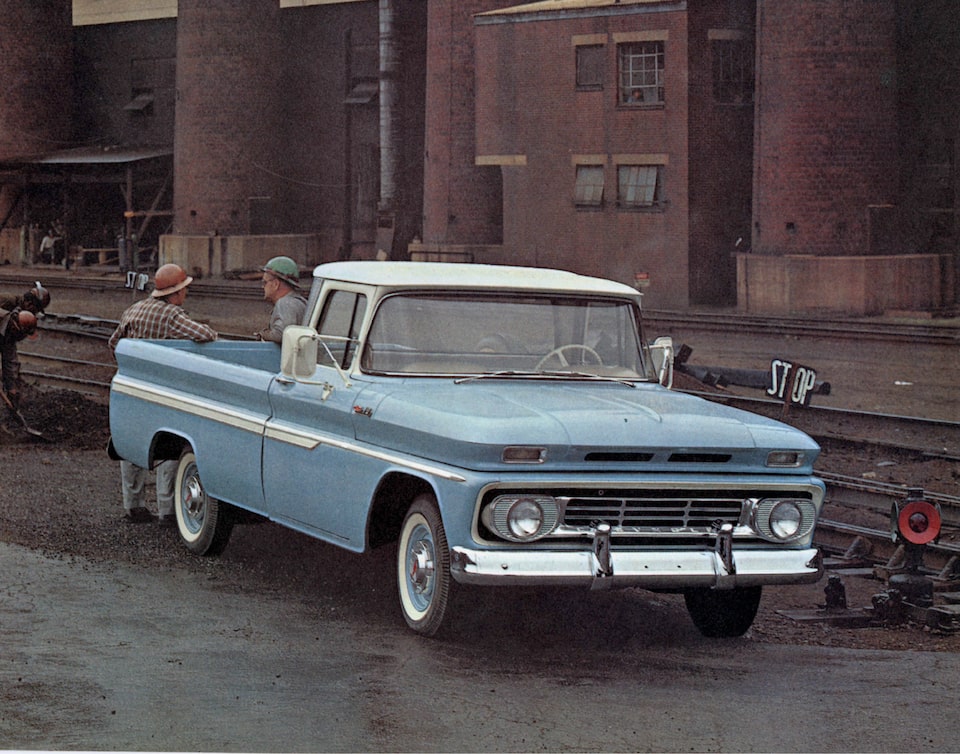 THEN VS. NOW: Heaters, seat belts, windshield washers, sun visors. All of those seemingly essential components were optional on 1962 Chevy trucks. Now, of course, those features and dozens more are all standard on every Silverado and Silverado HD, to say nothing of the high-tech and luxurious options packages offered on today's trucks.
DISCOVER MORE LEGENDS
Just like the 1962 C/K Series, you may be a Chevy Truck Legend. Our most loyal truck owners are eligible for Truck Legends membership and receive awesome benefits like an exclusive cap, Legends decals, and invites to amazing events. Learn more about becoming a Truck Legend.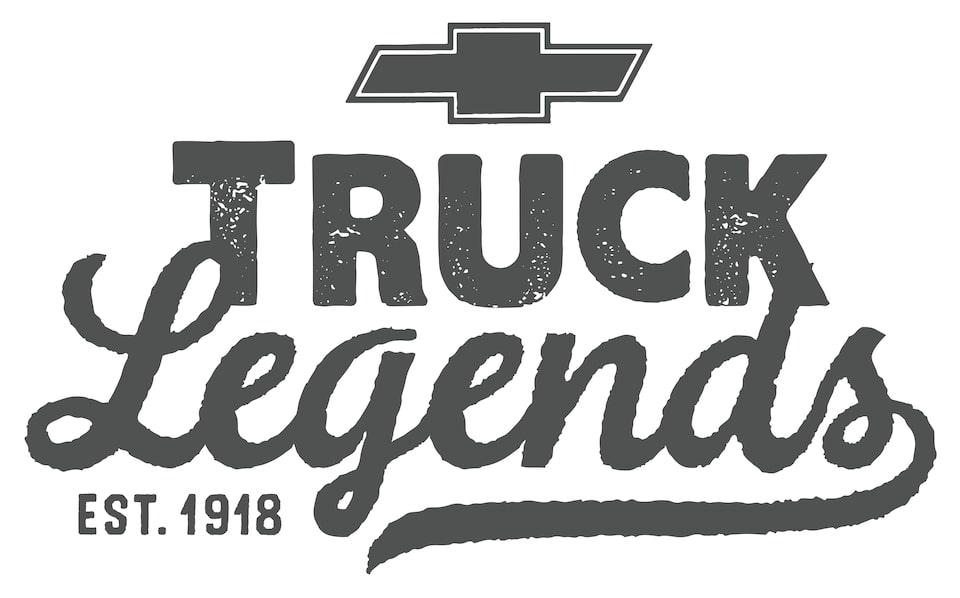 If you'd like to read more vintage Chevy Truck brochures, be sure to look for more episodes in our series in the coming weeks. You can also click over to the Heritage Center website and explore on your own.
STORY: SEYTH MIERSMA