2020-09-24 | Chevy New Roads Magazine

Legends of Chevy Trucks
1973 Square Body

There's a Legend behind each and every Chevy Truck. Built for the toughest of jobs for generations, Chevy pickups have become part of the fabric of our country, conduits of shared experience, and vehicles of common memories.

Part of the mission of the General Motors Heritage Center is to preserve these stories. The Heritage Center maintains a huge collection of literature and artifacts, and includes a selection from its fascinating repository of historic Chevy Truck brochures on its website. In our Legends of Chevy Trucks series, we'll highlight some of the models and eras that are still fascinating today. In this installment, we'll return to 1973 to investigate the third generation of the C/K Series, often known as "Square Body" trucks. 

OVERVIEW

Nicknamed the "Square Body," the all-new 1973 Chevy made big leaps forward in many areas compared to the second-generation C/K. In the early '70s, the design, feature set, and capabilities of these machines set them apart from just about everything else on the road.
DESIGN VISION: Though still clearly recognizable as a Chevy, the 1973 trucks had a cleaner, more distinct look thanks to their squared-off panels. Larger glass areas with curved side windows contributed to visibility from the cab, while a large new grille and a wide stance gave the pickups a purposeful appearance befitting their capability


CREATURE COMFORTS: The 1973 Chevy trucks offered roomier cabs, with increased leg, hip, head, and shoulder room compared to the '72 models. In addition to a new one-piece instrument panel and redesigned interior trimmings, the cabs featured "flow-through" ventilation to keep that fresh air moving, and more insulation and weatherstripping. It all contributed to making the trucks a more pleasant place to spend long days on the road, farm, or job site.
Luxurious new interior fabrics and appointments are enough to make many a passenger car seem ordinary by comparison.

"We designed a luxurious new quiet zone for you," boasted the brochure about the new trucks' cabins. "Luxurious new interior fabrics and appointments are enough to make many a passenger car seem ordinary by comparison." Ordinary wasn't going to cut it in '73.
---
---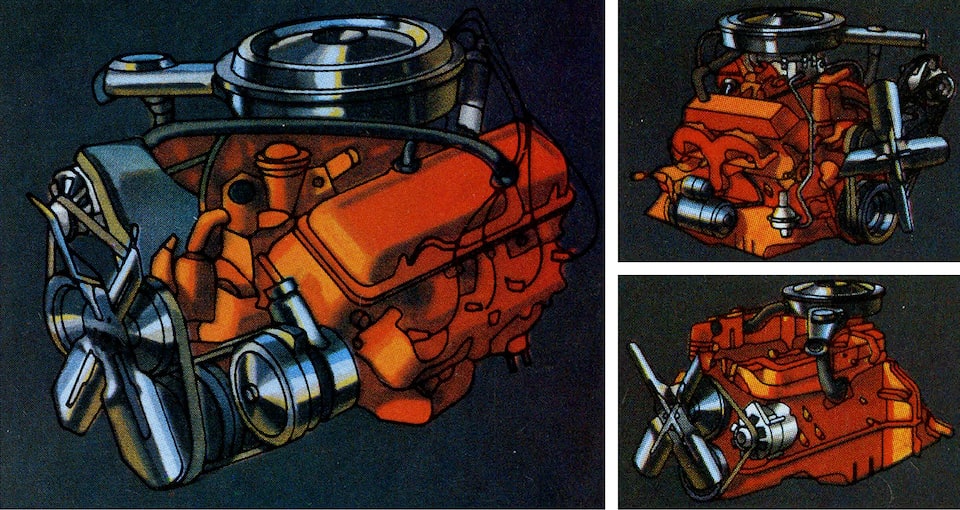 POWER: Available with five distinct gasoline engines, the '73 truck's headlining motor was unquestionably the 454 V8. Displacing an impressive 7.4 liters, it offered a mighty-for-the-era 240 horsepower and 355 pound-feet of torque. Buyers who didn't need quite so much power could also choose from two six-cylinder engines, as well as 5.0-liter and 5.7-liter V8s.

---
---
TECH … 1973 STYLE: With compact discs and smartphones just a dream of sci-fi writers, the 1973 Chevy trucks nonetheless offered in-car entertainment options in the form of a choice of AM or AM/FM radios, with the antenna cleverly integrated into the windshield. Other innovations included suspension and frame enhancements intended to improve ride comfort over the '72 models.
Though computer-assisted development of key components is commonplace in today's vehicles, such high-tech engineering was a big deal for the new generation. "Components were simulated on computers. Tested and retested," proclaimed the brochure. "No effort was spared to eliminate problems before final designs were approved.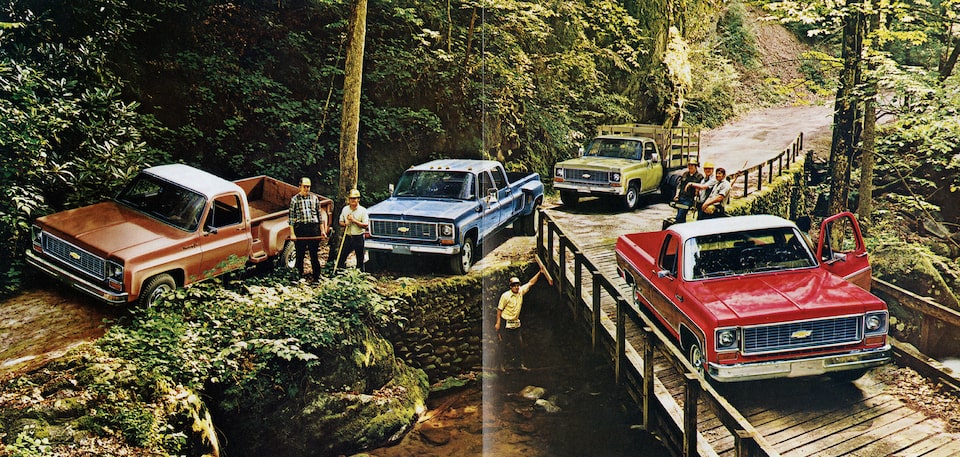 THEN VS. NOW: One of the biggest changes from the 1973 Chevy pickup to today's Silverado concerns how power got from engine to wheels. Along with three- and four-speed manual transmissions—which have long since vanished from modern trucks—the 1973 Chevy was available with a three-speed Turbo Hydra-Matic.® Though cutting-edge for the time, compare that to the six-, eight- and even 10-speed automatic transmissions available in the 2020 Silverado.
DISCOVER MORE LEGENDS
Just like the 1973 Square Body, you may be a Chevy Truck Legend. Our most loyal truck owners are eligible for Truck Legends membership and receive awesome benefits like an exclusive cap, Legends decals, and invites to amazing events. Learn more about becoming a Truck Legend.
If you'd like to read more vintage Chevy Truck brochures, be sure to look for more episodes in our series in the coming weeks. You can also click over to the Heritage Center website and explore on your own. 
STORY: SEYTH MIERSMA