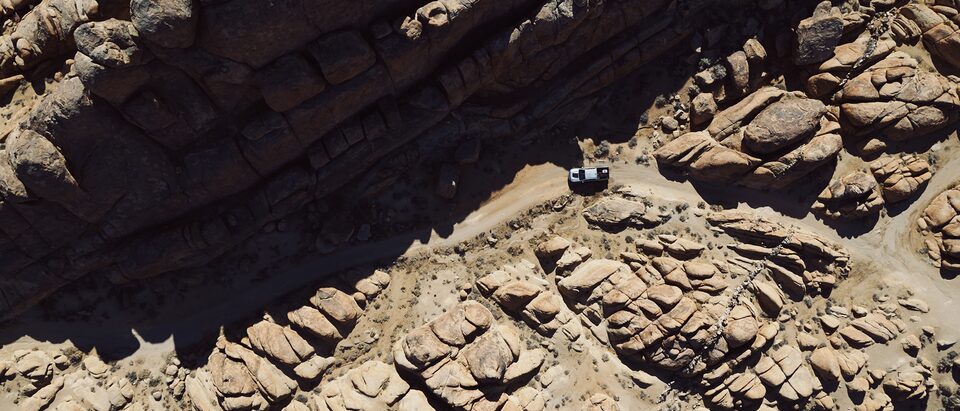 ---
2019-6-14 | Chevy New Roads Magazine

Adventures in Overlanding
Exploring the California desert in the 2019 Colorado ZR2 Bison.
Los Angeles was only a few hours behind us, but you'd never know it from the view out the windshield.
Weather is always a gamble in the mountains, and a freak storm had dropped fresh snow on and around the Sierra Nevadas. It's a rare gift, a thing so few Americans will ever see: the sand and scrub under a perfect blanket of white.
The activity of pointing a machine at the wild unknown is as old as the car itself. But using a four-wheel drive vehicle as a means of self-reliant travel—stuffing it with all of the food, water, clothes, and tools required for an extended journey—traces its roots to the British Empire. British citizens, armed with a go-anywhere truck and deep curiosity, spent their holidays roaming the Sahara. Overlanding is a microcosm of everything that fuels automotive enthusiasm: individuality, self-reliance, self-expression, and exploration all balled up in an excuse to tinker.
Over the past few years, overlanding has exploded from a niche pastime into a full-blown movement. Maybe more than anyone else, Roseann Hanson might be responsible for the hobby's exponential growth in the U.S. As one of the minds behind Overland Expo, she's hosted bi-annual gatherings of drivers, adventurers, and manufacturers since 2009.
"Overlanding is a journey," she says. "One of the biggest appeals is the challenge to be completely self-sufficient. We started Overland Expo to help educate people. How do you prepare for a long, solo journey, whether it's 100 miles from your home or 10,000?"
Hanson says it's not off-roading, exactly, and the distinction is important. Whereas the "wheeling" (i.e. "four-wheeling") crowd may go out for a day, gunning for the most challenging trail around, bashing fenders off rocks and trees in an effort to call themselves king of the hill, overlanders prefer to avoid tricky obstacles all together.
The Details Matter
---
---
2.8L

DURAMAX® TURBO-DIESEL 4-CYL. ENGINE AVAIL.
An unbeatable combination of trucks and the outdoors
Overlanding in a Colorado ZR2 Bison takes on an otherworldly quality in the Alabama Hills. Just east of the Sierra Nevada range in California, this remote area is characterized by spectacular volcanic rock formations that are between 150 and 200 million years old.
"Our demographic is not your usual wheeling crowd," Hanson says. "We have a lot of solo women, and we're huge among the baby boomers who are finishing up work and starting to retire. They grew up backpacking, kayaking, and being very active. They're not about to go play golf."
Also appealing to millennials looking to escape, overlanding casts a wide net, fueled in part by social media images of adventurers and their rugged vehicles in far-flung places. But there are wild spaces aching to be explored within a day's drive of your home. The federal government manages roughly 640 million public acres, most of which are only accessible by 4-wheel drive. A vehicle like the 2019 Colorado ZR2 Bison is a key that opens them wide—a truck that wouldn't be the same without a very special partner.
Dave Harriton founded American Expedition Vehicles in 1997. The company specializes in all of the subtle modifications that turn a vehicle into a reliable and safe overland machine—things like body protection, wheels, skid plates, winch bumpers, and the like. The Colorado ZR2 Bison is something new for them. It uses AEV components installed on the line at the Colorado assembly plant. It's also the company's first foray into midsize trucks. In the past, AEV has focused on full-size pickups and SUVs exclusively.
---
It really fits for a lot of people that don't need that last 10 percent of go fast or last 10 percent of ultimate rock crawling ability, but may need a vehicle that's super comfortable, that's quiet, that you don't get tired of driving.
It really fits for a lot of people that don't need that last 10 percent of go fast or last 10 percent of ultimate rock crawling ability, but may need a vehicle that's super comfortable, that's quiet, that you don't get tired of driving.
"The Bison is just a good, versatile platform," Harriton says. "It really fits for a lot of people that don't need that last 10 percent of go-fast or last 10 percent of ultimate rock crawling ability, but may need a vehicle that's super comfortable, that's quiet, that you don't get tired of driving."
The goal for the Bison was simple: enhance the Colorado ZR2 and build a go-anywhere overlanding machine. "I was thinking, what would I do to the ZR2 if I wanted to drive it to South America," Harriton says. "It'd be fog lamps, steel bumpers, skid plates, a little bit bigger flare, and a winch mount."
He chose the components based on a lifetime of exploring. South America isn't a hypothetical for him. Nor is the Arctic Circle. He haunts places where there isn't room for equipment that doesn't serve a purpose. To that end, the Bison is made to be functional. AEV built the front bumper to withstand abuse from brush or rocks without flinching, as does the rest of the truck's armor.
Rough and ready … for breakfast
While the going is tough, the rewards of driving out into the middle of nowhere are indisputable. Mornings at the campsite, breakfast in the great wide open, and spectacular 360-degree views make all the technical driving well worth the effort.
10 Must-Haves for Exploring the Wild Places
Don't leave home without these items, essential for staying safe and unstuck.
1. Emergency phone
2. Off-road navigation system
3. Truck tent
4. Outdoor stove
5. Drinking water
6. Solar electric charging system
7. Basic toolkit
8. Extra fuel
9. First aid kit
10. Recovery tools (shovel, traction mats)
What differentiates the Bison from the bolt-on warriors out there is the amount of development AEV poured into its components to keep weight to a minimum. Skid plates are typically made from thick, heavy metal, but for this truck, AEV turned to hot-stamped boron steel. The material is exceptionally tough, which means it can be thinner and lighter. How much lighter? Harriton says that the armor around the rear differential weighs just six pounds. The same piece would weigh 22 pounds if it were made of mild, quarter-inch steel.
We loaded up the bed with everything we'd need for a long weekend in California's forgotten wilderness. Recovery gear from ARB, a compact Dometic refrigerator to keep our provisions fresh, a TemboTusk Skottle grill to cook without hauling along extra pans, additional fuel just in case, and a few Front Runner Wolf Pack bins packed with clothes and equipment. Everything we'd need to drop off the grid for a few precious days. We knew we wouldn't be popping into town every afternoon for ice. Instead, we'd be avoiding cell reception at all costs, trading phone calls for bird calls.
---
Gear Check

Our trip was aided by some great gear from a few well-known outfitters. Here are a few items we liked.
Front Runner Outfitters Wolf Pack Storage Bins
These clip-to-close bins are stackable, off-road tough, and easy to use.
Dometic CFX 35W Fridge / Freezer
Keep fresh foods fresh and stored out of the way with this low-profile refrigerator.
ARB Premium Recovery Kit
Everything you need to get safely winched out of trouble.
Roto Pax 3-Gallon Fuel Container
Leak-proof, thick-walled construction keeps your go juice ready to go.
TemboTusk Skottle Grill
A lightweight, minimalist way to cook up your dinner.
---
It's so easy to forget the spectacular stillness of the wild. That first morning, with the trail white and the peaks of the Sierras behind us glowing with the sunrise, there was nothing to hear but the truck plinking itself cool. The snow on the desert floor revealed the drama of a hare and coyote chase. The heat of the day would carry it off, leaving us the only witnesses.
Moisture is a prize in the desert. The air was filled with the scent of the sage and mesquite that had opened up to take it in. We explored the dry washes of the Inyo National Forest, chasing out sandstone canyons littered with rockfall before wandering toward the hills of Kings Canyon National Park. These are the places the Bison was made to explore.
The weather could have been a curse, but it allowed for seeing those brown hills in a different light. That is one of the true joys of overlanding. No matter how many times you've seen a place, it can transform itself right before your eyes. As in life, you can never wander the same trail twice.
We found a spot in the Alabama Hills to make camp and watched the sky blanket itself with stars from horizon to horizon, hundreds of miles from a bed in the city, and right at home all the same. A world away from the worries we left behind.
STORY: ZACH BOWMAN / PHOTOGRAPHY: DANA NEIBERT