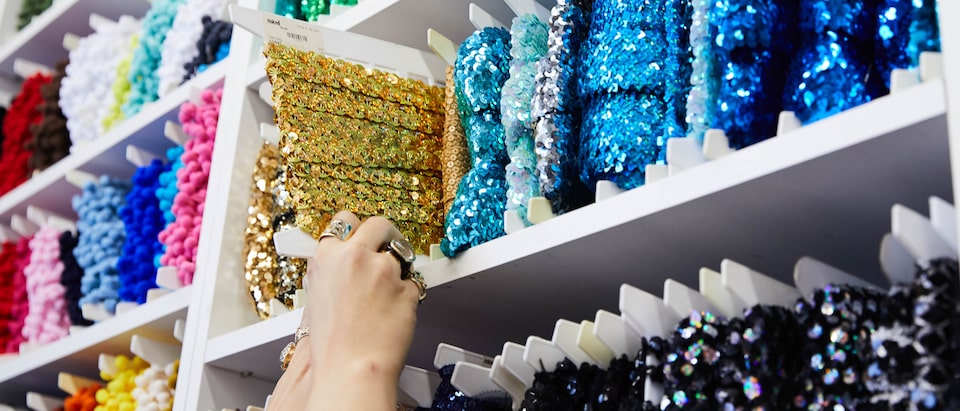 2020-08-18 | Chevy New Roads Magazine

Show Stopper

Beth Morgan creates costumes for hit TV shows, often hauling them around Los Angeles. We loaned the busy mom and "belt enthusiast" a 2020 Silverado LTZ earlier this year to see if its mega space could match her demanding transport needs.

Clothes tell us a lot about the characters on television. Whether it's a rumpled shirt, flashy suit, or maternity dress, they clue us in to how the characters are feeling and what they're going through.
"You can use costumes to help inform the story and push it forward," explains Beth Morgan, a costume designer in Los Angeles who works on hit TV shows like GLOW, a Netflix series about a crew of misfits-turned-wrestlers in the 1980s.
We caught up with Morgan, 40, early this year as she was designing outfits for the fourth and final season of the show to see how the super-spacious 2020 Silverado LTZ might make her job easier. In a nutshell: The Silverado could stand in a for mini costume trailer. "I feel like you could do a whole movie out of the Chevy. If you didn't have a trailer, you'd be fine," Morgan says, laughing.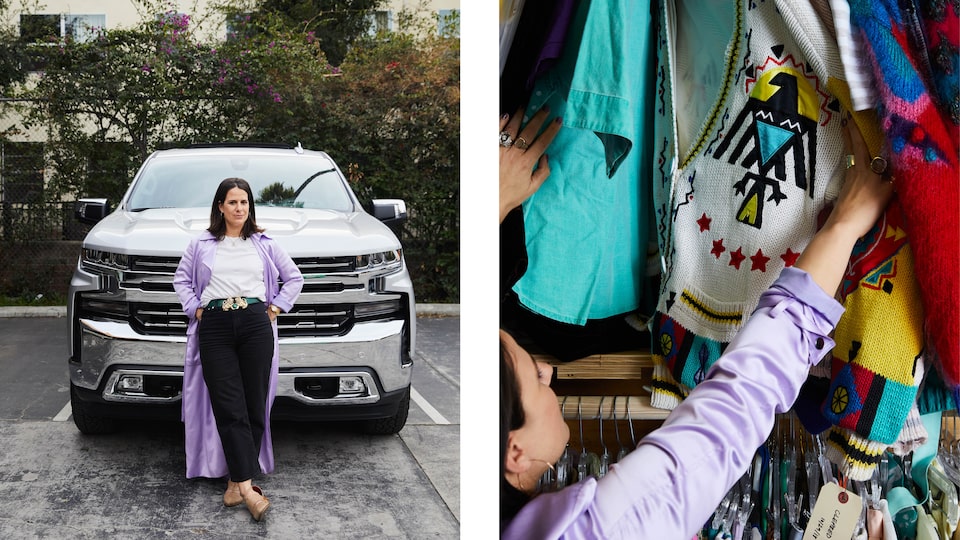 The roomy interior of the 2020 Silverado LTZ Crew Cab gave Morgan all the storage space she needed for transporting dozens of costumes to shooting locations during the week, as well as ample room for her family of four to ride to the beach or their favorite café on the weekend.
Designing costumes for a show like GLOW is a huge job. Morgan dresses every recurring character, day actor, and extra who appear on screen. For one crowd scene alone, she might need to develop 400 or more outfits.
"And because we're in the '80s, everybody is fit head-to-toe because it has to be perfectly period," she says about capturing that decade's iconic look.
Morgan's work on GLOW earned her an Emmy® nomination, and so did her work as assistant costume designer for the critically acclaimed HBO drama Deadwood, set in the lawless West. "That's the beauty of costume design," she says. "You get to do all kinds of different stuff. Sometimes you're doing 1980s and sometimes you're doing 1880s."
I am picking up clothes, pulling racks of clothes, and basically hauling them all around town. You have to make sure you have everything you need when you need it.
The key is getting to know the characters. Besides studying the script and meeting with writers, she researches time periods to learn what the characters might have worn and experienced.

Morgan generally has about a month to pull everything together before filming starts. She creates costumes from scratch and also buys pieces from stores. Much of her prep time is spent shopping for fabric, meeting with her sketch artist and seamstress, and holding fittings for actors.
Once filming begins, Morgan is "picking up clothes, pulling racks of clothes, and basically hauling them all around town" between the costume house, her office, the studio, and where scenes are shot on location. She has large trailers to store costumes and transportation departments to move them; still, last-minute things happen. "You have to make sure you have everything you need when you need it," she says.
In addition to this career, the longtime "belt enthusiast" recently introduced a collection of vintage-inspired women's belts, which are sold on her website PatternAttack.com and will be available soon at boutiques across the country. "I just love vintage belts and how beautiful they are," Morgan says. "They can be something simple and utilitarian or something that really elevates an outfit to the next level."
Morgan is hands-on throughout the belt-making process. She designs the belts in her studio, meets with vendors to assess leather hides and buckles, and works closely with the makers who craft the materials into her unique collection.
She also juggles the demands of an active family, which includes husband Jonathan, 41, and children Rockwell, 6, and Loretta, 4. Whenever possible, they like to spend time outdoors hiking, camping, and making day trips to the beach. "We love to be out and about," she says.
Regardless of how Morgan's day unfolds, she needs a vehicle with room, and lots of it. That's why she was so delighted with the ample space provided by the 2020 Silverado LTZ, which she put to the test over the course of a week.

Morgan was impressed by how much she could haul in the pickup and by the volume of items she could pack inside the crew cab compared to other vehicles she's driven. "It's so much space, you can't even believe it," she says.

By folding up the rear seats, Morgan could stack several racks of costumes. With the seats in place, Rockwell and Loretta each had plenty of room to themselves, the importance of which parents know only too well.

And in Los Angeles, where traffic is notorious and commutes are long, the Silverado delivered. "That truck is so comfortable," says Morgan, who grew up in a family of truck owners. "It is pure luxury inside. It drives so nice. It feels like you have a beautiful SUV in the front and you still have the benefit of having the bed in the back."

Unfortunately for Jonathan, his wife didn't share. "My husband was so envious. He couldn't believe that he didn't get to drive it," she chuckles.

STORY: ANNE NAGRO / PHOTOGRAPHY: WINNIE AU