---
Powerful heads prevail

Cylinder heads factory-engineered to deliver performance for small-block engines.

SERVICE REPLACEMENT HEADS

These cylinder heads are direct replacements for OEM heads on 1987 and newer GM Small-Block V-8 engines. Save time and worry by replacing tired or damaged cylinder heads with new ones from Chevrolet Performance.

---
Cast-Iron
Use 1.940"/1.500" Valves
Straight spark plug design
No heat risers provided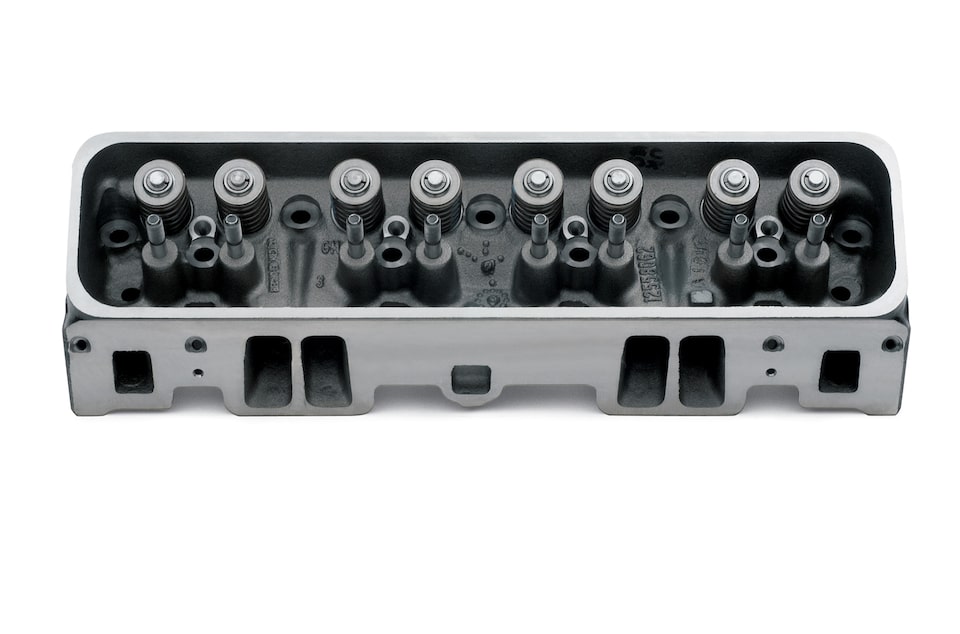 VORTEC CYLINDER HEADS

An easy way to gain 20-40 horsepower on any 1955 and newer Small-Block Chevrolet V-8 (except later-style LT1/LT4 engines with reverse-flow cooling) is by installing a set of Vortec cylinder heads. These value-priced cast-iron cylinder heads use modified combustion chambers and high-velocity port technology to provide improved performance.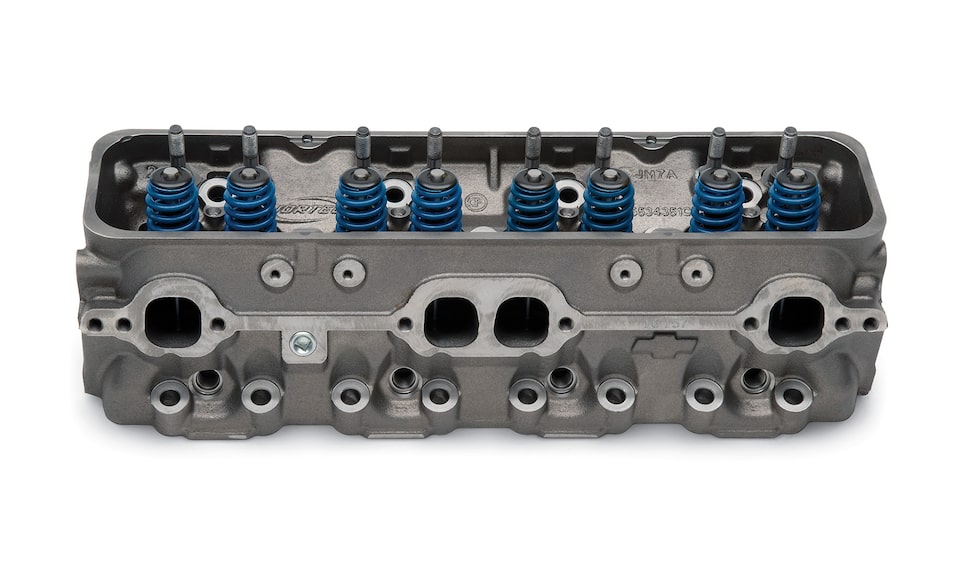 VORTEC BOWTIE CYLINDER HEADS

Vortec Bowtie cylinder heads are the most powerful cast-iron heads offered by Chevrolet Performance. These upgraded production cylinder heads are ideal for 400-450 horsepower street and racing (great for circle track applications) engines. Vortec Bowtie cylinder heads come with large valves, a thick deck surface and 66-cc combustion chambers. The heads provide outstanding low-lift flow numbers (the more air you flow, the more potential power) and Fast Burn performance all in an affordable, cast-iron head.
---
Cast-iron small runner or large runner cylinder heads*
66cc combustion chambers
0.450" deck thickness
Hardened exhaust valve seats
Machined for 2.000"/1.550" valves
Maximum 0.530" valve lift (without modifications)
Straight spark plug design
No heat risers
Drilled and tapped for 7/16"-14 screw-in studs
Dual bolt patterns for Vortec and early style intake manifolds (early model P/N 10051103; Vortec intakes P/N 12366573, 12496820, 12496821, 12496822 or 12489371)
Use intake gasket P/N 89017465 for Vortec intakes or dual pattern intake gasket P/N 19301685 for early model intakes or Vortec design intake manifolds
Dual bolt patterns for perimeter-style and center-bolt valve covers
Vortec intake manifold three-step torque specs: 2 lb.-ft.; 9 lb.-ft.; 11 lb.-ft.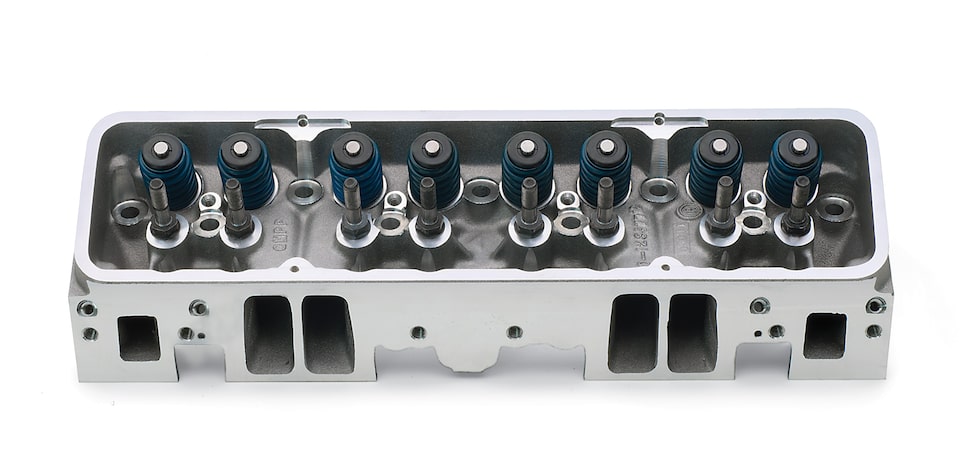 ALUMINUM FAST-BURN HEADS

Chevrolet Performance's Fast-Burn 23-degree cylinder heads deliver maximum performance for Small-Block engines. An aluminum head casting – distinguished by Chevy Bowtie logos at each end – and a valvetrain with high-rpm, LS-style beehive-type valve springs stretches the performance range of the heads to enable greater power at a higher rpm. Fast Burn technology delivers more horsepower by increasing cylinder pressures, which maximizes the air/fuel mixture's combustion. The 62cc combustion chamber is designed for use with flat-top pistons.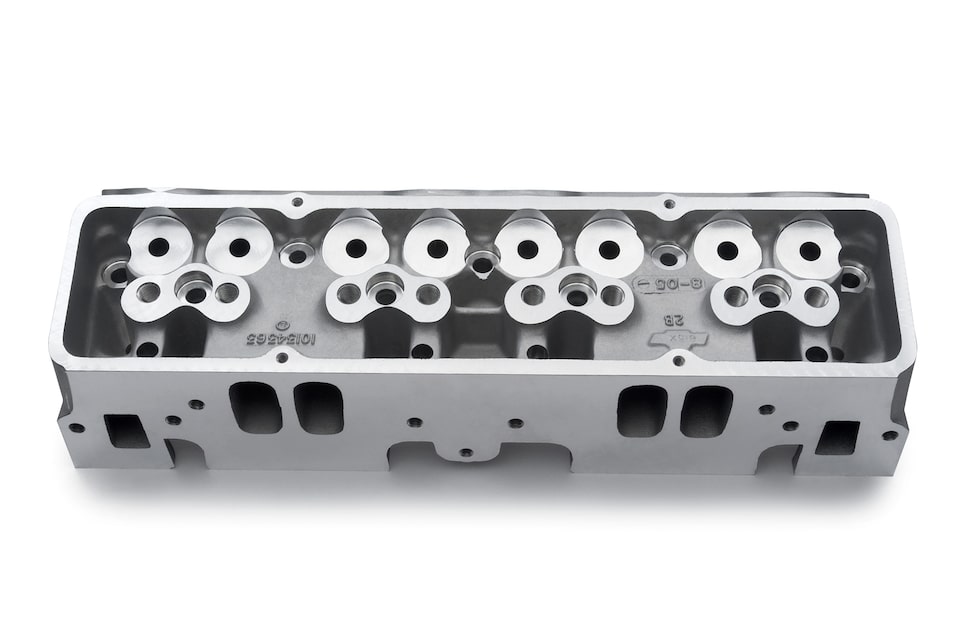 ALUMINUM RACING CYLINDER HEADS

Technology bred to help decades of professional drag racers and stock car racers win races is available for you to use in your race car. The Chevrolet Performance Aluminum Racing Cylinder Heads are part of an extensive family of high-performance inline-valve heads, designed specifically for race-winning engines.
---
Made of 355-T7 aluminum
Extra-thick decks for angle milling or heavy at milling
Extra port material for professional porting
Recommended for use with 4.000" to 4.155" cylinder bores
Revised location angled spark plugs (14mm, 5/8" hex, 3/4" reach, gasketed plugs)
Raised and revised location intake and exhaust ports for superior air ow above 0.600" valve lift
Modified valve angles (not production 23°)
Longer-than-stock valves required
Designed for aftermarket shaft-mount rocker systems
Perimeter-bolt-pattern-type valve covers required
Specific 18°/15° intake manifold bolt patterns
Recommended intake manifolds: P/N 24502481 or 24502653 (with valley plate P/N 24502654)
Intake manifold gasket P/N 10185007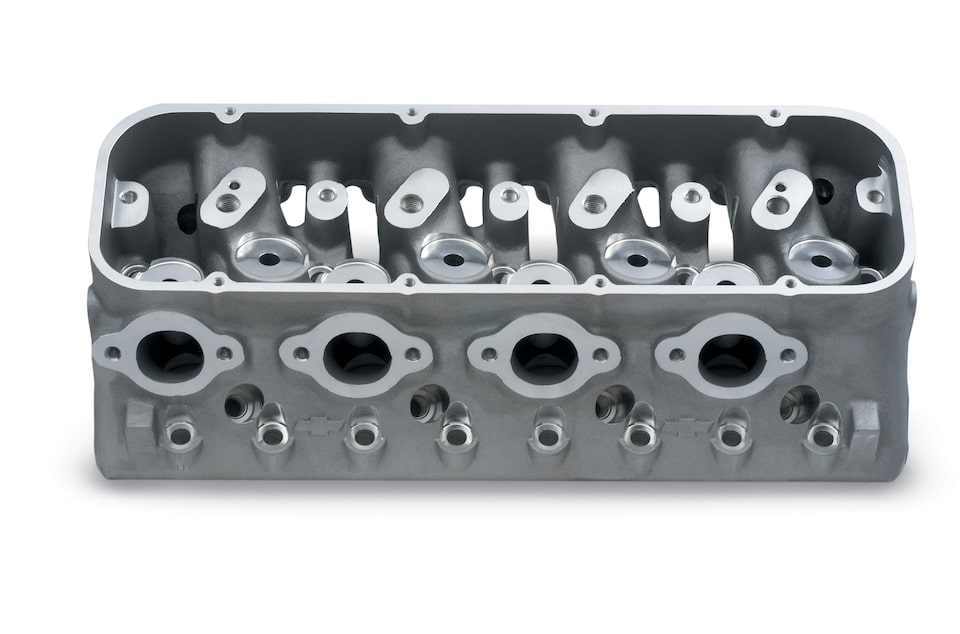 SPLAYED-VALVE ALUMINUM RACE CYLINDER HEADS

Chevrolet Performance Splayed-Valve Aluminum Race Cylinder Heads are extremely aggressive, all-out competition heads and not intended for street use. Splayed valves point both intake and exhaust valves at the center of the cylinder bore. As the valves open, they move away from the edges of the bore. That allows maximum-size valves to be installed without increasing bore size.

---
Made of 355-T7 aluminum
No valve seats or guides provided
Extra-thick decks for angle milling or heavy flat milling
Extra port material (0.240") for professional porting
Completely revised intake and exhaust ports provide ultimate air flow potential
45cc "as-cast" combustion chambers Modified valve angles (16° x 4° intake, and 11° x 4° exhaust)
Designed for longer-than-stock 2.200" and 1.650" valves
Valve spring pads accommodate 1.625" diameter springs Revised location angled spark plugs (14mm, 5/8" hex, 3/4" reach, gasketed plugs)
Designed for aftermarket shaft-mount rocker systems
Custom-fabricated intake manifold required
P/N 10185042 intake manifold gasket required
Valve cover gaskets P/N 10185043 required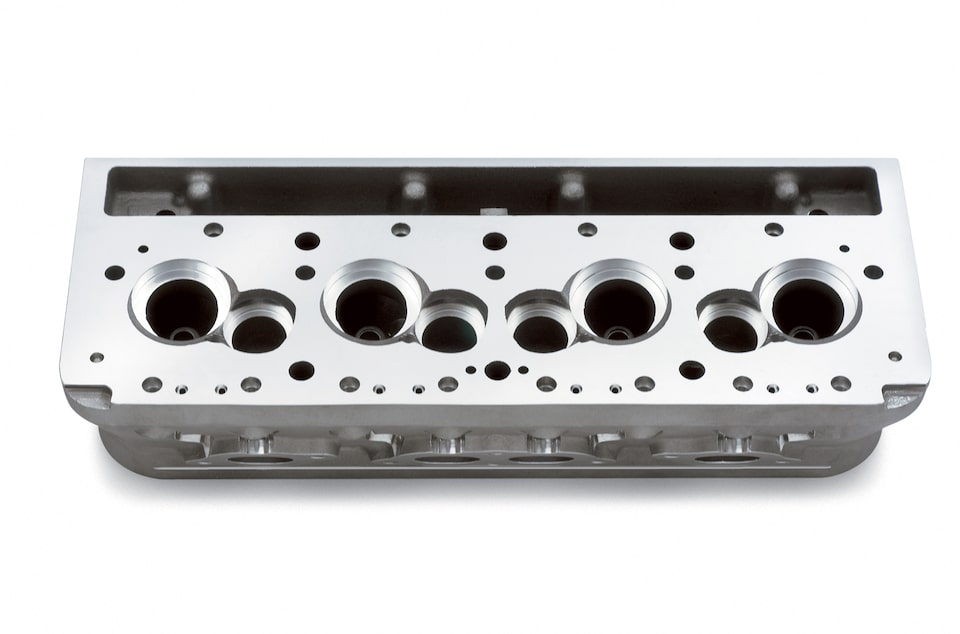 SB2.2 RACE CYLINDER HEADS

The Chevrolet Performance SB2.2 racing head was designed to improve durability, simplify preparation procedures, and reduce the overall cost of building and maintaining a Small-Block Chevrolet racing engine.

---
355-T7 X-rayed and "hipped"* aluminum competition cylinder heads
Extra-thick decks for heavy at milling
Extra material around ports for professional porting
Combustion chambers are very small, shallow and wedge shaped
Precision T-washers installed in all four center head bolt bosses
Designed for longer-than-stock 2.150" and 1.625" valves
Valve spring pads accommodate 1.625" diameter springs
Modified valve angles, 11° x 4° intake and 8° x 0° exhaust
Designed for aftermarket shaft-mount rocker systems
Revised location angled spark plugs (14mm, 5/8" hex, 3/4" reach, gasketed plugs)
Requires specific left- and right-hand pistons
Valve cover P/N 12480006
Replacement AN -08 intake port plugs available as P/N 12480171