A C3 Masterpiece: James Pulliam Utilizes LS Power in his Extraordinary 1972 Corvette
Share on
Share on
Visit us at
Visit us at
You likely will hear James Pulliam's 1972 Corvette before you see it. You can thank the supercharged LS engine and straight-pipe exhaust for that. But when the black third-generation Corvette comes into view, the build befits all that rumble.

James Pulliam's 1972 Corvette is a work of art.

"Years ago I saw a YouTube video and it was a German guy who had built a C3 Corvette," Pulliam said during this year's Mobil 1 Twelve Hours of Sebring at Florida's Sebring International Raceway. His car was on display in the Corvette Corral just outside Turn 17.
"It was a black '69, had L88 flares on it, and the guy was just tearing it up on a racetrack," Pulliam continued. "Ever since that day, I wanted to build a black, chrome-bumper Corvette with the flares."

The Corvette looked much different when Pulliam purchased it.

In 2004, he found the Corvette in a junkyard but it was in extremely rough shape. The frame was still good, but the paint was gone and the car featured a simple 305 cu.-in. Small-Block engine paired with an automatic transmission.

"My dad's got a little garage in the back of his house and we tore it completely down," Pulliam said. "Pulled the body off the frame and put in an LS1 with the supercharger on it, backed it up with a T56 and built it from there."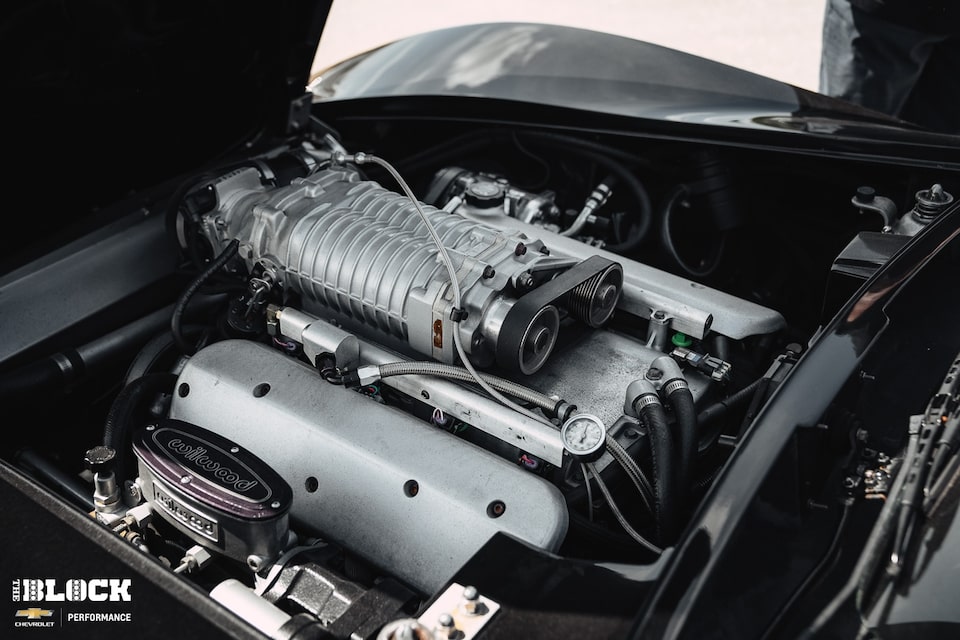 The Corvette features a supercharged LS1 engine under the hood.

Pulliam is a police officer in Fort Pierce, Florida, and a lifelong car enthusiast. He's a fan of the LS design and today also owns an LS-swapped Mazda Miata that makes 430 horsepower. He plans to use it for track days.
The aluminum LS1 in his C3 came from a 1999 Corvette and represents one of the earliest examples of the now classic engine platform. In under three decades, the fuel-injected LS engines have developed a reputation for providing versatility and ease of use, along with delivering plenty of power.

"I really like the LS platform," Pulliam said. "It's compact, it makes a lot of horsepower and there are so many aftermarket options for it."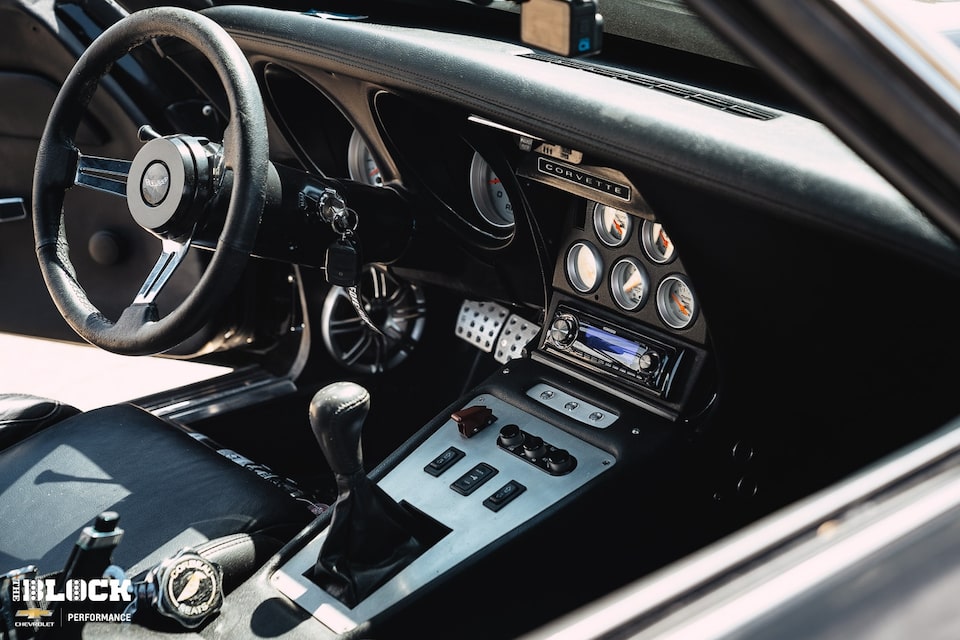 The LS1 is backed by a T56 six-speed manual transmission.

LS swaps in classic vehicles like Pulliam's are ubiquitous at car shows, while Chevrolet Performance also provides a variety of factory-produced LS crate engine* options for easy use and modern performance in everything from restomods to late models.
Pulliam backed up the engine with a stock T56 six-speed manual transmission and topped the power plant with a Magnuson supercharger making around seven pounds of boost. The Corvette makes 474 horsepower at the rear wheels.
"I haven't touched the engine since I've got the car done," Pulliam said. "It's only got about 16 or 17 thousand miles on it but it's a supercharged car and I know I'm not nice to it. I beat on it pretty regularly."
That's an impressive statement for a build that is now close to 20 years old.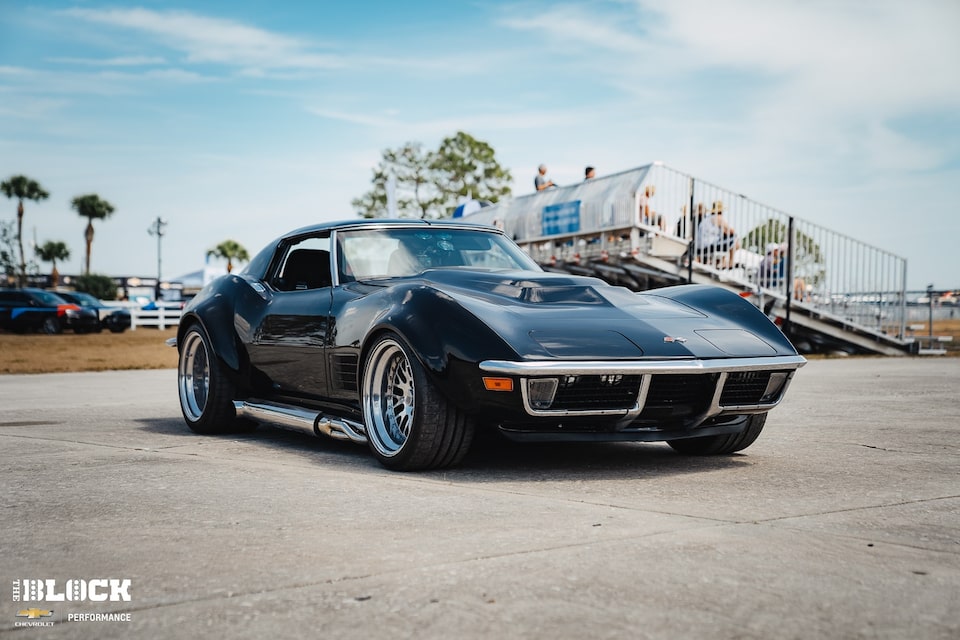 The classic Chevy Power Book helped Pulliam, his dad and their friends build the Corvette in a style that would've been suitable for road racing when the car was new.

The Corvette remains on the original chassis, but it has been seam-welded for reinforcement per a guide called the Chevy Power Book. A variety of these classic volumes were once available in the Parts Department of Chevrolet dealerships. Among the many lessons offered was how to prepare a C3 Corvette frame and suspension for road racing.
With that guide in mind, Pulliam also added gussets to the frame in various spots and sandblasted it in its entirety, while adding POR-15 rust-preventative coating.
All of the suspension on the car is updated as well, with QA1 coilovers in the front and monoleaf adjustable shocks in the rear.

Highlights of the exterior include the side pipes and wheels.

A family friend helped with the exterior look of the car, stopping by almost every weekend for about a year. Among his contributions were repainting the car in a dazzling black, going through the bodywork and modifying the fender flares.

"He's an artist, one of those guys who sees things that nobody else sees," Pulliam said. "We bought these $400 flares to go on the car and the first thing he does is rip them right in half and then cut a triangle in them. It made them tighter on the wheel well."
Other exterior modifications included the removal of much of the badging aside from the front and rear Corvette flags.
The Hooker Headers side pipes and CCW Classic wheels also help create the Corvette's unique look and stance. At the time of the build, Hooker didn't make any pipes that fit the LS1, so Pulliam and his team modified the exhaust flange and essentially custom-made the headers to fit the engine.
The polished pipes are a perfect complement to the wheels measuring 18 x 12 in the rear and 18 x 10 in the front. They are paired with Continental tires featuring a 335mm rear width and 285mm at the front of the car. In addition, upgraded Wilwood brakes with larger-diameter rotors at all four corners bring the C3 to a stop.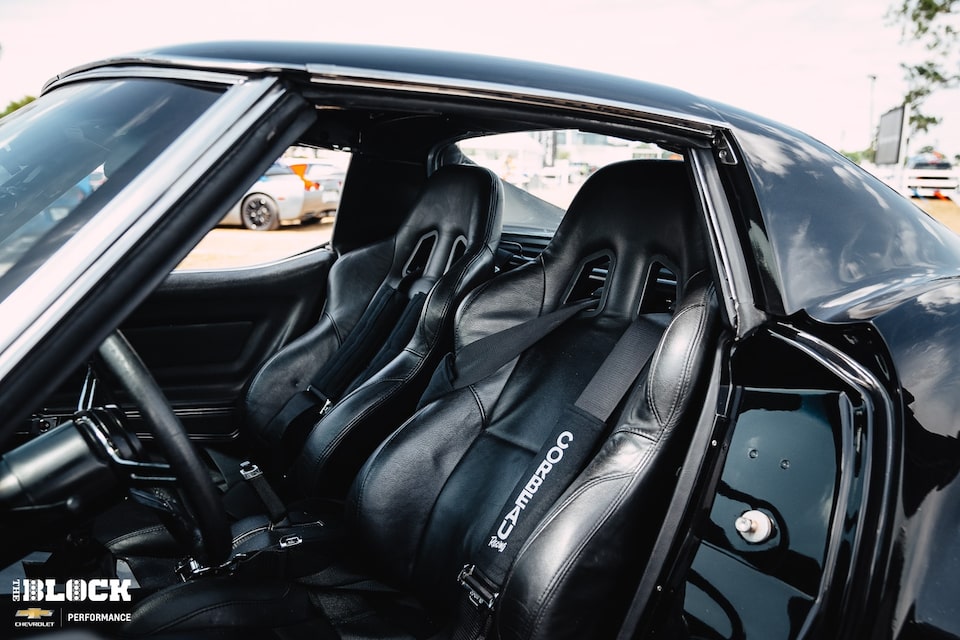 The interior features both performance and comfort upgrades.

The interior has also been upgraded with new carpet, Corbeau A4 leather racing seats, custom AutoMeter gauges and a specially built console panel with custom switches. The shifter is in a slightly different location than the original, and while the original interior was brown, it is now all black.
During the time the car was being built, message boards were a very active means of communication among enthusiasts, and Pulliam first learned of the Corvette Corral at Sebring through his activity on the forums.
He brought the car to the race for the first time in the late '00s. However, he hadn't been back to the event until this year. There he joined other Corvette owners displaying cars ranging from classics to the eighth-generation mid-engine supercar, all while watching Corvette Racing on-track.

James Pulliam is a genuine performance enthusiast with impressive taste.

As part of the program, Pulliam was afforded the opportunity to take part in parade laps on the famed 3.74-mile, 17-turn road course. The Corvette looked and sounded right at home on the historic circuit, but Pulliam doesn't expect to do much racing with the car.
"I originally started building the car to race, that's what I wanted to do with it, but it got too expensive and too nice and then it became more of a show car," he said. "I mean it's still fun out there but it's not a purpose-built car."
The Corvette build was a family affair, with Pulliam and his dad spending much time together working on the vehicle. His father also owns an LS-powered 1937 Chevy and a 1976 GMC truck with LS power under the hood. Clearly, the LS love runs in the family.

"My dad's kind of where I got started," Pulliam said. "We're really into cars."
His impressive 1972 Corvette is proof of that fact.

This 1972 Corvette appeared in the Corvette Corral at Sebring International Raceway, but it looks track-ready.

Be sure to keep watching The BLOCK for many more Chevrolet and GM builds from across the nation.
*Because of their effect on a vehicle's emissions performance, these engines are intended exclusively for use in competition vehicles. These engines are designed and intended for use in vehicles operated exclusively for competition: in racing or organized competition on courses separate from public roads, streets or highways. Installation or use of these engines on a vehicle operated on public roads, streets or highways is likely to violate U.S., Canadian, state and provincial laws and regulations related to motor vehicle emissions.