Chad Hall: An Off-Road Ace for Chevrolet
Photos: THE BLOCK and COURTESY of HALL RACING

Share on
Share on
Visit us at
Visit us at
The Hall name is racing royalty in the off-road world. Rod Hall won the first running of what is today known as the Baja 1000 in 1967 and his legendary career (which included 25 Baja 1000 class wins) earned him a spot in the Off-Road Motorsports Hall of Fame. Along the way, he founded Rod Hall Products and had two sons, Chad and Josh. They are carrying on the family's off-road racing tradition and now a third generation also gets behind the wheel in the desert.

Hall Racing campaigns 2023 Chevrolet Colorado ZR2 and Silverado ZR2 off-road race trucks.

Today, Chad Hall runs the business started by his father, and in recent years, has begun a close relationship with Chevrolet to test and validate both vehicles and components on some tough desert courses.
This season, his Hall Racing team is campaigning 2023 Silverado ZR2 and Colorado ZR2 off-road race trucks, along with what is colloquially known as a "Trophy Truck" in the headlining class at select events.
Hall enjoys racing for a factory-backed team, because despite competing in slower production classes with the Silverado and Colorado, he's fond of the fact he's also working to better production vehicles.
"It feels like you're doing something every time you go out," he says. "It's like we're accomplishing this, we're doing that and our speeds go faster and faster and faster."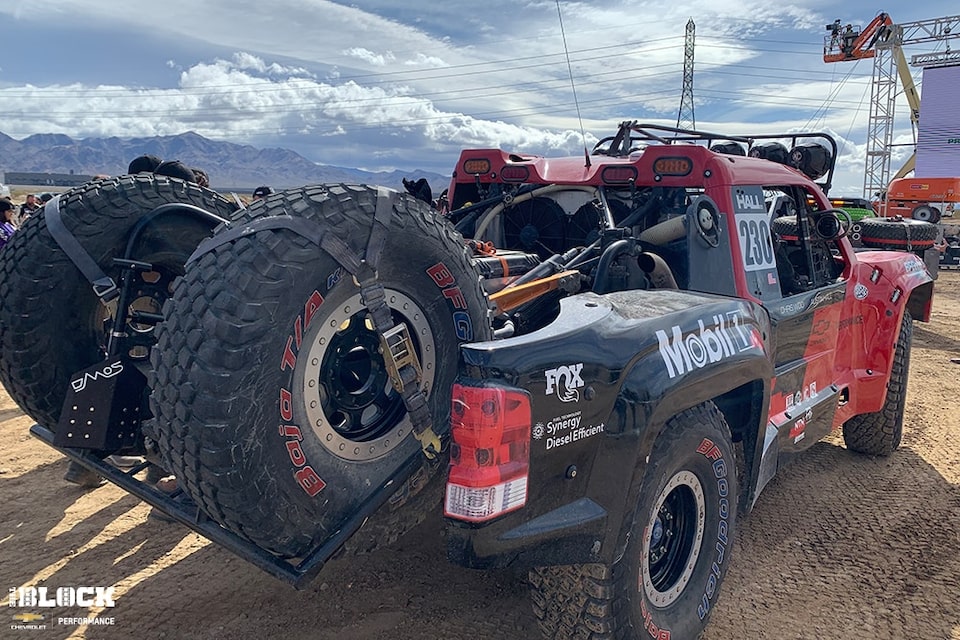 Chad Hall and Hall Racing also run a Trophy Truck.

At the BFGoordrich Tires Mint 400 outside of Las Vegas in March, Hall Racing won both the Production Truck Mini/Mid class with its Colorado ZR2 and Stock Production Truck Full class with its Silverado ZR2. Its Trophy Truck also finished 15th in Unlimited SPEC utilizing an LS376/525 crate engine* similar to the one produced by Chevrolet Performance.
In off-road production classes, the trucks are built much as they would come off the showroom floor, albeit with safety modifications including a roll cage, fuel cell and racing seat. Minor modifications are allowed, such as the ability to run skid plates and any shock or spring the racer desires, but with the caveat that they must bolt up to the stock location.
As a result, massive amounts of horsepower won't do much good. Rather, the formula for success is how hard you can push the truck so that all components live and work properly.
Hall works with the Chevrolet team to push production trucks to their limits.

Hall explains that the key to speed in off-road racing is wheel travel (the vertical movement of the suspension), meaning the further the wheel goes up and down the faster you can hit a bump. In the Unlimited Trophy Truck classes (which feature a more open rule book) the trucks might feature 24 inches of front travel, 32 inches in the rear, 40-inch tall tires and a great deal of ground clearance.
In contrast, the production trucks have eight or nine inches of travel in the front and 11 inches in the rear along with 35-inch tires, creating a much more limiting experience.
However, by pushing the production trucks to their limits on hard desert courses, over boulders and through or around any obstacles on might find in the desert, Chevrolet can obtain real-world performance data which can then be applied to the roadgoing vehicles.
"It's pretty exciting to be part of the program and to see the fruits of what you put into it with the new Silverado ZR2 and brand-new Colorado ZR2," Hall says.

Hall, who hails from Reno, Nevada, was first involved with racing at a young age. He remembers steering on his father's lap in Mexico, and as he got older, competed in autocross in high school and college before joining the Air Force.
After getting out, he and his brother obtained one of their dad's old race trucks and competed in a small off-road series out of Reno, where in Hall's words, they "just kicked everybody's booty" despite having limited financial resources and equipment.
"I love off-road racing," Hall says. "It's always been about trying to go fast in the desert."
Interestingly, he acknowledges that his passion for driving has always been greater than his passion for working on vehicles. But as all racers can attest, understanding the mechanics of the car or truck is beneficial to success – both for financial and competitive reasons.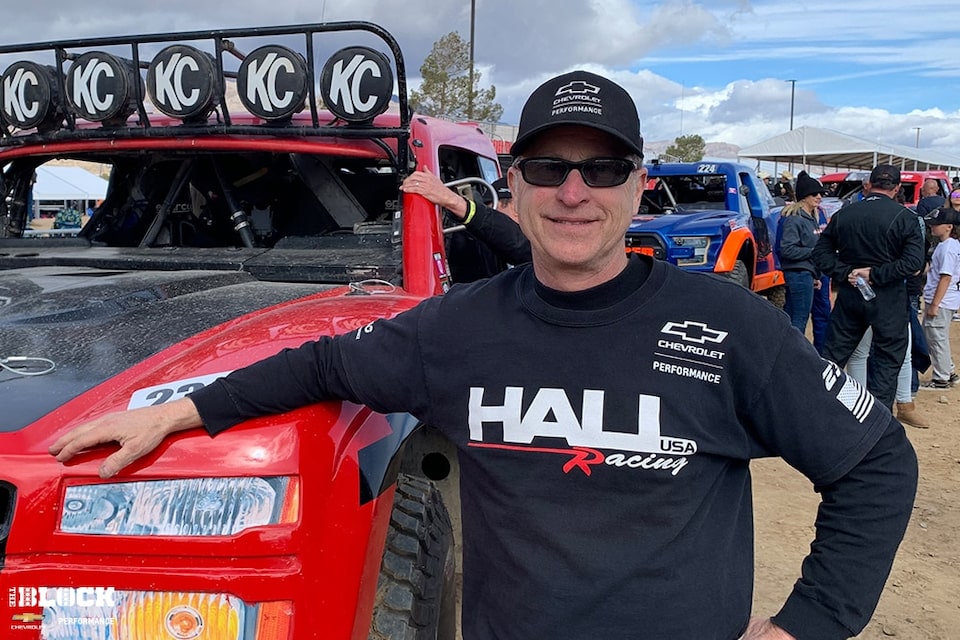 Chad Hall has been involved with off-road racing his entire life.

His first big break came in 1993 when he, his father and brother got the opportunity to compete with factory backing from HUMMER. They took part in a variety of production classes with much success, and remained part of the program when General Motors bought the name from AM General around the turn of the century.
Among the team's string of triumphs was 10 consecutive class wins in the Baja 1000 against some extremely stout competition.
"We just kind of cleaned house and it wasn't from being the fastest, it was from being the guys that never stopped," Hall says.
Unfortunately, when the financial crisis of 2008 took hold, many motorsports programs were put on the back burner, and Hall was not immune. He raced his Trophy Truck as much as possible for several years, but it wasn't until meeting with Chevrolet in 2015 during the Vegas to Reno event on the Best in the Desert schedule that he had the chance to become involved with a factory program once again.
In 2017, the Chevrolet team proposed the idea of racing production trucks with performance components. After some initial growing pains due to the harsh conditions of the race courses, and then the onset of the global pandemic which kept engineers from being on-site at races, in recent years the program has taken off with multiple Best in the Desert championships for each truck among the team's accolades.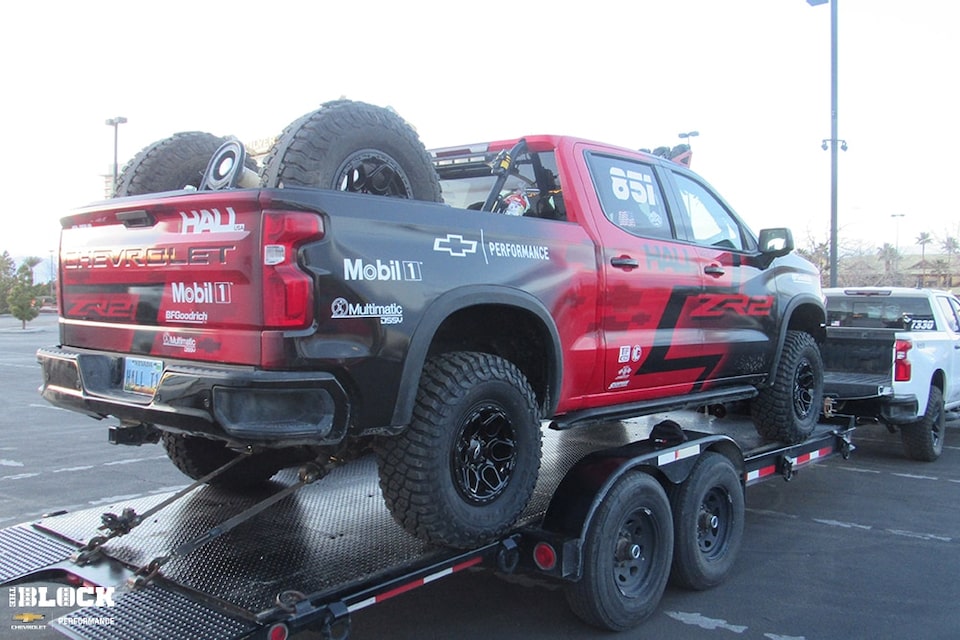 Chad Hall works closely with Chevrolet to test and validate its truck platform and performance components in a real-world setting.

The Silverado ZR2 has steadily improved since it was built in 2019, and the team had competed with the same Colorado ZR2 since the Chevrolet relationship began before recently adding a brand-new model of the truck to its stable.
"Once the engineers could come back to the races and get the parts and all that kind of stuff the Silverado's just turned into a monster," Hall says. "Then we've got this new (Colorado ZR2) truck built based off of what they learned on the old race truck and it's amazing."
The constant evolution and improvement of the race trucks is a prime example of the Chevrolet team's commitment to producing ever better race vehicles, which in turn leads to better and better production vehicles. In addition, Hall's experience allows him to provide good feedback to the GM team.
That information is invaluable as they test and validate both off-road technologies and Chevrolet Performance factory race components available to customers including suspension upgrades, driveshafts and more.
The engines under the hood of the latest versions of the prototype trucks are even available to customers off the showroom floor. The team's Silverado ZR2 features a 6.2L V-8 and the Colorado ZR2 showcases an off-road-optimized 2.7L high-output power plant.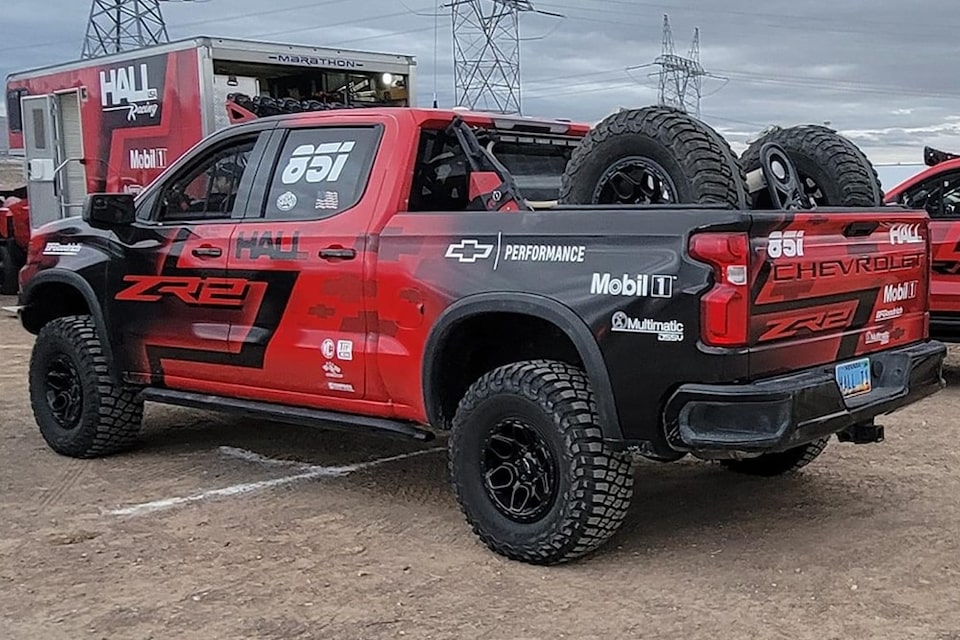 Hall Racing in the pits during the BFGoodrich Tires Mint 400 outside of Las Vegas.

A team of approximately 24 supports Hall Racing's production trucks on each race weekend, with some also working full-time in the Reno-based shop. The production trucks compete in five-to-six events each year, with the team adding the Trophy Truck for some of the off-road racing crown jewels.
After years of competition, the adrenaline and thrill of being behind the wheel remains the same for Hall, who at the Mint 400 served as a driver for both his team's Colorado ZR2 and the Trophy Truck.
"Your normal everyday life is not that exciting," he says. "You get up, eat breakfast, you go to work, you go home and go to bed. But when you're racing, you rub fenders, you do things that you probably really don't want to do but you want to pass the guy in front of you so you do it anyway. It's just a rush of adrenaline and very thrilling."
His current platform also allows him to work closely with the team from Chevrolet Performance on everything from the design of the truck itself to vehicle upgrades and accessories with a team of engineers who are massively invested in the project.

"I'm excited about doing it, they're excited about doing it," he says. "The stuff that we get out of it is just fantastic and it goes right to the end user."
Be sure to keep watching The BLOCK for much more on off-road racing and all motorsports disciplines.
*Because of its effect on a vehicle's emissions performance, this engine is intended exclusively for use in competition vehicles. This engine is designed and intended for use in vehicles operated exclusively for competition: in racing or organized competition on courses separate from public roads, streets or highways. Installation or use of this engine on a vehicle operated on public roads, streets or highways is likely to violate U.S., Canadian, and state and provincial laws and regulations related to motor vehicle emissions.