Bubbletop Buddy Build
PHOTOS: COURTESY of FLOYD AMERINO

Share on
Share on
Visit us at
Visit us at
Floyd Amerino and Chad Rowlands are longtime friends who met while working at the same Chevrolet dealership in northern California. They've also tackled projects together as enthusiasts – including a Chevrolet Performance LS3 crate engine*-powered 1961 Impala. The duo built the bubbletop in Rowlands' two-car garage over the course of more than a decade.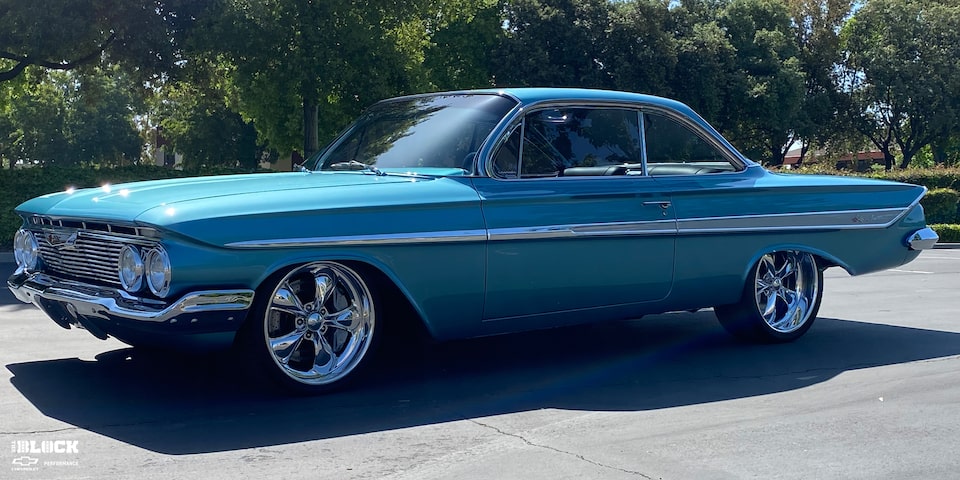 Floyd Amerino and Chad Rowlands built this 1961 Chevrolet Impala in a two-car garage over a 12-year span.

Rowlands and Amerino's fathers both previously owned Impalas, meaning each had a certain element of nostalgia for the vehicle. Plus, they wanted to build something different, falling between the Tri-Five Chevys and muscle-car-era vehicles so often seen at car shows.

Amerino bought the car from a friend of a friend, but it was in extremely rough shape.

"It was a shell completely torn apart and it was a major project," Amerino says. "It was just a shell on an original powder-coated frame. … It was all there for the most part, but all the pieces were completely apart, completely disassembled. The frame was powder-coated and the body was media blasted and primered."

The pair decided to use the LS3 power plant to rebuild the Impala as General Motors might have done if LS engines were around in the middle of the 20th century.

A Chevrolet Performance LS3 crate engine* sits in the car's clean engine bay.

"If you were to build a '61 Impala today that ended on the assembly line, that's how we tried to build the car," Amerino says. "We tried to keep it as much to factory specs as possible, as much as original stock as possible. We just upgraded the actual drivetrain to today's quality and reliability."

With that philosophy in mind, the car remains on its original chassis. But when Amerino and Rowlands started the project in 2010, the LS3 was still relatively new and had yet to become the classic it is today. Thus, the engine had yet to be swapped into many vehicles, meaning the builders needed to get creative with the installation. Getting the engine's oil pan to fit posed a particular challenge. There was no aftermarket support at the time, meaning Rowlands had to do some fabrication work. Now, there are many kits available to help with the process to make the installation relatively seamless.

Interestingly, as the project progressed, Amerino and Rowlands watched the LS3 increasingly grow in popularity and a variety of new tools became available to make the build easier.

"My daughter is 13 now and she was 6 months old when we started with it," Rowlands says. "We did build my '65 El Camino in the interim while waiting on some stuff for the Impala."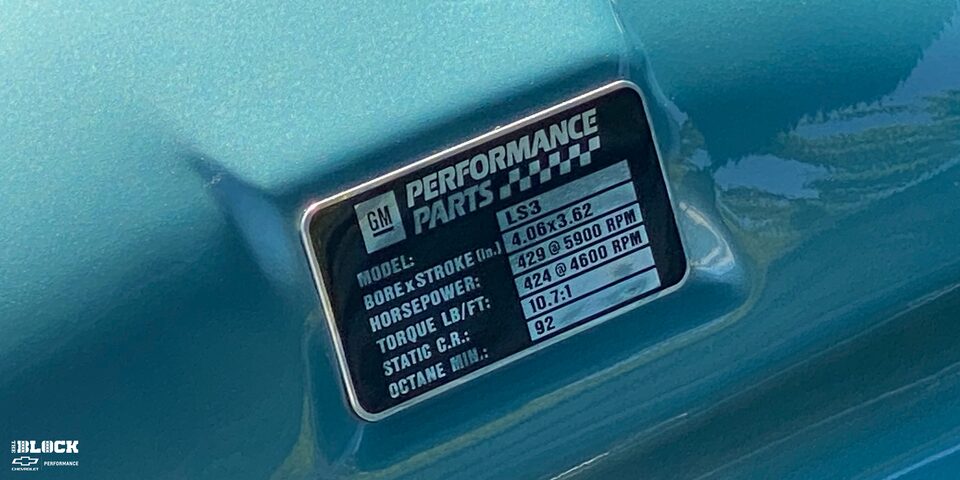 The Impala uses many paints straight from General Motors – including the engine.

The Impala's LS3 engine is mated to a Chevrolet Performance 4L75-E transmission. The build also features a Rideteech air-ride suspension and utilizes a Currie nine-inch rear end with 3.50 gears and positraction, along with C6 Corvette brakes.

"It's really built GM, so that parts were going to be sourceable," Rowlands says. "I've done a lot of stuff in the aftermarket where you build something and five years down the road they don't make that part anymore. So it ends up being a nightmare of repairing cars down the road with one-off stuff."

The car is a spin-off of an original Impala color – with the Impala's current paint called Twilight Turquoise Metallic. It sits on Foose wheels measuring 19 x 8 in the front and 20 x 10 in the rear. No body modifications were required at all to make the tires fit.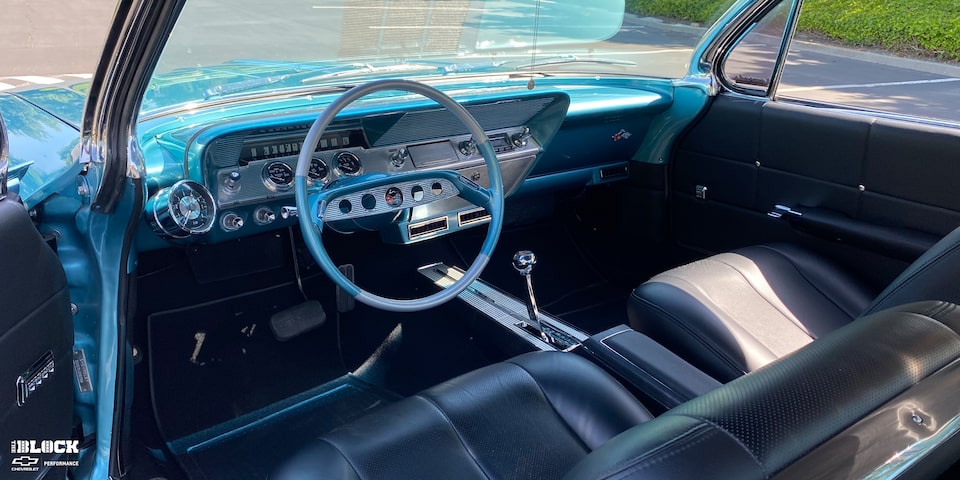 The interior looks stock, but also features some trick modern upgrades.

The interior was primarily done by a mutual friend, Sergio Morelos, who built it all from scratch. The goal was to design it similar to how a '61 Impala interior would have looked straight from the factory, with some custom elements.

For instance, the 1961 model of the car had a bench seat, but this one has buckets like the '62 to '64 versions. Plus, since Amerino is well over six feet tall, the duo put the seats on modified 2006 Impala six-way power tracks to make the car more comfortable. The interior also includes power windows and Vintage Air. However, the front- and backdoor panels and backseat all look like they came from the factory, while the dash and gauges are all mostly original.

Both Amerino and Rowlands are intimately familiar with Chevrolet products. They met over 25 years ago when both began working for FH Dailey Chevrolet in San Leandro, California, in 1995. Rowlands has now been at Rio Vista, California's Abel Chevrolet for close to 11 years, but the two have remained close.

"We were both only children and we have a lot in common," Amerino says. "We just kind of clicked and we've been friends ever since."

The Twilight Turquoise Metallic Impala helped create a lifelong friendship.

For both men, the entire build was a labor of love. It features major overhauls like a totally clean engine bay with all hidden wires, to minute details such as a shortened steering wheel and the addition of an electronic parking brake. And then there was the constant challenge of sourcing parts.

"When you actually do a project like this you learn patience because it's obviously a lot of weekends and it's time-consuming, but you can only do so much in a certain amount of time, and a lot of time patience is a big part of it," Amerino says. "Chad is more of the expert in this field as far as his craftsmanship and skill, he is a mechanic, he's really good at what he does and he's meticulous.

"But you run into obstacles along the way. So many times we had to stop and then analyze the situation, and he would say he had sleepless nights actually thinking about which way to tackle a certain situation moving forward. So patience really played a role in making the quality of the build the way that it came out."

Rowlands agrees with his friend's assessment.

"It's patience and it's problem-solving, and there are a lot of rewards that come with it," he says.

Indeed, the finished product was well worth the time.

Be sure to keep watching The BLOCK for more Chevrolet Performance-powered builds from across the nation.

*Because of its effect on a vehicle's emissions performance, this engine is intended exclusively for use in competition vehicles. This engine is designed and intended for use in vehicles operated exclusively for competition: in racing or organized competition on courses separate from public roads, streets or highways. Installation or use of this engine on a vehicle operated on public roads, streets or highways is likely to violate U.S., Canadian, and state and provincial laws and regulations related to motor vehicle emissions.