Dwight Ward's 1971 GMC C15 is an old school truck. Literally. In an earlier life it was a maintenance truck at the school district in Killeen, Texas. Some of the district's logo even remains on the doors of the vehicle, which sports a natural patina.

However, everything under the hood is decidedly new school with an LS3 power plant swapped out of a fifth-generation Camaro.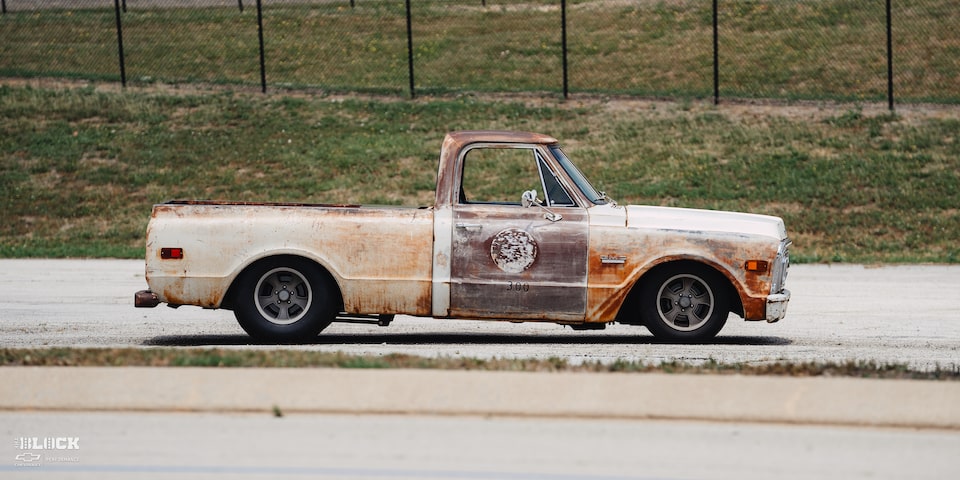 Dwight Ward's 1971 GMC C15 was once a maintenance truck at the school district in Killeen, Texas. BBT Fabrications was responsible for the modern build.

"Everything was done prior to me buying the truck," Ward said during this year's C10 Nationals at Texas Motor Speedway. "I saw it on Facebook and I saw the patina, loved that. Saw the interior was already done, loved that. And then I saw what it had under the hood, and I had to call the guy and tell my wife (Joan) we're going to Champaign, Illinois."

Ward lives in Kasson, Minnesota, west of Rochester and south of Minneapolis. He made the trip to pick up the truck in the Land of Lincoln with a trailer and cash.
The GMC was built by the renowned BBT Fabrications in Mahomet, Illinois, the shop responsible for the 2022 Goodguys Rod & Custom Association Street Machine of the Year.

BBT installed the LS3 during the GMC truck build, and Ward is particularly fond of the ease of use the modern fuel-injected power plant provides.

"It's reliable, you turn the key and go," he said. "You don't have to worry about any carburetion adjustments and all that."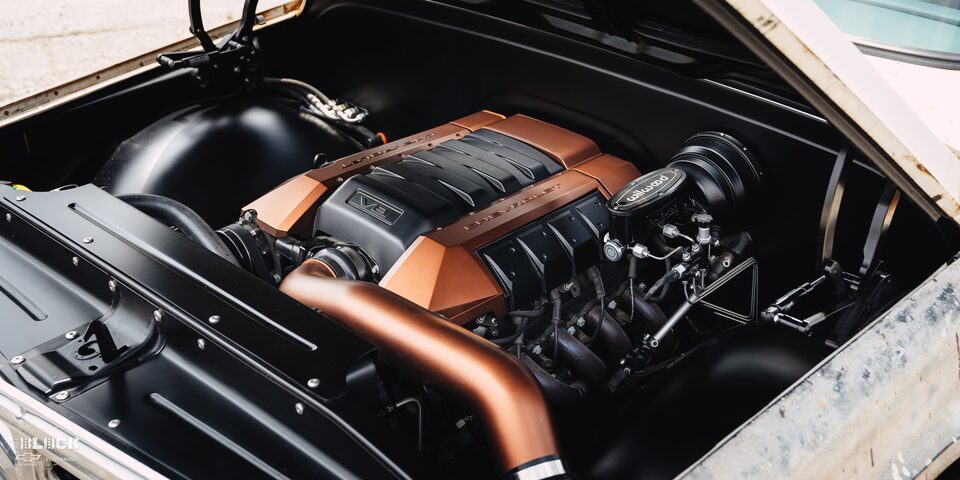 An LS3 engine swapped from a fifth-generation Camaro sits under the hood.

The engine also features a Texas Speed cam upgrade, creating more than 450 horsepower at the rear wheels. The LS3 sits in an ultra-clean modern engine bay and creates a stark contrast to the truck's rust-colored patina. The engine is mated to a six-speed automatic overdrive transmission.

Other modern upgrades on the GMC include a Roadster Shop REVO independent front suspension and a four-link in the rear. However, the frame is original.

"The frame looks brand new underneath, you wouldn't know it was a 52-year-old frame," Ward said.
Customs by Vos completed the interior work.

The modern blue interior also contrasts with the patina on the outside. The upholstery shop Customs by Vos in Griffith, Indiana, put together the leather interior, which also counts among its highlights a Vintage Air air conditioning unit, Classic Instruments AutoCross gauges and cruise control.

Although how the truck made its way to Illinois remains a mystery, the vehicle originally came from Killeen in the Lonestar State, near Fort Hood (now Fort Cavazos). In fact, a Fort Hood sticker remains on the front bumper, while a defunct Texas dealership is stamped into the bumper on the rear.
The C15 features an all-natural patina.

The truck's current owner is self-employed and sells "optimizer" to dairy beef producers all winter. That means when spring and summer finally roll around in Minnesota, Ward and his wife can hit a variety of shows around the country.

Interestingly, Ward didn't grow up in an automotive family; rather, he picked up the hobby much later.

"I wasn't a car guy when I was a kid, my dad wasn't, and just late in life I decided to get into some cars for something to do and something to have fun with," he said.

He also owns a 1955 Chevy Handyman Wagon powered by a Chevrolet Performance LS3 crate engine* and a 1967 Chevy pickup.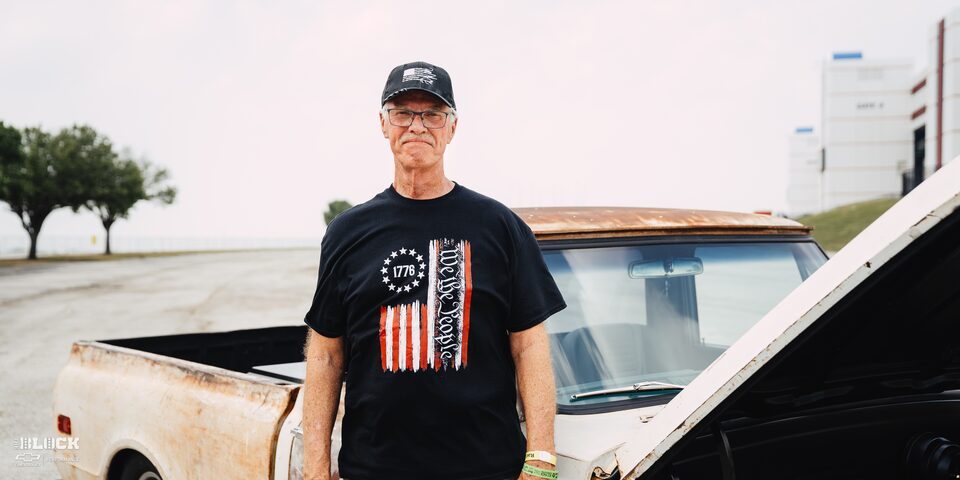 Dwight Ward lives in Kasson, Minnesota, and hits a variety of shows each season with his GMC and Chevrolet vehicles.

While Ward utilized Moores Garage in Belfry, Montana, for work on the wagon – which included adding a C4 Corvette suspension – he tackled much of the '67 pickup project himself.

"I learned a bunch of stuff on YouTube," he said. "I C-Notched it, lowered it, put a new bed floor in it and all that. I'm not real talented, but there were certain things where I said, 'Well, I can do that if I look at enough YouTube videos.' If those guys can do it, I can cut metal."

As for his 1971 GMC C15, Ward hasn't tested its potential. However, he knows the power the LS3 offers the truck.

"It gets up and moves in a hurry," he said.

It seems the LS platform has plenty of lessons to teach an old school truck.

Keep watching The BLOCK for a variety of Chevrolet Performance builds from the Texas C10 Nationals and events nationwide.

*Because of its effect on a vehicle's emissions performance, this engine is intended exclusively for use in competition vehicles. This engine is designed and intended for use in vehicles operated exclusively for competition: in racing or organized competition on courses separate from public roads, streets or highways. Installation or use of this engine on a vehicle operated on public roads, streets or highways is likely to violate U.S., Canadian, and state and provincial laws and regulations related to motor vehicle emissions.