Driveway Gem: This 1983 C10 Features a Modern Supercharged Swap
Share on
Share on
Visit us at
Visit us at
Jim Lewis likes being creative when it comes to his vehicles. Recently, that creativity led to him building his own version of a supercharged Gen V engine for his 1983 Chevrolet C10 Silverado pickup.

And he did it all in his driveway at his home in Denton, Texas.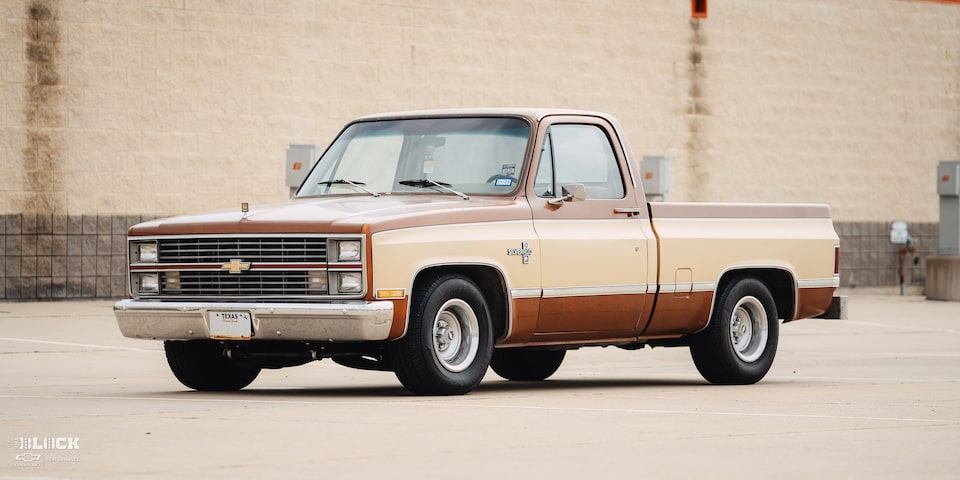 Jim Lewis brought his 1983 C10 to the Texas C10 Nationals in May. A surprising engine upgrade lurks under the hood.

"It was just the novelty of it," Lewis said of the project during May's C10 Nationals at Texas Motor Speedway.

Lewis built the power plant using the 5.3L L83 engine and six-speed automatic transmission out of a 2016 Silverado, paired with the LT4 supercharger from a 2017 Corvette. Lewis jokingly calls it an "LT3."

"It's just amazing how much power you get out of it with the supercharger versus the turbo," Lewis said. "There's no lag. All the power is instantaneous."

In addition to the power, Lewis also likes the look of the modern engine, in particular in an older truck like his.

"You pop that hood, and boom, there's that supercharger," he said. "It catches people's attention."
The powertrain features an L83 engine and six-speed automatic transmission from a 2016 Silverado, topped with a 2017 Corvette LT4 supercharger.

Lewis found the truck after it had sat in a garage for several years. Sitting still over time had wreaked havoc with the original 305 cu.-in. mill, but Lewis was able to get it running. After finding a few more issues he built a 383 cu.-in. stroker engine for the truck and mated it to the original TH350 transmission.

However, he ultimately found he didn't quite get the power he was looking for and some friends came up with the idea of topping a newer engine with an LT4 supercharger. Lewis was hooked.

He used ICT billet adapters for the installation and swapped out the cam and lifters, utilizing a Texas Speed Stage 2 camshaft.

While the Chevrolet Performance LT4 crate engine* and other crate options can often drop into a vehicle with the proper engine mounts and perhaps some fabrication, getting this power plant into a 1983 C10 posed a few additional challenges.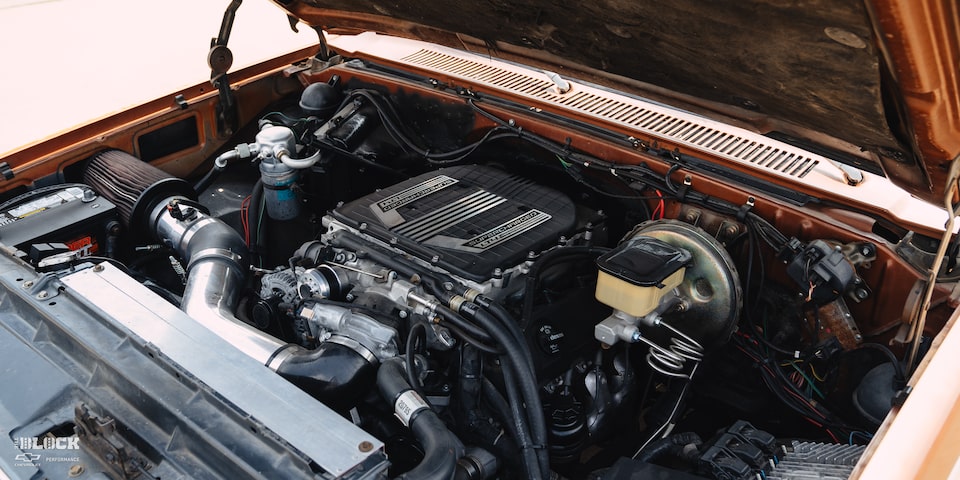 Lewis only made a few minor adjustments for engine fitment.

Still, Lewis said it wasn't as difficult as one might think. He even used the truck's original engine mounts. The new engine is only slightly relocated in the bay.

"I've got it sitting two inches farther to the front than where the normal stock engine goes in that truck, and that was to fit the stock A/C compressor from the 2016 Silverado," Lewis said. "That motor has all the stock front end on it with the pulleys and A/C compressor, so I moved it forward to be able to clear that compressor. If I wanted to buy a compressor-relocation kit I could've put it in the stock location and it would've fit just fine."

Additionally, by moving the engine forward, he was able to use the truck's original transmission linkage for the swap. Lewis found the only necessary update was needing to have the driveshaft lengthened approximately two inches.

Perhaps most impressive, he and a friend did the majority of the work on the swap themselves.
Aside from some cosmetic updates, the vast majority of the C10 remains original.

While Lewis is a fan of the power produced by the engine, the reliability and ease of use also stand apart.

"The drivability is just awesome," he said. "There's no tuning on it. I may go three to four months without driving it and walk out into the garage, hit the starter and it just fires right up. It's just so user-friendly."

Outside of the drivetrain, the bronze-and-tan truck is nearly entirely the same as when it rolled off the General Motors assembly line, down to the paint. Lewis only fixed one rust spot behind the driver's-side rear tire, otherwise, the exterior is all original.

Lewis also updated the headliner and seats, but otherwise, much of the interior is original as well.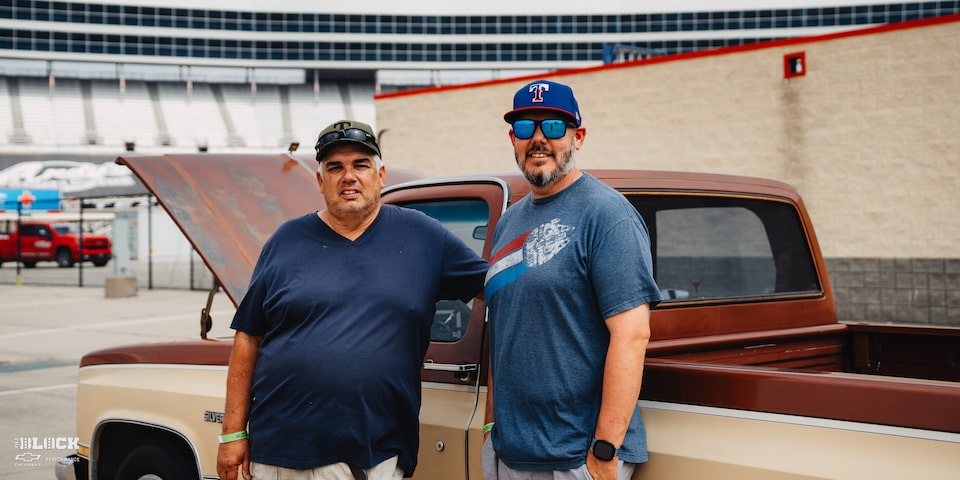 Jim Lewis (left) and his son Cody at Texas Motor Speedway.

A diesel mechanic by trade, Lewis recently retired from Peterbilt after 36 years. He was first involved in performing a variety of tests on the brand's trucks. He then moved into the engine side of the company and served as a representative performing troubleshooting tasks, repairs and more. He has translated much of that knowledge to the automotive hobby.

His family is involved in the hobby as well. Lewis once bought a brand-new 1996 GMC pickup and both his sons eventually drove it back and forth to college before Lewis sold it. Several years ago, his son Cody tracked down its VIN and bought it back for his father. Now the truck is undergoing a makeover with a new engine and will go to Lewis' grandson.

Lewis has also become sentimental about his 1983 C10 with its unique Gen V engine. He originally bought the truck to resell it, but today, that is the farthest thing from his mind.

"I've put so much in it I'll never get rid of it," he said. 'I'll pass it down; I can't sell it. I enjoy it too much. It's too fun."
Lewis completed the work on the C10 in his driveway.

Keep watching The BLOCK for Chevrolet Performance builds from Texas C10 Nationals and events across the nation.

*Because of its effect on a vehicle's emissions performance, this engine is intended exclusively for use in competition vehicles. This engine is designed and intended for use in vehicles operated exclusively for competition: in racing or organized competition on courses separate from public roads, streets or highways. Installation or use of this engine on a vehicle operated on public roads, streets or highways is likely to violate U.S., Canadian, and state and provincial laws and regulations related to motor vehicle emissions.