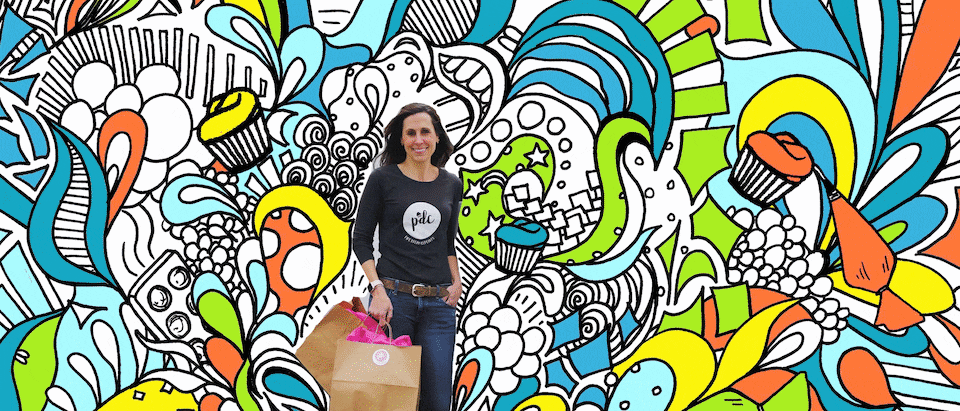 2020-05-29 | Chevy New Roads Magazine

Giving Back, Not Giving In
Cupcake Hero

Chevy owners are the heartbeat of America. And all over the country we're hearing stories of people acting with integrity, unselfishness, and guts. Our "Giving Back, Not Giving In" series shines a light on these everyday heroes, giving of themselves to help their neighbors and communities survive and thrive.
During April 2020, Cupcake Crusaders—an effort led by Nadine Levin—delivered over 4,000 cupcakes to more than 40 care units at hospitals large and small around the greater Boston area. The surprise delivery of gourmet sweets was Levin's uplifting response to the health crisis.
When she started her cupcake business nearly a decade ago, Levin was not a professional confectioner chef. The talented hobbyist baker was once a titan of advertising sales, but around 2011 decided to change her career direction to spend more time with her family. Little did she know that would lead her down a path to delivering uplifting treats during a national health crisis.
After making cupcakes for a friend's 2011 wedding, Levin soon had a request to supply another event. "All of a sudden, it just snowballed," she says, and Pipe Dream Cupcakes was born. Levin has since expanded from baking just for special occasions to operating a food truck out of her converted Chevy Express van. To give her the standing room she needed, Levin's Express has a raised roof. A powerful auxiliary air conditioning unit and customer window help her comfortably serve the fans of her award-winning confections. And of course, the custom graphics are really sweet.
As Levin was preparing for a surge in demand for St. Patrick's Day 2020, and the eighth anniversary of her business launch, Massachusetts issued emergency orders taking effect March 23 that shut down food service businesses to help keep the state's residents safe.

Levin parked her Chevy. "I had all these extra ingredients in the house, and if I didn't do something with them, they'd go bad," explains the baker. To make the best use of the perishable supplies in her pantry, Levin baked 250 cupcakes for a local hospital, following their guidelines of having each one individually boxed.
The only way I can work from home is baking, and I thought, wouldn't it be great if I could bake for all the first responders?
The cupcakes were a hit, and Levin decided to spend the entire month of April baking for those on the front lines. "The only way I can work from home is baking," she says. "And I thought, wouldn't it be great if I could bake for all the first responders?"
Levin devised Cupcake Crusaders, an initiative launched April 3, 2020, across social media with a video produced by a friend. The plan invited Pipe Dream's social community to support the purchase of supplies like eggs, butter, and sour cream using a digital payment app. Levin committed to donate all her time and talent.
After posting the goals for Cupcake Crusaders, "it was like I was on a telethon. Money was coming in left and right," remembers Levin. With funding nearly triple her target, Levin baked nonstop, sometimes with two and three mixers spinning in her kitchen at the same time.
Levin worked with nurses and other first responders to make the majority of deliveries, making sure that every aspect of the Cupcake Crusade adhered to emergency guidelines.
The April project wasn't the first time Pipe Dream Cupcakes had delivered some sweet, tasty cheer to health care workers. Levin had previously donated cupcakes to Boston hospitals after the marathon bombing; one nurse even reached out after getting cupcakes on both occasions. "It's touching to be remembered," says Levin.
Curious to sample some of Levin's creations? The daily menu and list of locations around North Andover, Massachusetts, where you can find her customized Chevy Express cupcake van is at pipedreamcupcakes.com.
Is someone in your neighborhood making a difference? Share a photo or story on Facebook or Instagram by tagging #WhatWeDo and @chevrolet, or reach us directly with their story by emailing editor@chevroletnewroads.com.
STORY: REX ROY / PHOTOGRAPHY: MARY SCHWALM / ILLUSTRATION: KELSEY MONTAGUE