2020-11-17 | Chevy New Roads Magazine

Aero Dynamic

With a background analyzing the aerodynamics of everything from windmills to rockets, lifelong gearhead and Chevrolet engineer Charles Muse now applies that same know-how to new Chevy vehicles.

Charles Muse was fascinated by cars growing up, spending time helping his father tinker on classic muscle cars. But after taking a ride in a small four-seat aircraft as part of an educational aviation camp, Muse's interests took off in a different direction. "That fed my interest and my curiosity as to how does this work? How do airplanes fly?" he says.
Soon, he was taking flight lessons at a local airport. That, combined with his enthusiasm for math and science classes, led naturally to pursuing a degree in aeronautical and astronautical engineering in college.
It was a chance meeting at a career fair that brought Muse's career direction in for a smooth landing. "I ended up at the General Motors booth out of curiosity, having always been a car guy." A representative explained just how important aerodynamics engineering is to the automotive world, leading Muse to an internship—and, later, a full-time job—at GM.
As Muse explains it, the aerodynamics field is the study of a body moving through air or liquid and the forces that oppose it, whether it's a fighter jet in the wind or a boat in water. "Specific to cars, an aerodynamicist would be looking at those forces in order to reduce the drag on the vehicle," he says. Reshaping a vehicle's body parts can help hit that goal. "Less drag means your engine doesn't have to work as hard to maintain a speed, and that ultimately can result in better fuel economy."†
One of his first major projects was working as lead aerodynamicist for the Chevrolet Blazer. Muse's team had to collaborate with the design team to balance the vehicle's distinctive appearance with a need to keep drag to a minimum.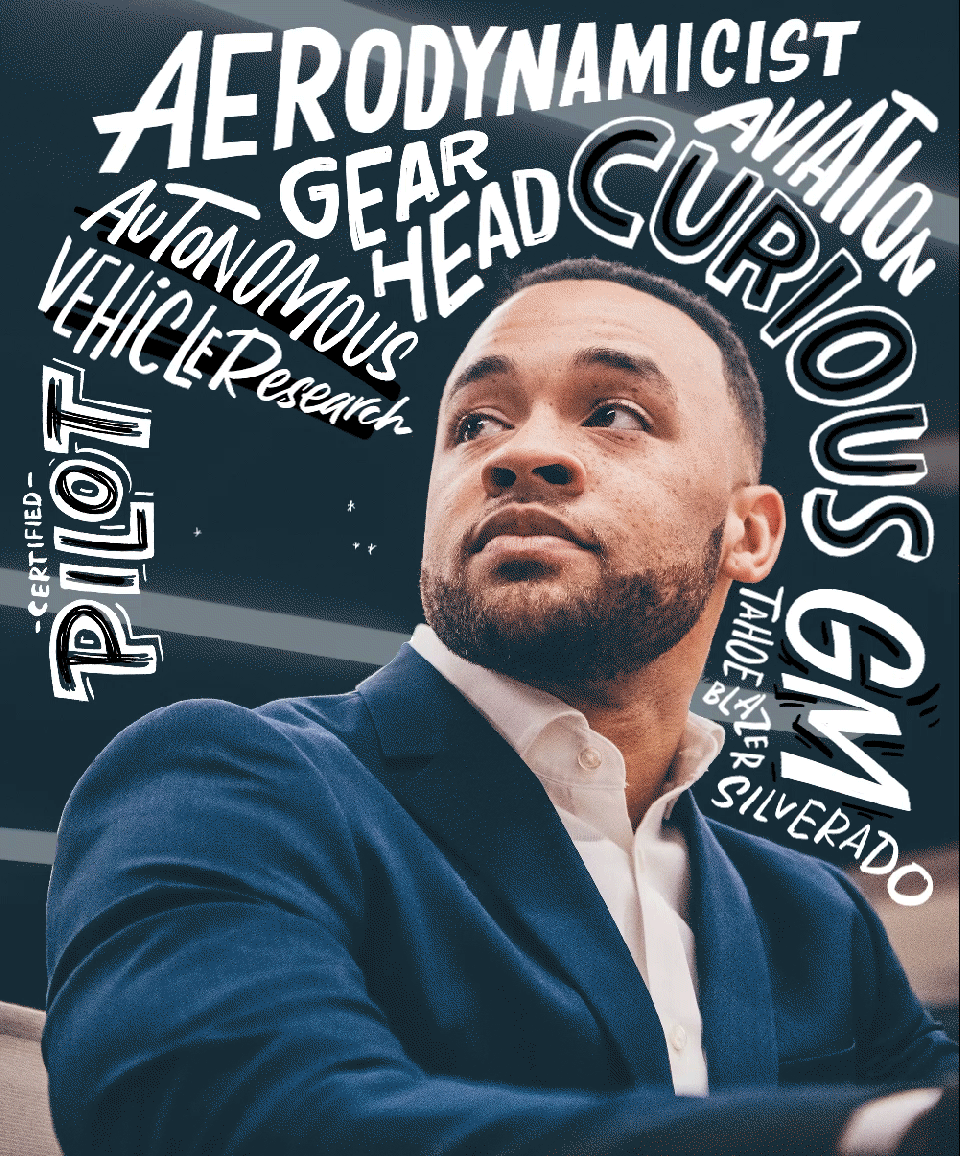 "The challenge with the Blazer is that it's a very aggressive design," Muse says. The team needed to extract every little bit of aerodynamic performance possible without compromising on the design vision. "We all fell in love with the design and we knew it was something that we wanted to maintain."
Muse describes the back-and-forth between designers and aerodynamicists as a dance—which also has to take into account critical engineering considerations like durability, cost, and performance of the vehicle. "The whole organization works together to develop the car," he says.
---
I TOOK TWO OF MY
BIGGEST PASSIONS, CARS
AND AIRPLANES,
AND KIND OF MASHED THEM
TOGETHER INTO
ONE JOB. SO I'M A BIG
PROPONENT OF FOLLOWING
YOUR PASSION.

CHARLES MUSE

For a gearhead like Muse, it's also exciting that aerodynamics can help improve the performance of sports cars like Camaro and Corvette. "You need to increase drag in certain areas, like the front corners and rear spoiler, to be able to translate all the power produced by the engine to the ground while also being able to handle the vehicle under high speeds," he says. "It's a different approach, but still about manipulating and leveraging the forces of aerodynamics to get the most performance out of the vehicle."

As with many types of engineering, high-powered computer analysis helps aerodynamicists do their job, so more designs can be tested more quickly. "You can run computer-aided engineering analysis, make changes within a virtual tool, test those findings and changes in the wind tunnel, and subsequently evaluate that at the track," says Muse.
In addition to aerodynamic work, Muse has been fortunate to be exposed to many different areas of engineering within Chevrolet, including working with air-induction systems for trucks and future autonomous vehicle research. "There's a plethora of opportunity to do different things within the engineering world, to really be involved in the product on all fronts," he says.

And although his career keeps him grounded in the automotive world during the workweek, Muse still enjoys flying in his free time, renting light two- and four-seater planes from a Detroit-area club.
"I'll fly them home to Chicago, visit my family, and I'll fly back. Or I'll fly around with friends just in the local area around Detroit," he says. "I still keep flying, and it's an intimate part of my life. It's something I still enjoy and love to do."
"I took two of my biggest passions, cars and airplanes, and kind of mashed them together into one job," Muse says. "So I'm a big proponent of following your passion."
STORY: JAKE HOLMES / PHOTOGRAPHY: JUSTIN MILHOUSE / ILLUSTRATION: ANGELA SOUTHERN / ANIMATION: LUNAR NORTH