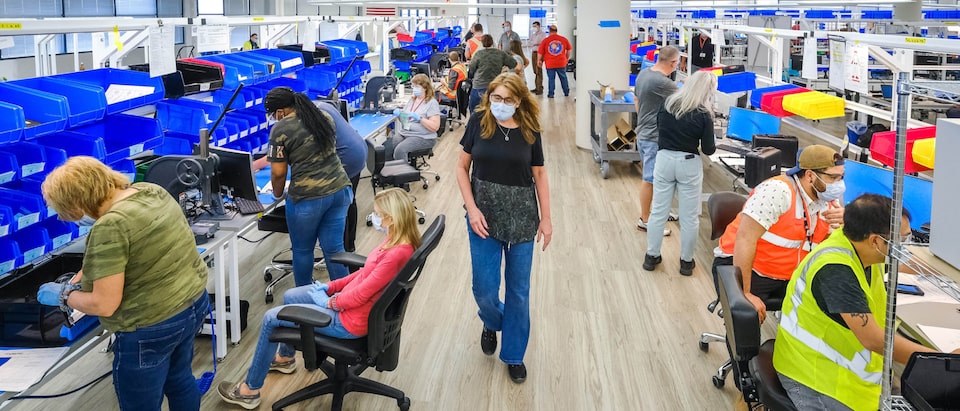 2020-06-18 | Chevy New Roads Magazine

A Town Called Kokomo

How General Motors and one Indiana town came together to help deliver critical supplies in a time of national crisis.

Our nation has always rolled up its sleeves, put others first, and done whatever is necessary to help one another when times are tough. Today's battle against COVID-19 is no different. By now, most have heard that GM, Chevrolet's parent company, stepped up to help manufacture life-saving critical care ventilators, with employees working together to develop a production plan within just days.
There's also a lesser-known silver lining of that action: The initiative brought more than 1,000 new jobs to an Indiana community that, like so many others, had faced an uncertain future in the face of the pandemic.
"Many people were losing jobs; businesses were being closed. To all of a sudden have the announcement that there's going to be the creation of essential jobs, it was nothing short of a celebration day for our community," says Howard County Commissioner Paul Wyman.

Many people were losing jobs; businesses were being closed. To all of a sudden have the announcement that there's going to be the creation of essential jobs, it was nothing short of a celebration day for our community.

Like Chevrolet, Kokomo has a history of innovation and ingenuity. Nicknamed "City of Firsts" for its numerous inventions, the city has a well-established manufacturing history going back decades. And in other times of national crisis, Kokomo has always put others first and stepped up to help.
During World War II, the local workforce dropped everything and joined the national wartime effort, producing crucial equipment like munitions, uniforms, lifeboats, and walkie-talkies for soldiers.
"Pretty much all of the industries in Kokomo and Howard County flipped over to war production," says Dave Broman, executive director of the Howard County Historical Society. "All the big industries—everybody was involved in the war effort. There was a remarkable coming together, and I don't know that we've seen anything like it since."
With that community history, it's no wonder that employees on the front line of ventilator production today see parallels with the efforts that earlier generations made during World War II.
"It was an opportunity to go above and beyond just staying home and keeping people safe," says UAW Local 292 member Debbie Hollis, who's working on ventilator production. "We are modern-day Rosie the Riveters."
"Everybody saw not only the excitement of the opportunity, but the incredible mission that was before them to create a life-saving device and do it right here in our community," says Commissioner Wyman. "Our workforce has consistently been not only adaptable but successful as well."
It Only Took a Month

As cases of COVID-19 escalated nationwide, hospitals urgently needed more ventilators—medical devices that can assist critically ill patients in breathing. Washington-based Ventec Life Systems looked for a partner to quickly ramp up production of those life-saving machines. It turned to GM, and the two decided to repurpose GM's 2.6 million-square-foot Kokomo plant to build VOCSN V+Pro critical care ventilators.
With the demand for ventilators becoming more urgent, the teams moved to act fast. Within days of the first conversations with Ventec, GM had sourced the parts needed to build critical care ventilators. Work to prepare the plant and retrain workers in Kokomo began on March 25. By April 14, mass production of ventilators was up and running. Just three days later, the first batch of Kokomo-built critical care ventilators was delivered to hospitals. The facility is ramping up to produce thousands of critical care ventilators per month.
In addition to sourcing the more than 400 individual parts needed for each critical care ventilator, the factory preparation work involved retraining employees on new assembly methods, plus implementing health screening, social distancing, and other sanitation policies for the safety of the workforce.
Starting production so fast required a truly heroic effort to pull it off. It took just one month from the first phone calls about the project, on March 17, to the first delivery of ventilators on April 17.
And there's more to come. Current plans involve production of critical care ventilators through August.

Honored to Help

Getting the project off the ground and running so quickly is a testament to the hard work of everyone involved, says Greg Wohlford, shop chair at UAW Local 292, which represents the Kokomo plant.
"It's kind of a big change to go to from making automotive parts to making ventilator parts," he says. "It was an incredible feat, and they did a great job."
The new work has also given Kokomo community members a sense of pride that they're able to help on a national scale in a time when so many are feeling powerless in the fight against a new disease.
"Employees felt like it was a new venture in their life to be able to give back not only to their community, but to the world," says Wohlford. "I'm really proud of everybody that's been a part of this project. Everybody's put a lot of long hours in to get this up and running, and they've just been incredible."

A Commitment to Working Together

While the difficulties of the COVID-19 pandemic are far from over, heroic efforts like those undertaken by GM's workers in Kokomo will help health care workers nationwide combat the virus head-on. It's just the latest example of how we come together in times of need to help one another.
"Thousands of men and women at GM, Ventec Life Systems, our suppliers, and the Kokomo community have rallied to support their neighbors and the medical professionals on the front lines of this pandemic," says GM chairman and CEO Mary Barra. "Everyone wants to help turn the tide and save lives. It is inspiring and humbling to see the passion and commitment people have put into this work."

STORY: JAKE HOLMES / VIDEO: LUNAR NORTH