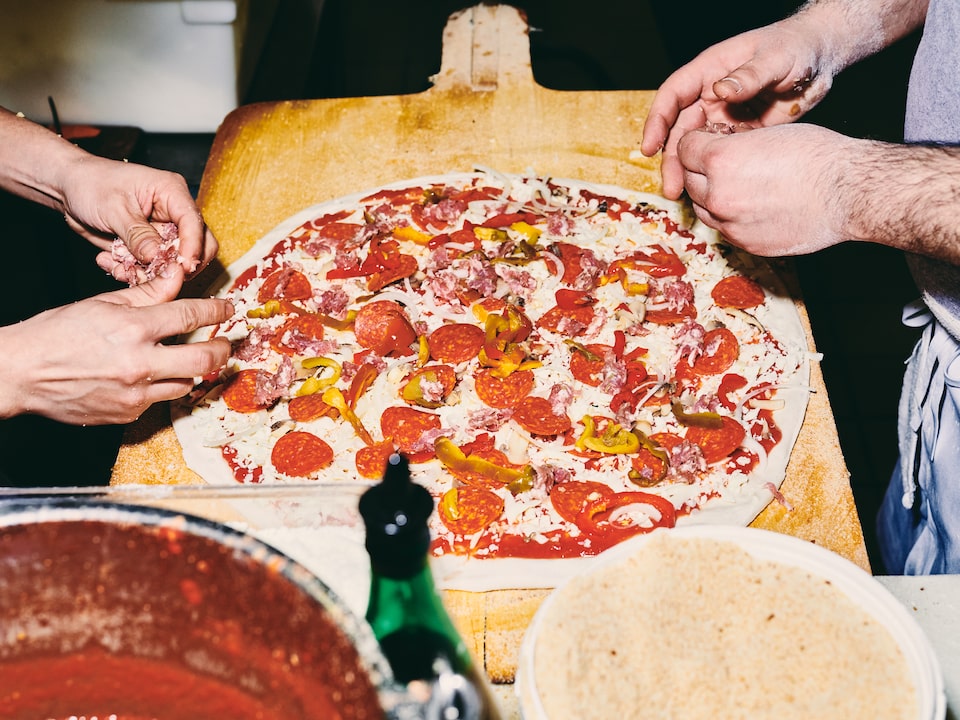 ---
2022-07-15 | New Roads Magazine
Stretched & Charred
How a Neapolitan favorite rose to prominence in New England and gained a revered place in America's pizza culture.
The science of our senses tells us that smell is the most powerful trigger of a memorable place. Catch a whiff of a fresh-cut lawn, our mother's perfume, or a tray of cinnamon buns baking in the oven, and we are immediately transported to the places we associate with those scents.
As my car turns right off Olive Street onto Wooster in downtown New Haven, Connecticut, I pick up the distinctive aroma of char and melted cheese. I immediately know I have arrived at the epicenter of New Haven's pizza culture.
What? You didn't know that New Haven has claimed a central place in American pizza culture for more than a century? Sure, you've heard of the thin-crust slices of New York, the deep-dish pies of Chicago, maybe even the rectangular pan pizzas of Detroit. But New Haven? Home of Yale University? Yes, New Haven is a pizza town.

"It's spelled apizza, but here we say 'abeetz'," New Haven pizza maven Colin Caplan corrects me. His pronunciation recalls the Neapolitan dialect I've heard during my pizza pilgrimages to Naples, Italy, where they swallow the last syllable of Italian words. Born in New Haven, Caplan has become a tour guide and one of the foremost experts on the city's pizza culture, having written a definitive book about its history aptly titled Pizza in New Haven.
In the genealogy of New Haven pizza, there are three principal branches: Frank Pepe's, Sally's, and Modern. Opened in 1925 by a poor, illiterate but hard-working immigrant from the Campania region of Italy, the eponymous Frank Pepe Pizzeria on Wooster Street is considered the original. Pizza was surely available in New Haven before Pepe's began using his bakery's coke-fired bread oven to make large, thin-crust pies. But his personality and his pizzas established New Haven as a pizza town.
Finding Apizza
Along with the original three apizza joints that established New Haven as a pizza town, several other restaurants in the area create the signature pies. Scroll/swipe to find one for your next visit.
Coke is a derivative of coal, which was produced in the region to fuel local industry. The extreme heat and convection generated in Pepe's oversized 14-by-14-foot oven produced a crisp, charred crust that has become characteristic of New Haven pies ever since.
A 1930s pizza boom drew on and served the city's community of Italian immigrants, who, like Pepe, had arrived to work in local factories. Baker cousins Antonio (Tony) Tolli and Joseph Marzullo opened the short-lived Washington Pizza in 1934. Tolli would go on to open Tony's Apizza on State Street in 1936, which spawned several offspring, including one down the block. Louis Persano, who had trained at Pepe's, would take over the original Tony's with a former employee named Nick Nuzzo and rename it Modern Apizza. After a stint in his uncle's restaurant, Pepe's nephew from Amalfi, Salvatore Consiglio, left to open Sally's Apizza just up the street in 1938.
Although the Italian community has long since moved away, generations later these pizzerias and many they have inspired continue to thrive in and around the city.
Pepe had two pies on his original menu: one topped with tomatoes seasoned with garlic, oregano, olive oil, and a dusting of pecorino Romano, the other with anchovy, Pepe's grandson Francis Rosselli told me. Mozzarella, or "muzz" (pronounced mootz) was added later. Order a "plain pie" in New Haven, and you'll get a tomato pie, while just about everywhere else a plain pizza usually means "with cheese."
But what exactly characterizes New Haven pizza beyond the distinct pronunciations, the charred crust, a plain tomato pie, and the fact that it is made in or around Connecticut's second-largest city? Both Caplan and Rosselli have a difficult time saying. It isn't the dough, considering some pizzerias use natural sourdough leavening (e.g., Modern), while others rely on commercial yeast (e.g., Sally's). Caplan suggests a small cornicione — the Italian name for the risen edge of the pizza — is something all New Haven pizzas have in common. Indeed, the local pies are flat. Caplan also notes that no real New Haven pizzeria would ever sell pizza by the slice. This is a whole-pie culture.
4 Favorite Pizza Styles in the U.S.
While pizza styles throughout the country share a few common elements, like a crust and some kind of sauce, from there they can head off in wildly different directions.

Naples, Italy, the original pizza town, is also a whole-pie culture. But Neapolitan pizzas, as defined by the stringent guidelines of the Associazione Verace Pizza Napoletana, are small, individual pies baked in hot, wood-burning ovens in 90 seconds or less. Neapolitan pizzas have a distinctly risen cornicione, though the tradition among locals is not to eat it. Char is verboten.
Each of the original New Haven pizzerias has its devotees, a famously loyal group who would rather wait in line for hours than try another pizzeria. But this doesn't mean you can't find other good spots. Caplan's short list includes Ernie's Pizzeria and Next Door Pizza & Bar, both in New Haven; Zuppardi's Apizza in West Haven, which dates from 1934; and Fuoco Apizza in Cheshire, which opened in 2020 but is currently renovating after a fire and will reopen this year. A chef friend tells me I must try Roseland Apizza in Derby, which opened in 1935. Every Tuesday, the New Haven nightclub/pizzeria named BAR collaborates with Olmo, a local bagel shop, to offer a special pie — a recent offering was Thanksgiving on a pizza. And there are so many more. There is no denying this is pizza country.
While all of these intrigue me, it's hard for me to imagine visiting New Haven and not going to one of the "big three." When I smell that distinctive aroma emanating from the ovens in the city's historic Little Italy, I am both literally and figuratively transported to exactly where I want to be.
STORY: MITCHELL DAVIS / PHOTOGRAPHY: PEDEN+MUNK / ILLUSTRATIONS: CLINT FORD