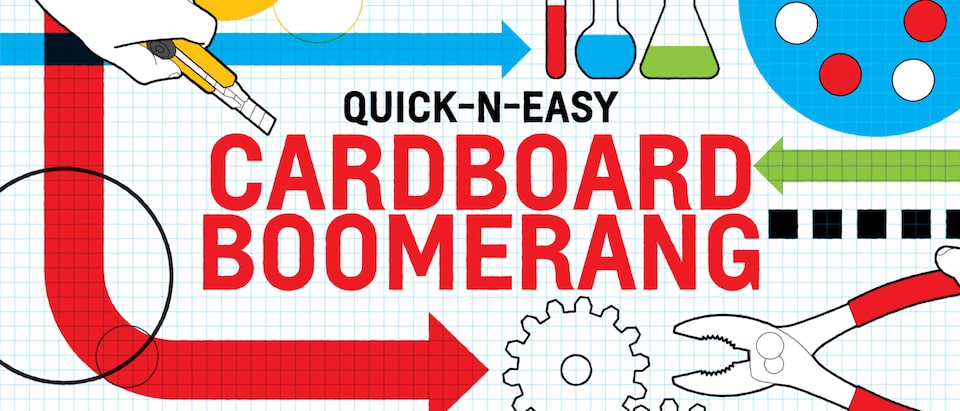 2020-10-16 | Chevy New Roads Magazine

DIY Science with Chevy
Quick-N-Easy Cardboard Boomerang

This simple-to-build project will have the whole family coming back for more.

Learning from home can be extra exciting with hands-on DIY projects. In this installment of our DIY Science with Chevy series, explore the world of aerodynamics by transforming a cardboard box into a fully functional boomerang. Tweak your boomerang's shape, wing curvature, and more to optimize its flight patterns! Then, check out our other DIY Science with Chevy projects.

This series is designed for children ages 7–13. For outdoor use only. All activities should have adult supervision with proper safety precautions. We recommend always wearing gloves and safety glasses while conducting experiments.

Why You Want to Build It
Boomerangs have a reputation for being devilishly hard to build and throw. But that's not true—you can make a suitable boomerang from a cereal or pizza box, provided you learn the trick to tuning and throwing that boomerang. Quad-blade boomerangs, like the pizza box boomerang, are the perfect place to start.

STEP 1: CUT THE WINGS. Cut two 14-inch by 1-1/2-inch rectangles from the pizza box lid.

STEP 2: TRIM THE WINGS. Trim the corners of each piece you cut at a 45-degree angle by marking 1/4-inch from the corner along both the side and top, and then snipping off that corner.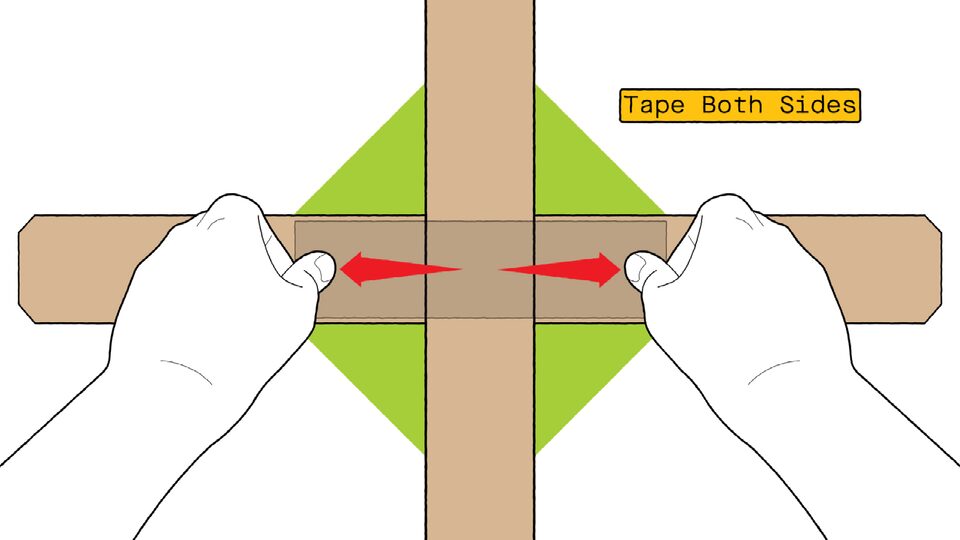 STEP 3: BUILD THE BOOMERANG. Use strips of packing tape to secure the two blades, one strip in front and one in back.

STEP 4: MARK THE BOOMERANG'S FACE AND LEADING EDGE. These two steps are the easiest, but vital to learning how to tune and throw your boomerang. The face of a boomerang is the side that will be closest to your head when you throw it. Right now, either side can be the face. Pick the side you like and mark it. Once you've chosen the face, you're going to mark the leading edge of each wing (this is the edge that cuts into the air when it is spinning), as shown in the illustration. If you throw right handed, then the leading edge of each blade is the left edge when you view the boomerang face up from above. For left-handed throwers, the leading edges will be on the right side of each blade.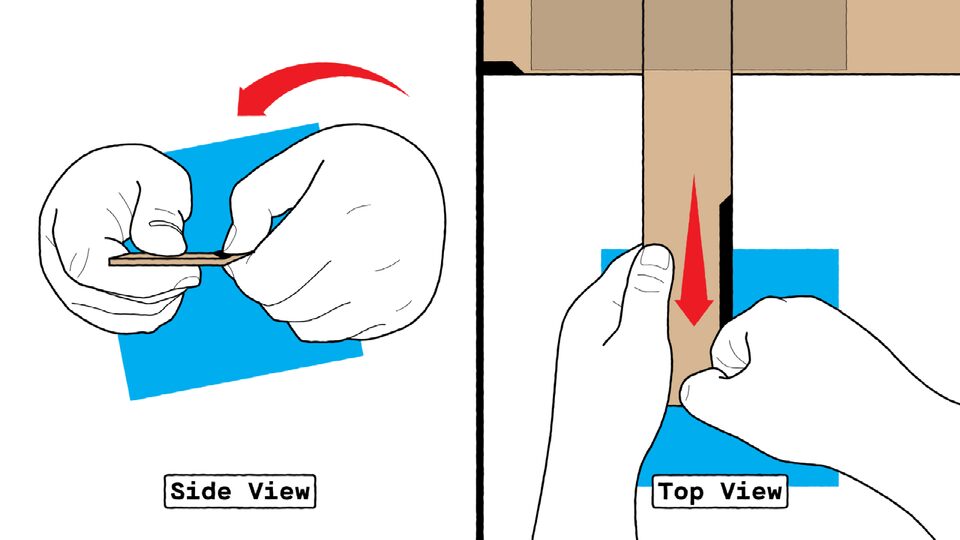 STEP 5: ADD AIRFOILS. Holding the boomerang face up, use your thumbnail to gently crimp each blade at a point 1/2-inch behind the leading edge. This creates a simple airfoil—the wing shape that produces the lift and drag needed for flight. It's okay if the airfoil is hardly perceptible; aerodynamically, a little goes a long way.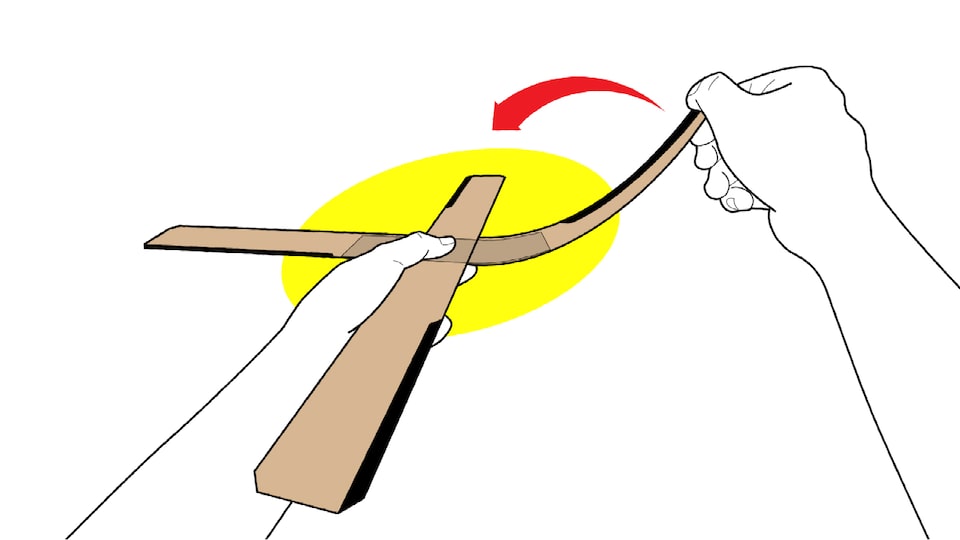 STEP 6: ADD DIHEDRAL. Few wings are flat. They either curve up or are set at an angle to the body. This is called dihedral, and it makes the flyer (be it bird or plane) more stable. A little dihedral is vital to boomerang operation. To give your boomerang's wings dihedral, hold the hub of the boomerang (where the wings cross) in one hand, and bend the wing up several inches. Don't worry about trying to get the wing to hold the curve; the very slight lift that remains after the cardboard relaxes is often just fine. (Dihedral is one of the aspects of the boomerang you'll tinker with during tuning.)

STEP 1: PICK A LAUNCH SITE. First, head outside and make sure you have plenty of open space around you; even a cardboard boomerang can really hurt if it smacks a bystander on the face.

STEP 2: THROW AND CATCH. To throw a boomerang, hold it in your throwing hand, pinching one wing near the tip.
Cock your arm back so that the boomerang is vertical, with its face toward your ear. Now throw with a flick of the wrist, being sure to keep the boomerang vertical throughout your throw. The pizza box boomerang will stay vertical for about 20 feet, flying straight out and rising as it goes. Then it will begin to curve to the left (for a right-handed thrower) and lay over (lean into a more horizontal position) as it comes into its return. Finally, it'll go fully horizontal, so you can easily catch it by sandwiching it between your hands.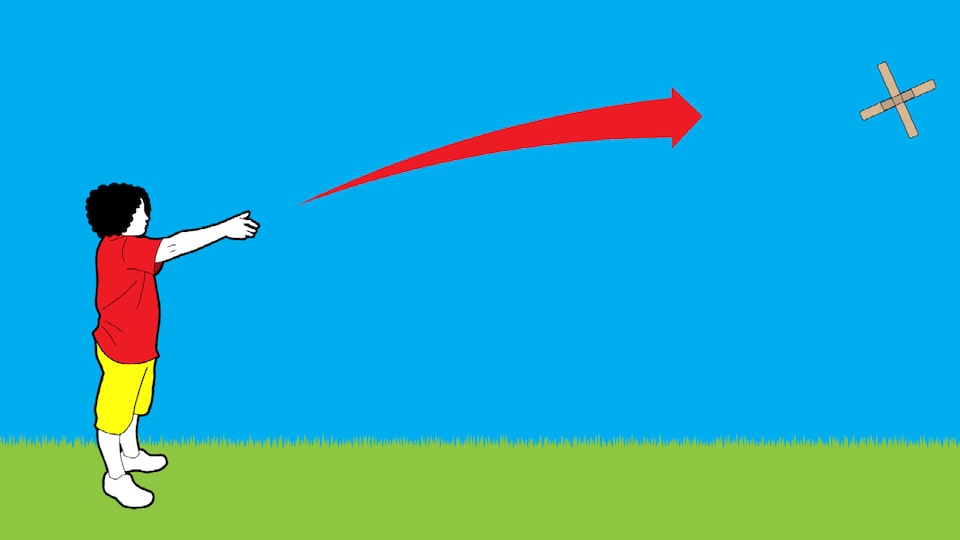 STEP 3: FINE-TUNING THE LAUNCH. In very still air, you may find the boomerang returns too far in front of you, and you have to run up to catch it. If this is the case, try throwing with some added layover: Angle the boomerang a little away from your head. This puts the boomerang into its return curve sooner.
If it's a breezy day, you'll want to throw into the wind with little or no layover.
Throwing and tuning go hand in hand. Once you've finished your boomerang, give it a few tosses, and then start tuning to get better performance.
Want to learn how to make your boomerang even better? Download the PDF here.

STORY: DAVID NELSON / ILLUSTRATIONS AND VIDEO: MCKIBILLO CREATIVE SERVICES