2022-10-28 | New Roads Magazine

Classic Cars Go Electric
Ken Lingenfelter's team show how they swap pistons for electrons in hot rods and muscle cars and what that means for performance enthusiasts.
As an executive who built his career in the rubber-burning, high-octane world of performance vehicles, Mark Rapson wasn't a big fan of electric vehicles. And he certainly didn't see them playing a role in the future of classic cars.

That was before his aftermarket performance shop stripped the gas-powered guts from a pristine 1972 El Camino and gave it an electric powertrain. When Rapson took the electrified El Camino for a drive, it transformed his vision of the future.

"I never thought I'd say this," he says, "but over the next five to 10 years electrification will be a significant part of the hot rod, muscle car, classic cruiser world."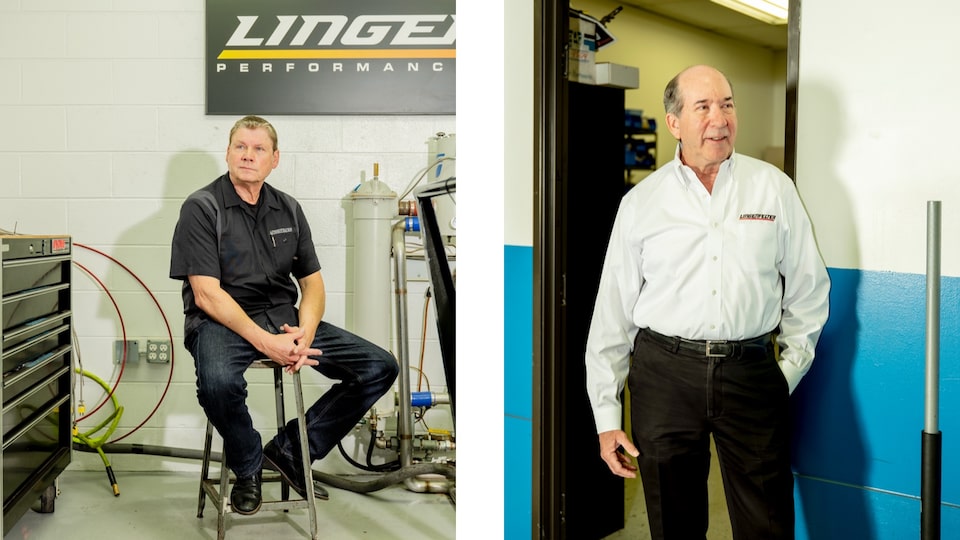 Rapson is chief operating officer at Lingenfelter Performance Engineering in Brighton, Michigan. The shop is legendary in the high-performance world for, among other things, Corvette tuning and the installation of crate engines — engines that are shipped fully assembled and ready to install right out of the box. Chevy's Connect and Cruise eCrate system is the electric version of those crate engines. Last year, Chevrolet Performance tapped Lingenfelter to do the first commercial eCrate installation.
---
I NEVER THOUGHT I'D SAY THIS, BUT OVER THE NEXT FIVE TO 10 YEARS, ELECTRIFICATION WILL BE A SIGNIFICANT PART OF THE HOT ROD, MUSCLE CAR, CLASSIC CRUISER WORLD.
---
MARK RAPSON

---
There were practical reasons. One was to validate the Connect and Cruise eCrate, to show that it works. Another was to certify Lingenfelter as the first aftermarket shop approved to handle such work. But the third objective — to demonstrate to traditional car buffs and gearheads that this new technology really is cool — was in some ways the trickiest.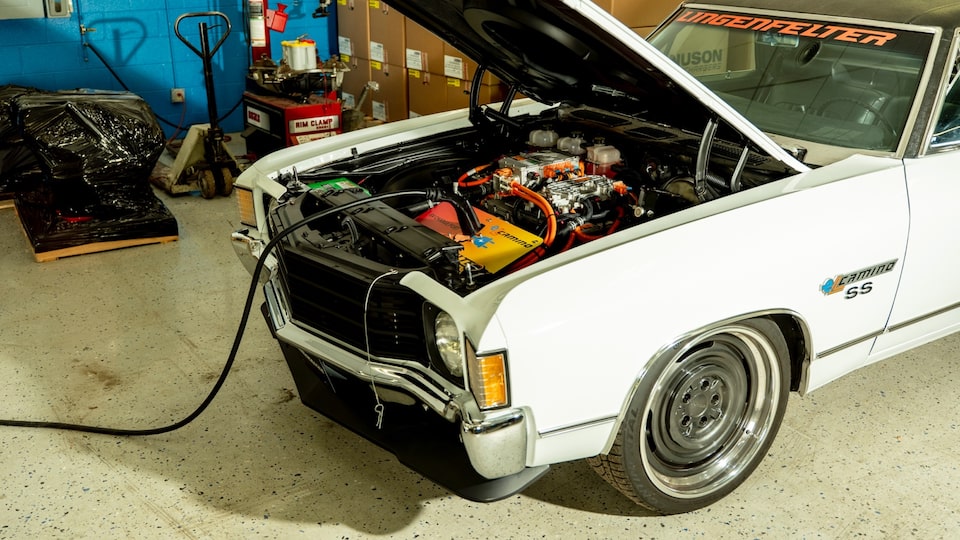 Electric Skeptics
"We wanted this car to build a bridge for traditional car folks, to help them get past the mental barriers around electrification," company owner and CEO Ken Lingenfelter says. That's one reason they chose the El Camino as the canary to send into the electrified coal mine. "It's a cool car and enthusiasts love it."

The Lingenfelter team was purposeful from the start. Pop the hood on most production EVs, and what you typically see is nothing. Or at least nothing like what you find in a vehicle powered by internal combustion. In place of the engine, most EVs offer a place for more stuff. In the frunk. Lingenfelter instead mounted all the electronics and wires and components right under the hood to look like a regular engine.

"If they can see it, they can evaluate it and ask questions," Lingenfelter says. "The El Camino brings the electric side of it to a much more visual level. A traditional install where they couldn't see anything would not have been as accepted."

Lingenfelter says the original plan was to install an emulator that would re-create the roar of a V8 engine that enthusiasts love: "But when we finished the car and heard the electric sound, it's kind of a jet engine sound, not loud, but it has a power to it — we loved it. We decided there's absolutely no need for a fake engine sound."
The Next Evolution

While it may take muscle car mavens a minute to get their head around new tech, the eCrate is really just the next evolutionary step for performance enthusiasts, says Prashant Ahire, eCrate regional chief engineer.

"The whole concept of hot rodding and aftermarket performance modification is taking production engines and powertrains and customizing them to your liking," he says. "With all of the advances in electric technology, a lot of enthusiasts want to see what they can do with electric propulsion. They want to test the future."
---
THE WHOLE CONCEPT OF HOT RODDING AND AFTERMARKET PERFORMANCE MODIFICATION IS TAKING PRODUCTION ENGINES AND POWERTRAINS AND CUSTOMIZING THEM TO YOUR LIKING.
---
PRASHANT AHIRE

---
Ahire explains that the Lingenfelter El Camino was an electric conversion done as a pilot project to develop a process for Chevy-approved installers. It followed a series of vehicles that stepped up the concept of swapping pistons for electrons. In 2018, a purely concept eCOPO Camaro debuted at SEMA, followed by an electric E-10 pickup in 2019 that used GM production parts, and then an electric K5 Blazer in 2020 that demonstrated what a retail eCrate kit could look like. But the GM team didn't stop with the El Camino conversion — a Project X '57 Chevy in 2021 went back to the concept level to explore what the next generation of eCrate might be.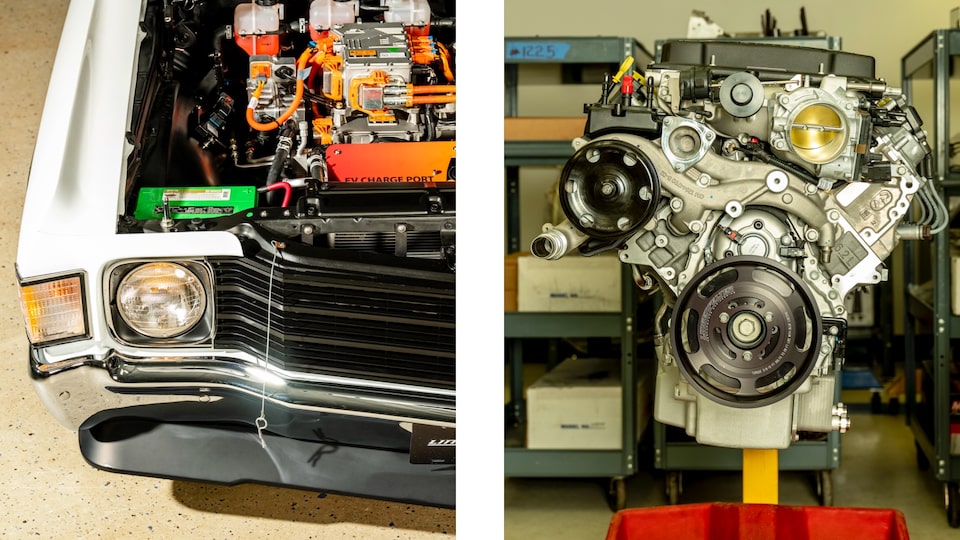 And then there's the speed.

"EVs are fast," Ahire says, "and the eCrate performance is equal to or better than an internal combustion engine." While so much industry talk these days is focused on electrification, Ahire makes clear that Chevrolet Performance respects both technologies. "We're not replacing ICE engines by any means," he says.

"We're racers and hot rodders, with deep roots in internal combustion racing engines," says Vic Cagnazzi, owner of Cagnazzi Racing in North Carolina, which worked with MotorTrend to convert the Project X '57 Chevy to electric. "But we see this next leap into EV performance propulsion as a natural evolution for hot rodding. And for people who just want to cruise in their classic car, it makes so much sense: EVs are fast — it's nearly instant torque the second you hit the throttle — they're quiet, they're energy efficient. As gas prices go up, electric is only going to be more and more attractive."

Cagnazzi Racing has even formed a separate division, eCrate Solutions Group, which was recently certified by Chevrolet Performance as a certified eCrate installer.

Customers can purchase an eCrate when they become available to the public, but for safety reasons installation can only be done by an installer certified by Chevrolet Performance.

"Electric propulsion is still an emerging technology," says Lingenfelter. "The batteries will evolve, they'll get smaller and more powerful, and the whole program will evolve. This is just the beginning."

STORY: CHRIS WALTON / PHOTOGRAPHY: CAYCE CLIFFORD