---
2019-6-14 | Chevy New Roads Magazine

Making Time

When Chase Fancher left an unfulfilling corporate job to create world-class timepieces, he joined a much larger movement that's changing cities and how we view locally made goods.

Chase Fancher liked the salary and benefits of working for a big company. But the job itself? Not so much. "I wasn't passionate about it," he recalls. "And just as importantly, my work-life balance was terrible." He yearned to do something he loved.
Even as a kid, Fancher had been fascinated with watches. His first watch was "nothing crazy nice," he says. "Nothing crazy expensive, but I remember being just so enthralled by it, so in love with it." Eventually his collection increased, but not as much as his passion to become involved professionally in the watchmaking world.
In fact, he had already designed a watch and made a 3D prototype while working his day job. He was at a point when he needed to invest in his dream or put it on the shelf, so he turned to his father for advice. "What would you tell your future kids?" his father asked.
"That was one of the very first times that it hit home that I should really go for it," Fancher says. So after much planning and soul-searching, he left his corporate life in 2015 to open Oak & Oscar and create beautifully designed, world-class timepieces in his hometown of Chicago. "I'm a watch collector, and if I could actually put my mark in the world of horology, then that's something that I would be absolutely honored to do," he says.
An array of artisans
Oak & Oscar's original design and clean aesthetic have helped propel its line of watches to quick success and almost cult status among enthusiasts. The company also sets itself apart by partnering with local artisans to create handcrafted straps and watch wallets.

Over the the last four years, the results speak for themselves. Fancher was able to hire talented local graphic artist John Hatherly to keep up momentum and handle the day-to-day operations. Every Oak & Oscar watch the two conceived of has sold out. Reviews from the watch media have been outstanding. And perhaps most impressive, owners are buying and keeping their purchases. In a community that's notorious for "flipping" watches, listings for Oak & Oscar models are scant on popular online reseller websites; when and if they do show up for sale, it's for a premium price.
The watches quickly become part of owners' histories, as well. "I've got stories of guys who have used our chronograph to help save people's lives when they're doing CPR. I used my chronograph to time my wife's contractions," Fancher says.

Fancher is not alone in leaving convention behind to seek a more fulfilling career. "You have more and more people serving in entrepreneurial roles and doing work in different ways," explains Brooks Rainwater of the National League of Cities (NLC), which is helping foster this groundswell of entrepreneurialism—called the maker movement—in communities across the country.
Makers create artisanal products, new digital technologies, even large-scale prototypes. Some work from their homes, others in maker spaces or innovation hubs within places like libraries, schools, co-working spaces, or storefronts where they share tools and resources and collaborate with people who have different, complementary skills and talents.

I think that anytime you're keeping opportunities local, it's a win for the community.

Fancher collaborates with outside sources in his own way. He teams up with businesses that have reputations for making high-quality goods to help produce the watches that he and his team conceive. "Good people make great products," explains Fancher, who likes being able to shake hands with partners, share a drink, and talk about projects and ways to improve their individual businesses.
A number of these partners are local, such as Stock Mfg. on Chicago's West Side, which makes a waxed canvas wallet to hold Oak & Oscar's newest Humboldt timepiece, the first watch in its permanent collection. (Fancher dislikes the waste of ornamental watch boxes and prefers the utility of a soft travel case, or "watch wallet.")
Using Chicago-based sewing shops has given Stock Mfg. a competitive edge. "For us, handling the production ourselves and making things locally has allowed us to get an apparel business off the ground and growing," says Jim Snediker, a Stock Mfg. founder, on the company's ability to quickly manufacture small batches of its menswear line, custom uniforms, and specialty products.
But makers are creating an even bigger impact. "I think that anytime you're keeping opportunities local, it's a win for the community," says Snediker.
American Watchmakers Worth Watching

Oak & Oscar isn't the only new U.S. company making beautiful, small-batch timepieces.

---
---
Husband and wife team Lorenzo and Lauren Ortega were teachers in love with the classic sports watches of the 1950s, but couldn't afford to put them on the wrist. Their company, Lorier, attempts to bring that vibe to all customers with classic proportions, mechanical movements, and charming acrylic crystals at prices that make the watches perfect for daily wear. lorierwatches.com

---
---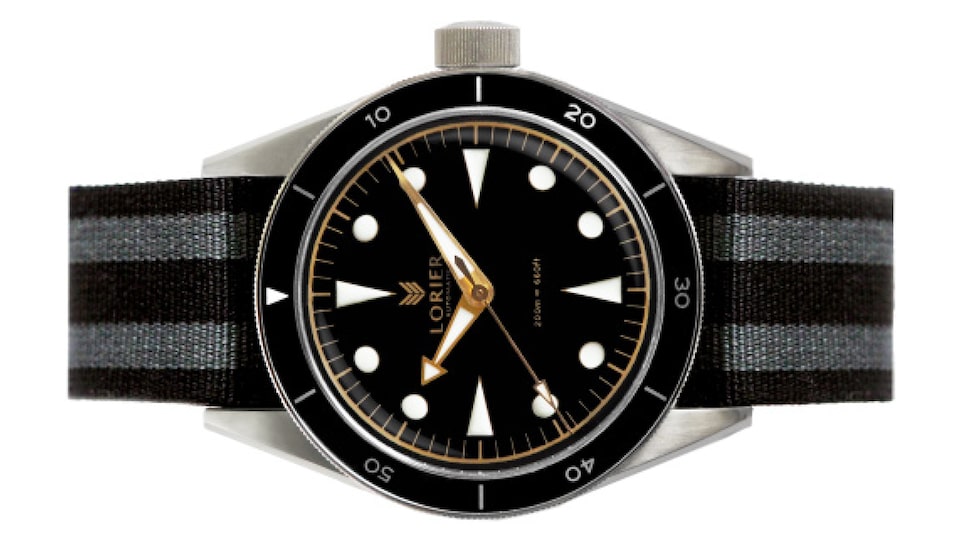 ---
---
---
A watch's dial tends to get the lion's share of attention, but Michigan-based Pelton is making the bracelet the star of the show. Pelton's Perseus model has a bracelet built totally in-house—an extreme rarity for an American company—from no fewer than 131 hand-finished pieces. peltonusa.com

---
---
---
---
---
Very few small watch companies produce watches from start to finish in their own workshops. The folks at Weiss do just that, building everything—including their very own watch movement—at their Los Angeles–based facility. weisswatchcompany.com

---
---
---
Woodnsteel in nearby Fort Wayne, Ind., makes the leather watch wallets that Oak & Oscar sells as accessories, and it also crafted all of the leather straps and wallets for the company's limited-edition and special-edition timepieces.
The trust and rapport that has developed among the partners means Dustin Case, creator at Woodnsteel, can focus on the important things. "It's the details that will help a product stand out, and I think this is something that larger companies often overlook," says Case, who, like Fancher, left another career to follow his passion for making custom leather goods. "I hope that the care that we put into making a quality product will gain back the trust of owning something that is made in America."
Sourcing local vendors can help the community, as they might then be able to expand their businesses and employ more local people. Cities are even finding that an inclusive maker movement can give underserved low-income and minority populations an economic leg up.

And consumers want local, too. People today are much less worried about having more and more goods within their home and instead want unique, custom, craftsman-style goods that have "a true connection to their community, their place," says Rainwater. As well, they want to know their makers, just as they want to know the farmers who grow their food. Given all these factors, Rainwater expects the maker movement to become even stronger in the years ahead.
Owners of Oak & Oscar watches get it all: a thoughtfully designed and well-built product, plus lots of face time with Fancher, who loves hosting dinners and whiskey tastings for them at the company's Chicago store and across the country. "It's important to me that they feel like they're part of it," he says of the brand named for his love of oak barrel–aged whiskey and his mischievous dog, Oscar, a shop regular.
"People want products that have some character and soul, and I think that's something that we do well," adds Fancher, who admits to working harder and putting in longer hours than ever before at his corporate job. "But at the same time I absolutely love it."
STORY: ANNE NAGRO / PHOTOGRAPHY: CYBELLE CODISH